Aptean's Acquisition of JustFood: A Closer Look
Ultra's blog post recently highlighted the news that Aptean, a global provider of enterprise software solutions, acquired IndustryBuilt, a leading provider of industry-specific ERP solutions including JustFood.
The acquisition of IndustryBuilt extends Aptean's capabilities in the food and beverage market, a key growth area for the company.
It's an interesting development for today's food and beverage processor.
Ultra recently attended JustFood's User Conference in Las Vegas and appreciated the chance to learn more about this next chapter in JustFood's product evolution.
This blog post takes a further look at this news, summarizing recent discussions Ultra had with the Aptean and JustFood team.
Product Portfolio
From the dialogue with the Aptean and JustFood team, it's clear that the Aptean acquisition allows JustFood to continue to innovate in terms of product development, giving them organizational scale to manage market growth.
JustFood is a dominant player in the technology offerings available to today's food and beverage organization.
As the "go to market growth solution," Aptean now offers a robust product portfolio in the food bev sector.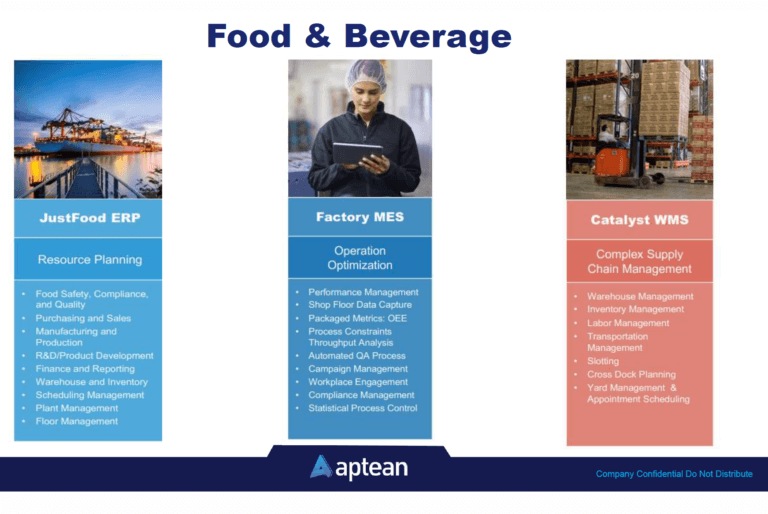 (Source: Aptean/JustFood)
Industry Specific Functionality
We're still in the early days of the acquisition, but it's clear that Aptean's overall strategic direction places JustFood squarely at the center of Aptean's Food and Beverage portfolio, with other Aptean software packages augmenting required functionality.
As an example, for food and beverage teams looking to streamline their complex warehouse management challenges, the Aptean acquisition extends JustFood functionality via Catalyst WMS
True integration, anywhere/anytime data access, and robust reporting functionality is now a reality for teams looking to improve operational efficiencies.
As reflected in Aptean's solution portfolio graphic, integrated systems address key functional areas including:
CRM
Customer Portal
Supply Chain Management
Enterprise Asset Management
MES
Financial Reporting
Warehouse Management Systems
David Pilz, CEO of IndustryBuilt noted at the recent event that JustFood customers, as well as product teams heading into an ERP project, now have access to more resources than ever before, including Aptean's vast service and support organizations.
Pilz stressed the benefit from other Aptean solutions that are tailored to the food and beverage industries.

Aptrean Chief Operating Officer TVN Reddy (on left) and IndustryBuilt CEO David Pilz at the JustFood User Conference April 2018 in Las Vegas. (Source: Aptean/JustFood)
Final Thoughts
After decades of experience in the sector, Ultra's team of independent ERP consultants understands that food and beverage manufacturers face unique challenges when implementing enterprise systems.
They require solutions that allow for integrated and streamlined production management, optimization of shelf life and flexibility for changing ingredient formulas, supply chain management and many other key business processes. Robust reporting is also a requirement to meet compliance challenges faced by food and beverage processors
With the strategic acquisition of JustFood, the Aptean technology portfolio lets organizations integrate their systems, linking information from production floor systems (PLC, ERP) to obtain "one version of the truth" to monitor plant performance.
We'll continue to keep an eye on the technology leadership advantages that have come out of this acquisition.
Learn More
Contact Ultra to discuss the specific challenges facing  your food and beverage organization.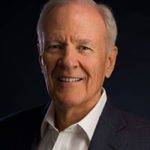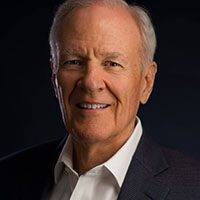 Jeff is the founder of Ultra Consultants, a well-known voice in the ERP consulting industry and an expert on ERP solutions for discrete and process manufacturers. Over the last 40-plus years, his companies have helped more than 2,000 organizations improve their business processes, select ERP software and implement advanced solutions.