Timely Articles Provide Useful ERP Software Guide
As independent ERP consultants, Ultra's mission is to provide timely and independent insight, guidance and enterprise systems education.
Throughout our history, industry publications have sought our thought leadership on business transformation and enterprise software evaluation and implementation.
These articles and many others serve as an ERP software guide for manufacturing and distribution organizations.
Noted here are a few of our recent insights, published in Enterprise CIO, APICS Magazine, and Search ERP.

Enterprise CIO:  In the article "ERP Budgets: Reduce Risk and Prepare For Successful Implementation," Ultra makes the case that a new or upgraded ERP solution is one of the most complex and resource-intensive initiatives most enterprises will ever face. CIOs and other enterprise C-level executives of manufacturing and distribution companies must decide when is the expense worth the effort and potential disruption that implementing a new solution may bring.
In the magazine Enterprise CIO, Ultra's Andrew Bolivar defines the top factors to consider, including selecting the deployment model, predicting costs based on number of users, defining ERP requirements while making a business case for change, identifying costs of infrastructure, third-party resources and customizations, and assessing costs of training, support and maintenance and their effect on total cost of ownership. His template for a successful implementation is part of an ERP software guide from Ultra Consultants.
An independent third-party ERP consultant firm can assist in selecting the right solution, negotiating an appropriate contract and helping to design and execute a business process improvement strategy that will drive optimum results from the new solution.

APICS Magazine: Ultra's article was recently published in APICS Magazine entitled "Warehouse Management Transformation in Action." A productive warehouse management can help businesses meet requirements and maintain market share in an increasingly competitive global marketplace.
Ultra's Regional Director Dennis Gilhooley, Jr. shares a warehouse management best practices case study about an industrial equipment manufacturer and tier two supplier to the aerospace manufacturing sector. When adding a new U.S. warehouse facility, the company discovered obstacles to optimal performance in the face of growth, including a lack of accuracy in tracking inventory levels, inefficient space utilization and less than effective shipping processes. In addition, the organization was hindered by an over-reliance on manual record-keeping and siloed solutions.
Ultra Consultants guided the company through a strategic process of assessing the current state of the company's warehouse management processes, mapping all business processes, and identifying waste and redundancies. The ERP project team then developed the desired future state by business process flow, identifying gaps between the current state and industry best practices. Before identifying vendors and potential solutions, the team built a business case for change to serve as the main project driver for improved warehouse operations. In this way, the team was able to define system requirements that would move the enterprise into the desired future state. Following Ultra's strategic plan and ERP software guide, the manufacturer selected and implemented a right fit technology solution to achieve its desired future state goals.

Search ERP: Ultra's Founder and CEO Jeff Carr shared his insights with the publication in an article entitled "For ERP ROI, Pay Attention to These 12 Business Processes." Read how digitally transforming 12 key business processes which offer the highest payback can speed up a robust ROI from ERP.
Management intuitively knows that businesses must continually take advantage of emerging technologies to maintain a competitive edge in a changing marketplace. That requires a substantial investment.
Prior to making that investment, enterprises should undertake a proper business case analysis to ensure the investment scope is well-defined and budgeted and that expectations are aligned with company objectives.
Among the 12 key process areas that can deliver significant payback through an ERP-enabled business transformation are inventory management, supply chain management, product development, forecasting, quality management, and financial management.
Realizing ERP ROI requires careful analysis and planning from the very beginning, plus a strong implementation team and a willingness to change. The best fit ERP methodology is a result of such a careful analysis and strategic planning.
Looking for an ERP Software Guide?
An ERP project is one of the most critical, strategic and resource-intensive initiatives a company will ever undertake. Providing an ERP software guide is just one way our team of independent ERP consultants delivers independent enterprise systems education and business process transformation, to help guide project teams to a successful outcome.
Whether it's technology evaluation and ERP software selection, implementation management, organization change management, business intelligence, or other ERP services, companies benefit from the independent insight and proven methodology that optimizes team efficiency and reduces time to benefit.
To learn more, see additional ERP news articles featuring insight from Ultra Consultants.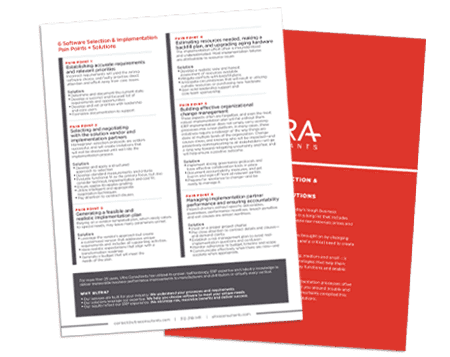 Software selection and implementation processes often present challenges of their own. To steer you around trouble and help you drive success, Ultra's experts compiled a list of pain points and solutions to be aware of as you embark on this journey.