An in-depth case study demonstrates the benefits of today's food and beverage ERP solution. Read on for the story highlights.
Today's food and beverage processor faces significant industry disruptions. New products and markets, expanded distribution channels, segmented consumers and a changing regulatory environment all work to impact today's processor.
Companies trying to respond to these disruptions with outdated technology, manual workarounds, and siloed solutions are hard-pressed to compete and succeed.
These industry disruptions recently challenged a Midwest-based global producer of pork pellets and branded pork rinds.
Founded in 1932, Evans Foods is a Chicago-based company that has grown to be the world's leading producer of pork rinds and one of the largest Hispanic-owned businesses in the country.
Due to rapid market growth, the company was using an outdated ERP system to attempt to scale operations.
The organization was challenged to operate cost-effectively when it came to production, compliance, food safety, product development and more. They had ongoing issues with multiple standalone systems, siloed solutions with no integration, duplicate data entry processes (often manual) and obsolete reporting.
In Search of a Modern Food and Beverage ERP Solution
The team engaged with the Ultra independent ERP consultant team for guidance in the evaluation of modern food and beverage ERP to meet customer demand and business growth.  Note that current state analysis must come before any discussion or evaluation of a food and beverage ERP solution.
During its current state analysis as part of enterprise software selection, ultra uncovered key challenges in several functional areas including the need to:
Enhance Recall and Traceability
Improve Data Access
Gain a Single Version of the Truth
Standardize IT Systems
Gain Ability to Scale
Remove Manual Data Entry
Improve Production Planning
Success with Today's Food and Beverage ERP Solution
The Ultra team applied proven methodologies in food ERP selection and evaluation, coupled with the selection of an industry-focused solution, for a clear value-add for the implementation project.
By documenting the current and future states and establishing improved business processes, the project team gave Evans a repeatable blueprint for standard business solutions as the company acquires new business units.
Ultra's business process improvement team worked diligently to deliver multi-plant management processes, technology sharing, continuous improvement, and strategic planning across all plants and all parts of the business. The team brought:
Food processing industry expertise
In-depth insight into shop floor process conditions
Knowledge and experience with industry best practices
A blueprint for training, onboarding and deploying the business solutions at new acquisitions
Flexible methodology within the technology platform
ERP food software is the perfect tool for optimizing operations within the food and beverage industry. It helps streamline efficient supply chain management for food manufacturers and beverage manufacturers, dramatically improves revenue potential and increases competitiveness. This powerful system also allows for better food and beverage distribution, further amplifying the efficiency available to its users. If you have any questions whatsoever about our food ERP software solutions, please don't hesitate to contact us — our staff is standing by, ready to assist with any questions you might have. At the end of the day, we want to help businesses succeed by providing them with a holistic view of their operations while staying on top of the latest technological innovations within the sector. With that in mind, now is the perfect time to take advantage of offered specialized solutions for:
Food ERP software
Food industry ERP software
Beverage ERP software
Food and beverage ERP software
Food ERP distribution software
ERP food software
ERP software food distribution
Food and beverage manufacturers
Food and beverage industry
Beverage manufacturers
Food and beverage companies
Beverage manufacturing
Food manufacturers
Supply chain
In all, Ultra helped the organization use a modern food and beverage ERP solution to streamline lot trace management, recipe management, document control, and other mission-critical functions.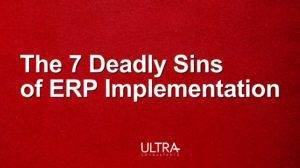 THE 7 DEADLY SINS OF ERP IMPLEMENTATION
Some mistakes are just bad strategic or financial decisions. Some are the inevitable consequence of situational or organizational factors. Some, however, are the result of process-oriented or people-centric choices – and are easily avoided. These are The Seven Deadly Sins of ERP Implementation.
DOWNLOAD NOW