Make the Right Choice: The 5 Primary Enterprise Software Selection Factors
Are you confident that your team can select the enterprise solution that is best-suited to your organization and industry? Is your company able to objectively evaluate the software options? Is your organization prepared to navigate the complex (and competitive) vendor landscape?
Ensure that you consider all the key factors – and make the right choice – with this checklist and these important questions.
1. Features & Functionality
Does the software meet the future state industry and process needs of your business? Will your users find the software intuitive and easy-to-use? Does the software have advanced industry functionality to support your dynamic business needs?
2. Vendor Synergy
Does the vendor understand your business? Will they stay up-to-date on industry trends? Do they have the necessary experience in your industry? Do they listen to your questions and concerns? Do you matter to them? Do you like them both on a personal and professional level?
3. Solution Agility & Viability
Is the vendor invested in this product solution? Will the software be a part of their service offering for the long-term? Is the product or company a target for acquisition or divestiture? Will the software capabilities be able to stay ahead of and cater to your future needs?
4. Technology Alignment
Does the platform fit within your technology roadmap? Is the company following industry standards for current and future integrations? Are the right competencies available for this platform? What is the company's plan for long-term support and administration services? Will it be a hosted, cloud-based or on-premise solution?
5. Total Cost of Ownership
Are you able to forecast the investment for the long term? Do you feel you have a complete understanding of what happened during contract negotiations and the resulting agreement, including information about:
software licensing costs
Enterprise software implementation services
Annual maintenance
Subscriptions
Upgrade costs, including services/support, software integrations and services
---
Want to know more about software selection?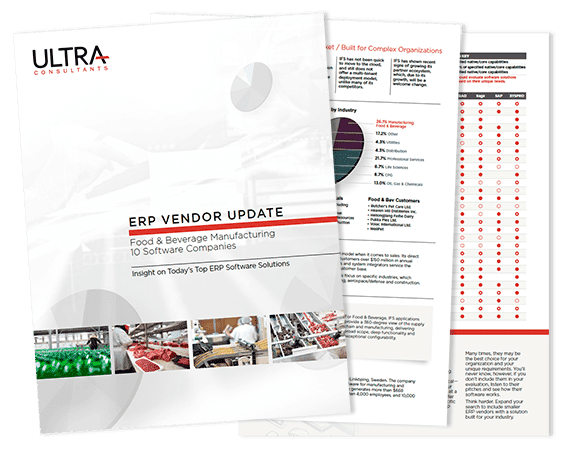 The ERP Vendor Update offers a close-up look at today's top Food & Beverage software solutions. With more information – and more real insight – than typical software overviews, the report presents complex data clearly and enables easy analysis and comparison.