Ultra State of the Economy Update – Where Have all the Flowers Gone?
Here is Ultra's monthly wrap up of recent economic data and events that have major sway over the economy, with a special focus on the U.S. Manufacturing and Distribution Industry
Spring 2019 –  Flowers Nowhere in Sight
After strong growth in 2017 and early 2018, global economic activity slowed notably in the second half of last year, reflecting a confluence of factors affecting major economies. China's growth declined following a combination of needed regulatory tightening to rein in shadow banking and an increase in trade tensions with the United States.
The euro area economy lost more momentum than expected as consumer and business confidence weakened and car production in Germany was disrupted by the introduction of new emission standards; investment dropped in Italy as sovereign spreads widened; and external demand, especially from emerging Asia, softened.
Global Activity
Elsewhere, natural disasters hurt activity in Japan. Trade tensions increasingly took a toll on business confidence and, so, financial market sentiment worsened, with financial conditions tightening for vulnerable emerging markets in the spring of 2018 and then in advanced economies later in the year, weighing on global demand.
Conditions have eased in 2019 as the US Federal Reserve signaled a more accommodative monetary policy stance and markets became more optimistic about a US–China trade deal, but they remain slightly more restrictive than in the fall.
Beyond 2020, global growth is set to plateau at about 3.6 percent over the medium term, sustained by the increase in the relative size of economies, such as those of China and India, which are projected to have robust growth by comparison to slower-growing advanced and emerging market economies (even though Chinese growth will eventually moderate). As noted in previous WEO reports, tepid labor productivity growth and slowing expansion of the labor force amid population aging will drag advanced economy growth lower over the projection horizon. Growth across emerging market and developing economies is projected to stabilize slightly below 5 percent, though with variations by region and country.
The JP Morgan PMI remained unchanged from last month; Global manufacturing employment increased this month; This month also saw improvement in business optimism
Emerging Markets
The baseline outlook for emerging Asia remains favorable, with China's growth projected to slow gradually toward sustainable levels and convergence in frontier economies toward higher income levels. For other regions, the outlook is complicated by a combination of structural bottlenecks, slower advanced economy growth and, in some cases, high debt and tighter financial conditions.
These factors, alongside subdued commodity prices and civil strife or conflict in some cases, contribute to subdued medium-term prospects for Latin America; the Middle East, North Africa, and Pakistan region; and parts of sub-Saharan Africa. In particular, convergence prospects are bleak for some 41 emerging market and developing economies, accounting for close to 10 percent of global GDP in purchasing-power-parity terms and with total population close to 1 billion, where per capita incomes are projected to fall further behind those in advanced economies over the next five years.
Global Manufacturing Activity
At 50.6 in March, the J.P.Morgan Global Manufacturing PMI was unchanged from February and signaled a further lackluster improvement in operating conditions in the global manufacturing economy. Growth was signaled in the consumer and investment goods sectors.
The sharper rate of increase was registered in the former, despite it easing to a six-month low. Intermediate goods producers saw business conditions deteriorate for the second month running.
Among the largest regions covered by the survey, PMI readings were above the neutral 50.0 mark in China, the US, Brazil and the UK. Sub-50.0 scores were registered for the euro area, Japan and South Korea. Growth of manufacturing production remained weak in March, as new order inflows stagnated, and international trade flows declined.
Output and new orders contracted in both the intermediate and investment goods industries. In contrast, growth of production and new business was sustained in the consumer goods sector, albeit at slower rates of expansion than during the prior survey month.
March also saw a further modest increase in global manufacturing employment, with job creation seen across the consumer, intermediate and investment goods sectors. Among the largest industrial regions, staffing levels rose in China, the US, the euro area, Japan, Brazil and the UK.
Price inflationary pressures were relatively stable in March, with output charges and input costs both rising at similar rates to the prior survey month. Increases in both price measures remained (on average) slightly sharper in developed nations compared to emerging markets. Additionally, positivity increased in both the consumer and intermediate goods sectors but dipped to its lowest in over six years at investment goods producers. Emerging markets maintained (on average) higher confidence than developed nations.
Stocks of finished goods were unchanged in March, halting a three-month sequence of decline. Meanwhile, inventories of purchases increased for the first time in three months, despite a further contraction in input buying volumes.
Mixed News in North America
Current predictions state that U.S. GDP growth will slow to 2.1% in 2019 from 3% in 2018. It will be 1.9% in 2020 and 1.8% in 2021. That's according to the most recent forecast released at the Federal Open Market Committee meeting on March 21, 2019. The projected slowdown in 2019 and beyond is a side effect of the trade war, a key component of Trump's economic policies.
Furthermore, the unemployment rate will be 3.7% in 2019. It will increase slightly to 3.8% in 2020 and 3.9% in 2021. That's much lower than the Fed's 6.7% target. However, former Federal Reserve Chair Janet Yellen noted that this number includes a lot of part time workers who would prefer full time work. Also, most job growth is in low-paying retail and food service industries.
Some people have been out of work for so long that they'll never be able to return to the high-paying jobs they used to have. Specifically, structural unemployment has increased and Yellen has admitted that the real unemployment rate is more accurate. It's sitting at roughly double the widely-reported rate.
Inflation will be 1.8% in 2019. It will rise to 2% in 2020 and 2021. The core inflation rate strips out those volatile gas and food prices. The Fed prefers to use that rate when setting monetary policy as it's more stable. The core inflation rate will be 2% in 2019 through 2021. Fortunately, the core rate is at to the Fed's 2% target inflation rate. That gives the Fed room to raise interest rates to more normal levels. The U.S. inflation rate history and forecast provides a good basis for predicting the coming years' inflation levels.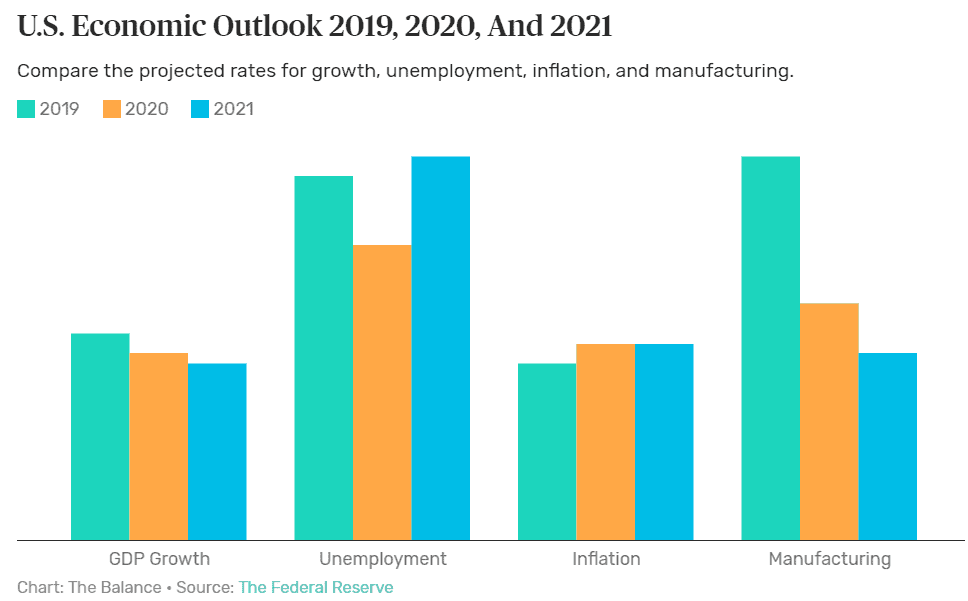 North American Manufacturing
Manufacturing output was unchanged in March and moved down at an annual rate of 1.1 percent in the first quarter.
The output of durables edged down in March. Losses of more than 2 percent were registered by wood products and by motor vehicles and parts, while gains of more than 1 percent were registered by primary metals and by computer and electronic products. The production of nondurables inched up as a result of increases in the indexes for textile and product mills, for petroleum and coal products, and for chemicals. The index for other manufacturing (publishing and logging) edged down, remaining well below its year-earlier level.
The output of utilities rose 0.2 percent in March; the output of natural gas utilities climbed nearly 4 percent, while the output of electric utilities stepped down. Mining output declined 0.8 percent but remained 10.5 percent above its level of a year earlier.
Capacity utilization for manufacturing edged down 0.1 percentage point in March to 76.4 percent, about 2 percentage points below its long-run average.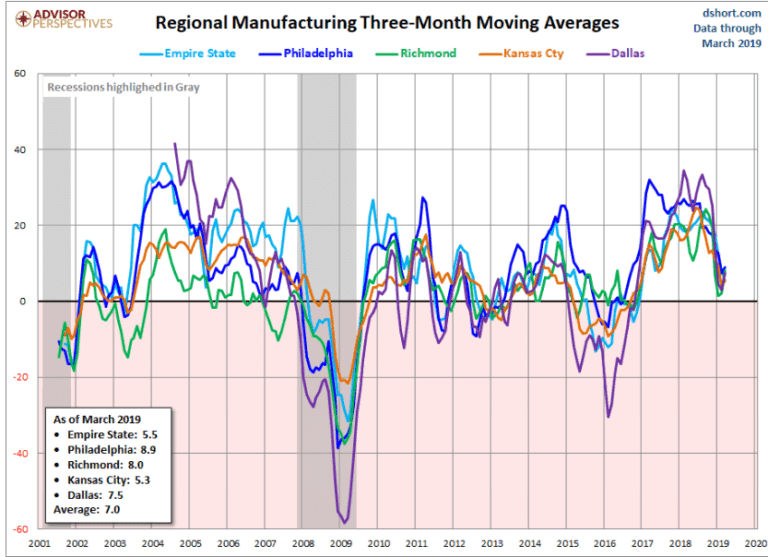 The utilization rate for durable manufacturing declined, while capacity utilization rates for nondurable manufacturing and for other manufacturing (publishing and logging) were unchanged. Capacity utilization for mining decreased to 90.9 percent but was still above its long-run average of 87.1 percent. The utilization rate for utilities was unchanged at 79.9 percent and remained 5 1/2 percentage points below its long-run average.
The major market groups recorded mixed results in March. Gains for nondurable consumer goods, business equipment, defense and space equipment, and construction supplies were slightly more than offset by losses for other market groups. The largest decline was recorded by consumer durables; the indexes for all of its major categories fell, with the biggest decrease posted by automotive products.
Trade Wars
Trade negotiations between the U.S. and China are still an overwhelming part of U.S. trade policy focus. Although the administration maintains that the goal of these talks is to lessen China's hold over much of the U.S. economy, a key element of a prospective deal may end up reinforcing the economic power of the Chinese state.
Negotiators are still working out deal terms, but any agreement seems certain to involve China's promise to purchase hundreds of billions of dollars of American goods. For Mr. Trump, this is an essential element that will help reduce the United States' record trade deficit with China and bolster farmers and other constituencies hurt by his trade war.
But those purchases will be ordered by the Chinese state, and most will be carried out by state-controlled Chinese businesses, further cementing Beijing's role in managing its economy and potentially making United States industries even more beholden to the Chinese.
But the two sides are still wrestling with two major sticking points: how an agreement will be monitored and enforced and how many of Mr. Trump's tariffs come off and when.
The deal could usher in a wave of new American exports if China agrees to open its markets more fully. Removing its requirements that American carmakers and financial services firms team up with a Chinese entity to do business in the country, for instance, could give those firms more ability to sell goods and services to China.
But in other industries, including agriculture, energy and aviation, purchases associated with a trade deal would be made directly by state-controlled entities. And while that would mean greater revenues for American companies, skeptics say it could also increase the leverage that China has over the United States in the future.
For now, administration officials are still trying to assure lawmakers that their trade deal will achieve the economic changes the United States wants and will require much more than purchases.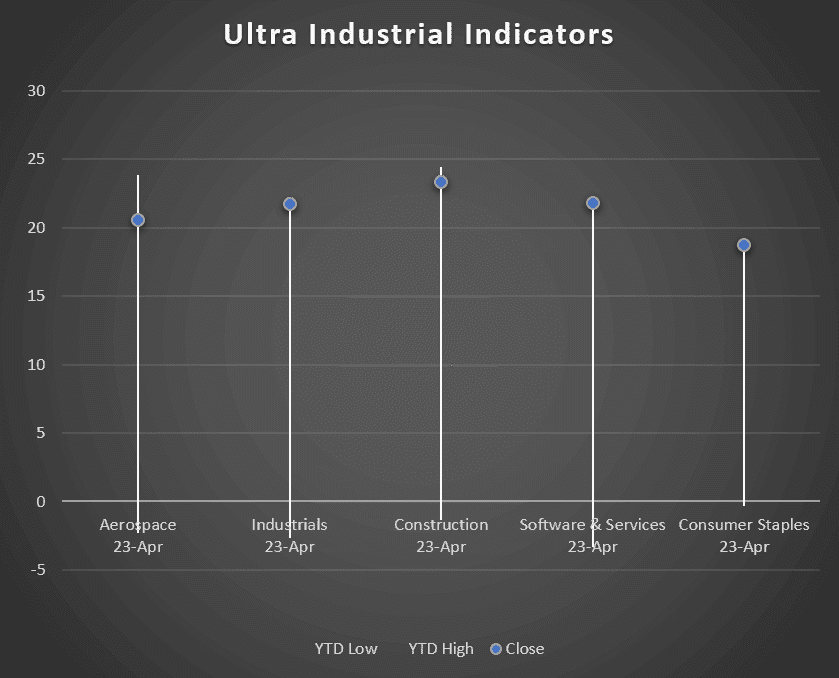 The Ultra Indicators: Key
Aerospace & Defense – Indicated by Boeing, Northrup, General Dynamics, etc.
 Industrial Goods – Caterpillar, United Tech, Honeywell, GE, Raytheon, etc.
 Construction/Housing – Home Depot, Lowes, Avalonbay, Vulcan Materials, etc.
 Software & IT Services – Microsoft, Alphabet, Salesforce
 Consumer Goods – Indicated by CVS, Coca Cola, Kroger, Colgate, etc.
Ultra Perspective
The newest predictions for the global economy are underwhelming. Growth is predicted to slow across the board as we move through 2019 and beyond. Some of this can be attributed to natural disasters and current trade tensions affecting market sentiments, but much of it stems from declining productivity and labor markets. New orders indexes have stagnated, and international trade flows have declined worldwide. Currently, the only bright spot is that emerging economies are still showing some improvements even has developed economies plateau.
The U.S. is a perfect example of this growth model, as GDP is currently predicted to decrease year over year for the next three years while unemployment and inflation are set to rise at continued rates. It is unclear if things will improve in the short term as much of the U.S.'s growth is being choked out by trade wars. Relations with China, one of the U.S.'s largest trading partners, are still strained as both administrations attempt to come to some sort of arrangement post-tariffs.
The current direction of discussions would increase Chinese purchases of U.S. goods, having favorable effect on the U.S. economy, but it could give the Chinese government even more leverage around our markets. Talks are still in progress, but the result here could have major positive or negative effects.
Predictions have only worsened as the year has progressed so far. Projections for developed economies are discouraging with emerging economies making only slightly better progress. Confidence in future markets is still running at a low and despite an easing of monetary policy, nothing seems to be helping. Since last year a major thorn in markets' sides has been the lack of clear trade agreements between many of the major players.
The U.S. is still in the midst of negotiations with China, Mexico, and Canada, while Europe faces a slew of issues related to Brexit and inter-country trade within the Eurozone. Unfortunately, it would seem as though our only chance for the economy rests with our politicians, so here's hoping agreements are reached sooner rather than later to allow the markets to relax.
7 Steps to Effectively Organize an ERP Project
The 7 Steps to Effectively Organize an ERP Project is designed for ERP project teams from today's forward-thinking manufacturing and distribution organizations.
Read tried and true strategies for manufacturers to effectively manage an ERP selection project. See what it takes to be successful and more with this Download.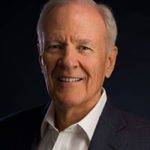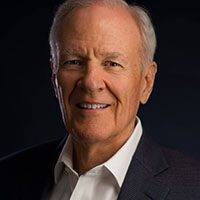 Jeff is the founder of Ultra Consultants, a well-known voice in the ERP consulting industry and an expert on ERP solutions for discrete and process manufacturers. Over the last 40-plus years, his companies have helped more than 2,000 organizations improve their business processes, select ERP software and implement advanced solutions.