(Re)Connected Manufacturing: Ultra's Recap of PowerPlex 2018 User Conference
This past week Ultra attended PowerPlex 2018 User Conference hosted by Plex Systems in Detroit.
More than 1,000 manufacturing and cloud technology leaders attended the event to share advancements in cloud ERP and MES systems and other manufacturing industry forces of change.
The event also included a break-out session hosted by Ultra's CEO and Founder Jeff Carr. Noted here are a few of the main takeaways from the event that Plex bills as "the largest gathering of Cloud manufacturers."
A Sense of (Re)Connected Manufacturing
From the keynotes to the break-out sessions, one could sense a "return to manufacturing roots" at the Detroit event. Earlier this year, Plex experienced transitions in the senior leadership ranks. On day one of the event, we had the chance to hear from new Plex CEO Don Clarke, who recommitted the vendor's position at the intersection of manufacturing and technology.
Clarke shared that over the last year, Plex added 65 new customers, bringing the total number to almost 600 customers in 2,000 facilities across the world – the fastest year of growth in company history. Almost half of Plex customers expanded their use of Plex in 2017, adding new products or new plants to their environments.
Since the start of Q1 of this year, Supply Chain Planning has been the company's fastest growing segment. The growth follows from the acquisition of DemandCaster in 2016.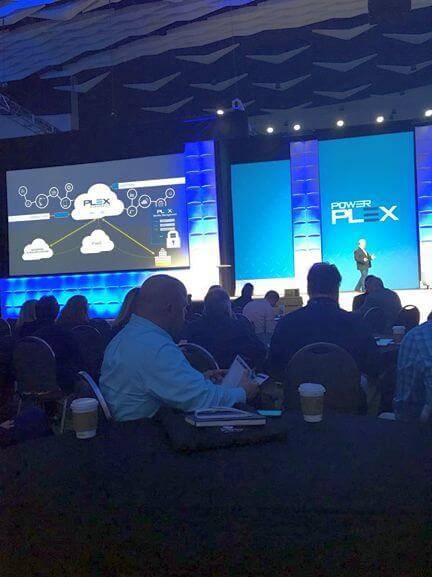 Plex CEO Don Clarke, Opening Keynote Speaker
Product Focus
In terms of product emphasis, we also sensed a renewed focus on the core manufacturing functions of shop floor control, MES, quality and maintenance features.
The gathering was also the "official" announcement of the availability of Plex Mobile, a new, native mobile app that provides real-time access to shop floor and administrative responsibilities via mobile devices.
Plex considers "data as the system of record" for manufacturing enterprises. The emphasis is on analytics within the entire suite of Plex's Cloud solution areas to improve business decision-making and traceability, quality and efficiency.
Innovation on Display
During Day Two of PowerPlex 2018, Innovation Keynote, Plex CTO, Jerry Foster and customer/partners explored various types of innovation in manufacturing.
From affordable smart glasses and remote support communications, to the HoloLens application for 3D rendering diagrams, innovation was on display during the Day Two keynote sessions.

Kors Engineering and Plex CTO Jerry Foster (R) demonstrate comprehensive plant floor and facility systems integration and automation.
Customer Sessions
The Ultra team sat in on several sessions featuring customer use cases. As an example, the session from food processor Shank's Extracts showed how the Plex application has helped the organization improve and streamline traceability, quality and reporting. The organization is a private label packer of flavoring extracts based in Lancaster, Pennsylvania.
Quality management has been critical to this company. As the Shank's Extracts team noted, you can't really have quality without traceability. Their session was just one of many from a broad cross-section of discrete and process manufacturers. In fact, over the 3-day event, with over 100 break-out sessions, more than 40 percent of PowerPlex sessions were presented by customers.
Improving Business Processes
Ultra was pleased to be part of the Business Management track. Jeff Carr, Ultra's Founder and CEO presented a session stressing the importance of taking the time to carefully assess and organize desired business data dimensions. Whether live on an ERP system or in the evaluation stage, it is the foundation for successful implementation of a BI system for true business process improvement.
With access to more timely and accurate information, the assumption is that manufacturers use that data to take the needed action to improve business processes. The session offered strategies to gain true business process improvement and drive KPIs.

Ultra's CEO and Founder Jeff Carr at PowerPlex 2018 Business Management track.
Learn More
Our goal as an independent ERP consultant team is to know the pulse of the ERP vendor landscape. Watch for additional summaries of upcoming user group conferences taking place in the next few months.
Contact Ultra to consider your strategies in the face of a complex technology environment.