The Role of ERP in Food & Beverage Compliance: Part 1
Making the Case
Food and beverage manufacturers, processors, distributors and storage operators are challenged by today's rigorous regulatory and quality requirements, complex information management demands and constantly changing mandates. Compliance is not optional.
So, F&B companies – big, medium and small – are seeking suitable and affordable solutions that offer the opportunity to align systems, add functionalities, and manage documentation for compliance (and competitive) purposes.
Which should be simple. There are a large number of ERP vendors with F&B-specific toolsets and broad industry expertise. But there is no out-of-the-box solution. Traceability and document retention requirements are comprehensive and complicated – and specific to each company. Functionalities and configuration are unique, too, to each organization, vertical and sub-vertical. And legal and trade requirements have no wiggle room – your systems must be compliant.
The most difficult of these challenges: The data and records for documented programs are required to be accurate, up-to-date and accessible at all times. The FDA expects traceability documents be retrievable in under two hours. What's more, deviations and corrections must be fully validated and verifiable. Not properly managing this information can lead to legal, trade and business risks.
It's not surprising then that, historically, the greatest effort has been directed toward regulatory and quality and trade management systems – the systems that are most involved with compliance. But this focus often results in compliance systems that are not aligned or integrated with ERP or manufacturing execution systems (MES), which also collect, manage and provide information that is critical to compliance. In many cases, this siloed data is downloaded and exported without knowing its integrity, accuracy or security.
A more holistic approach is required to support compliance. Learn more about this strategy in Part 2.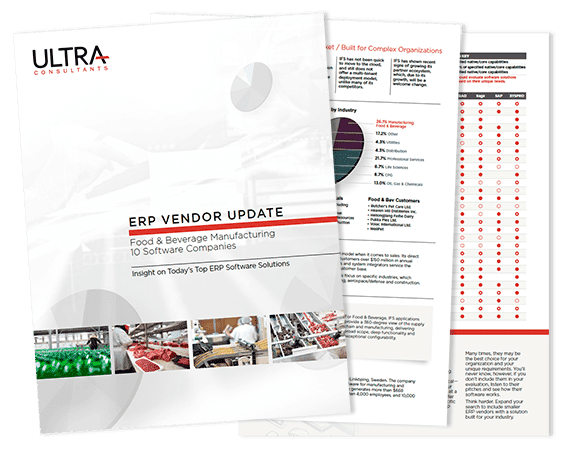 The ERP Vendor Update offers a close-up look at today's top Food & Beverage software solutions. With more information – and more real insight – than typical software overviews, the report presents complex data clearly and enables easy analysis and comparison.
Aaron is a supply chain management, business process improvement and forecasting/planning expert with more than 20 years of ERP implementation experience to process manufacturing companies.