Top ERP Trends for Manufacturers in 2020
Enterprise Resource Planning (ERP) solutions have become a critical element of many successful manufacturing businesses. For those looking into ERP systems for the first time, this is one of the most significant decisions an organization will make–considering it will have a direct impact on almost every aspect of your business, from manufacturing to inventory, human resources, accounting, marketing, and more.
Although ERP systems were once slow to change, the newest technology trends have begun a flood of developments that will also force companies who have already invested in the software to update–or risk finding themselves trailing behind the competition.
ERP systems in 2020 will bring more options, opportunities, complexities, and even some risk. Here's what we see as the top ERP trends for manufacturers in 2020.
1. Two-Tier ERP systems will help more companies with multiple locations
Two-tier ERP is the dual implementation of ERPs within an organization. Companies who choose this model are typically based in several locations, or they are large corporations with multiple subsidiaries. For example, tier-one could be the "legacy application," used at the corporate level. The second tier would then be managed at each subsidiary.
Because it is challenging to integrate during the early stages of implementation, discrete manufacturers should work with their ERP vendors to prepare a complete implementation strategy for the two-tier ERP model.
2. Increased adoption of ERPs by small and mid-sized businesses
In the past, large corporations have typically been the primary adopters and users of ERP systems. Today, however, affordability and accessibility have made the software widely available in small and mid-sized companies, too. As these businesses continue to make prudent investments in IT and other technology advancements and innovations, the trends toward manufacturing software–ERPs in particular—will continue throughout 2020.
3. Cloud-based ERPs will continue on an upward trend
While storing data in the Cloud is not new, some manufacturing ERP users have been reluctant to do so, mainly out of fear of placing their enterprise's information off-site and outside their premises. But as the advantages of cloud storage became evident, and those fears dissipated, more and more companies started moving substantial amounts of ERP data over to cloud storage.
The ability to securely access ERP systems, from anywhere, at any time, and from any device, is critical to keeping up in competitive markets and delivering on customer and stakeholder expectations.
Cloud-based ERPs provide data security, are easier to manage, and lower costs, which are advantages for smaller businesses.
Another benefit: because in-house servers are not required to support the Cloud, the up-front costs of ERP installation are lower.
4. Direct machine integration will mitigate surprise malfunctions
Direct machine integration, often called the Internet of Things (IoT), refers to the connecting of any device to the internet and each other. In manufacturing, it mainly means connecting equipment to the internet with sensors that are placed on each machine to monitor their performance in real-time.
A maintenance manager or supervisor can view and interpret the data and schedule the necessary repairs or maintenance for off-peak hours. Direct machine integration means fewer unexpected shut-downs as IoT and ERP work together to prevent them. Costs go down since machine operators are not standing around waiting on machine repairs and unplanned maintenance.
5. AI will significantly augment ERPs and manufacturing workforces
While some still fear that computers will eventually replace humans and create extensive unemployment, the real goal of artificial intelligence (AI) is to supplement human activity rather than to replace it.
AI, or "machine intelligence," refers to computers that imitate human intellectual functions, including learning, data processing, and problem-solving. Connecting AI to ERP helps humans make decisions and work faster with fewer mistakes.
Enhanced AI will be included in some 2020 ERP software. With advanced capabilities and operating collaboratively with human workforces, ERP will heighten the efficiency of workers and directly impact the performance of entire organizations.
5. Mobile ERPs: Real-time information wherever you go
In 2020, a growing number of employees will naturally expect their employers to have mobile apps for their company's software. ERPs will be going mobile, allowing employees to access real-time company information and customer communications. ERP mobile apps permit workers to review and approve sales orders and expenses from anywhere.
Companies that employ this technology will have the upper hand: More work will be getting done faster during a typical day, and that, in turn, will lead to increased sales and more satisfied customers.
ERP systems have already made enormous strides and continue to do so. In the beginning, ERP software was confined to large manufacturing firms to help them manage their inventory, such as raw materials and parts. After some time, advanced technology was included in ERP systems to propel efficiencies. 2020 looks to bring more exciting technologies to the discrete manufacturing floor and throughout entire enterprises.
With the right manufacturing ERP system in place, you can transform your business into an efficient, productive, outcome-driven powerhouse that is positioned for the future. To learn more about ERP benefits and how to choose the right ERP for your business, check out the new e-guide from Decision Resources, Inc., "Choosing and Implementing an ERP System for Discrete Manufacturing," available online for free.
ABOUT THE GUEST AUTHOR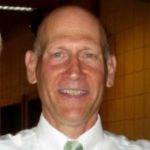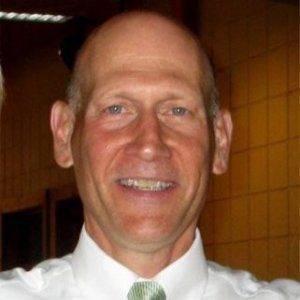 Sam DeBone has proudly led Decision Resources, Inc.'s sales and marketing team since 1989. Sam has more than three decades of experience in the software industry and more than 25 years of experience with SyteLine and CloudSuite Industrial software solutions. He is actively involved not only with projects for new customers, but also in working to ensure that DRI's existing customers continuously receive the advice and support they need concerning upgrades, new products, and consulting services. Sam enjoys working closely with DRI's customers and is deeply committed to the company philosophy that there is nothing more important than DRI's relationship with our customers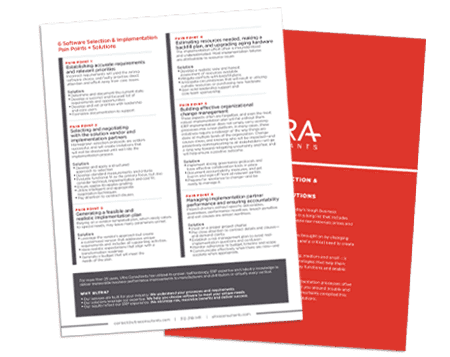 6 SOFTWARE SELECTION & IMPLEMENTATION PAIN POINTS + SOLUTIONS
Software selection and implementation processes often present challenges of their own. To steer you around trouble and help you drive success, Ultra's experts compiled a list of pain points and solutions to be aware of as you embark on this journey.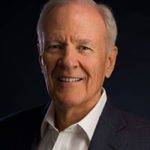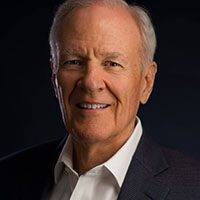 Jeff is the founder of Ultra Consultants, a well-known voice in the ERP consulting industry and an expert on ERP solutions for discrete and process manufacturers. Over the last 40-plus years, his companies have helped more than 2,000 organizations improve their business processes, select ERP software and implement advanced solutions.