Ultra State of the Economy Update – A Cloudy Outlook
As an independent ERP consulting firm, we guide project teams looking to work through enterprise system selection to improve key processes related to inventory management.
We understand that current economic data and events impact the economy, with a special focus on the U.S. Manufacturing and Distribution Industry.
This blog post aggregates key financial information, and provides a perspective to the manufacturing and distribution markets we serve.
Here is Ultra's monthly wrap up of recent economic data and events that have major sway over the economy, with a special focus on the U.S. Manufacturing and Distribution Industry.
Global Economy
To achieve the 2030 Agenda for Sustainable Development, the international community must embark on a path of collective efforts, including providing support to many developing countries to increase investment in numerous fields. Both upgrading and diversifying productive capacities and advancing communication, energy and transportation infrastructure remain priorities. Several countries, especially among the Least Developed Countries (LDCs), remain heavily reliant on international assistance to advance these efforts. In order to channel the financing needed to close existing investment gaps, concrete actions are needed at the global level.
Estimates of the total annual financing needs to reach the Sustainable Development Goals (SDGs) target range between $4.6 trillion and $7.9 trillion at the global level. The total annual investment gap in key sustainable development sectors is estimated at $2.5 trillion by United Nations Conference on Trade and Development (UNCTAD) and many States must double their current infrastructure investment levels. Given the fragility of investment in many developing economies, meeting these daunting targets requires stable and steady flows of investment finance.
Investment growth slowed sharply in many developing countries in 2014–2015, especially in low-income countries. This deterioration is partially explained by the commodity price cycle, exacerbated by the escalation of conflict in Yemen, the Ebola crisis, and other security issues and political instabilities. Since 2016, some positive trends have been observed, especially in East and South Asia, which also have large populations of people living below the poverty line.
However, investment levels in many developing countries, notably in Africa, remain insufficient to make rapid progress towards the 2030 Agenda. The eventual winding down of the period of ultra-cheap global liquidity is raising additional concerns, in particular in countries where corporate debt levels are elevated and where corporate borrowing has not been matched by investment into productive assets, as funds were channeled instead into financial assets or real estate.
Private businesses, facing a range of short-term options, hesitate to commit funds to long-term investment projects, while households often focus on their immediate needs. Private capital flows, which provide the largest share of cross-border finance, declined sharply in 2015–2018. Foreign Direct Investment (FDI) flows to developing countries which have been weakening since 2015, contracted by 30 percent by 2017 and fell further to $1.2 trillion in 2018 – the level seen immediately after the global financial crisis.
Official Development Assistance (ODA) flows to low-income countries and LDCs should play an important role in these efforts. ODA flows account for more than two-thirds of external finance for the LDCs. Globally, just over 11 percent of total bilateral ODA is directed towards investment projects. The ODA inflow ratio (excluding humanitarian aid and program assistance) to gross fixed capital formation in selected low-income countries exceeds 20 percent in at least 15 countries, highlighting the importance of ODA as a source of financing to help close investment gaps.
In 2018, ODA provided by members of the Organization for Economic Cooperation and Development (OECD) and the Development Assistance Committee (DAC) amounted to $149.3 billion, representing a decline of 2.7 percent in real terms over 2017. To compare, the volume of global remittances sent by migrant workers was about three times larger. Only five of the DAC members met or exceeded the 0.7 percent of Gross National Income (GNI) target.
Since 2010, the concessionality of bilateral ODA has also declined, as reliance on concessional loans increased at the expense of grants. In 2016–2017, loans made up 15.2 percent of ODA, compared to 12.4 percent in 2010–2012. Over 60 percent of ODA finance provided for economic infrastructure and services is in the form of concessional loans, mostly in the transport and energy sectors. While this expands available financing, it also increases the risk of currency mismatches for loans in foreign currency and may contribute to a further build-up of external debt in developing countries.
The absorption capacity of the ODA-receiving countries should also increase. Channeling ODA flows to productive investment will require a complex system of interactions between public and private stakeholders to develop and deepen domestic financial systems and mobilize domestic finance. The quality of domestic institutions is crucial for the efficient absorption of resources. 1
Global Manufacturing Activity
The performance of the global manufacturing sector continued to weaken at the end of the second quarter. Production fell for the first time since October 2012, as new order contracted at the fastest pace in almost seven years. Business optimism slumped to a series-record low.
At 49.4 in June, the J.P.Morgan Global Manufacturing Purchasing Manager Index (PMI) – a composite index produced by J.P.Morgan and IHS Markit – fell to its lowest level for over six-and-a-half years and posted back-to-back sub-50.0 readings for the first time since the second half of 2012.
Of the 30 nations for which a June PMI reading was available, the majority (18) signaled contraction. China, Japan, Germany, the UK, Taiwan, South Korea, Italy and Russia were among those countries experiencing downturns. The US, India, Brazil and Australia were some of the larger industrial nations to register an expansion.
Sub-sector data indicated that operating conditions deteriorated again in the intermediate and investment goods industries. The consumer goods category fared better in comparison, despite seeing growth ease to a three-year low.
The trend in international trade flows continued to weaken at the end of the second quarter. June saw new export business decline for the tenth straight month and at the joint-fastest pace for six years. Among the largest industrial economies covered, declines were registered in the euro area, China and Japan. Increases were seen in the US and India.
June data signaled a mild decrease in global manufacturing employment for the second month running. Reduced workloads and ample available capacity (emphasized by a further solid drop in backlogs of work) were the prime factors underlying the latest round of job cuts.
Inflationary pressures remained contained in June. Rates of increase in input costs and output charges both ticked lower and remained below their respective long-run averages. Average vendor lead times (a bellwether of supply-chain price pressures) also improved for the first time in six years as purchasing activity among manufacturers fell for the fifth straight month. 2
 "Global Manufacturing PMI fell to its lowest level since October 2012; June saw new export business decline for the tenth straight month; June data signaled a mild decrease in global manufacturing employment for the second month running"
Cloudy Outlook in North America
The U.S. economy is in an odd place. Jobs are plentiful and the stock market is at record levels, but business leaders are worried enough about the future to pull back on spending. President Trump calls this the "greatest economy" ever, yet he's also demanding the U.S. central bank inject more stimulus into the economy ASAP, something that typically happens only when a lot of yellow and red flags appear.
The overwhelming consensus among experts is that the U.S. economy is slowing after a pretty hot 2018. But there is heated debate over how fast it is cooling. Some argue that by the end of 2019, the U.S. economy is likely to look and feel a lot as it did in 2016: decent but not great. Others say the nation is likely to slip into a moderate downturn akin to those in 1990 or 2001.
The Washington Post asked top economic forecasters what metrics they are watching closely right now. Many pointed to seven key indicators that have done a decent job signaling recessions in the past: manufacturing purchases (PMI), trucking volumes, heavy truck sales, business capital spending, temporary hires, bank lending conditions (i.e., how easy it is to get a loan) and new claims for unemployment benefits.
The data reveal a cloudy outlook but only a few signs of a nasty storm. Manufacturing is the biggest red flag, a sector that makes up about 12 percent of the economy. Trucking shipments and business spending are flashing some yellow lights, a reflection that have executives on edge. But hiring and banking lending still look solid – or even strong.
"The message you hear from Fed Chair Jerome H. Powell and about everyone else is, 'we are waiting for the trend to become clear,'" said Peter Atwater, president of Financial Insyghts. "The danger is everyone plays catch up at once" if the trend starts to point down.
The big risk is if corporate anxiety over the trade war, weak growth abroad and the slowing manufacturing sector causes businesses to halt hiring in the United States in coming months, a shift that would probably spook Main Street and cause the almighty American consumer to pull back on spending. But a lot remains unclear. Here is a rundown of the key metrics.
Manufacturing (red flag) — There has been a sharp deceleration in manufacturing in 2019. Hiring has flatlined after having one of its best years in 2018 since the late 1990s. Output is slowing, and, especially alarming, manufacturing sentiment has tumbled to levels that almost signal a recession.
Many economists closely watch the Purchasing Managers' Index (See Figure 1), a survey of industry leaders by IHS Markit. When PMI is above 50 the economy is usually expanding. When it falls below 50, the economy is typically contracting. In June, the index fell to 50.1, the worst reading since 2009. The question is whether this weakness will spill over into other sectors or set up a situation similar to that in 2015, when manufacturing contracted but the services sector (technology, finance, hospitality, health care, etc.) remained solid.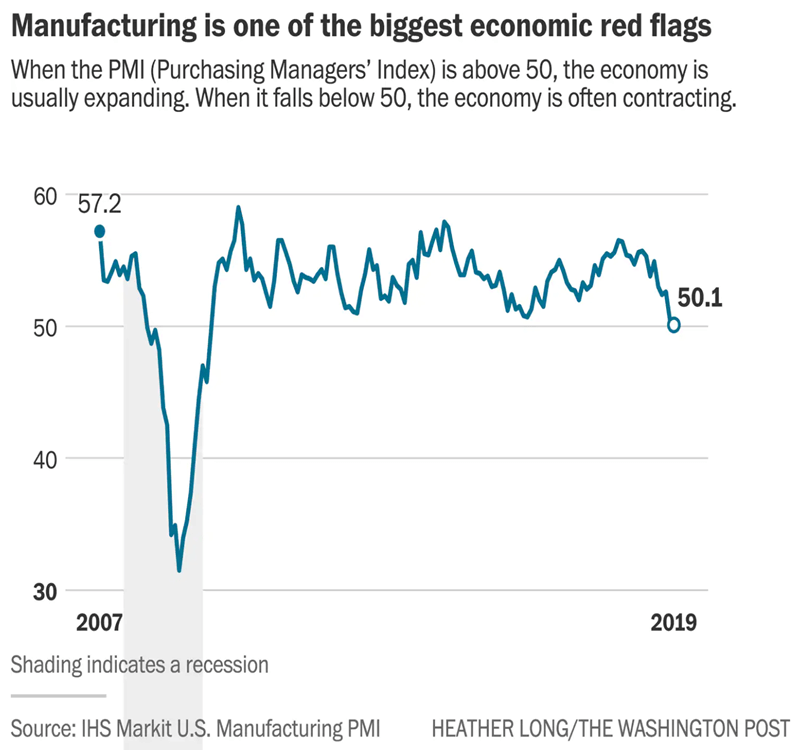 Trucking (yellow to red flag) — Nearly every good sold in the United States touches a truck at some point, which is why trucking shipment data can be revealing. After a stellar 2018, shipments have plunged during the past six months, according to the Cass Freight Index.
"Bottom line, more and more data is indicating that this is the beginning of an economic contraction. If a contraction occurs, then the Cass Shipments Index will have been one of the first early indicators once again," said Donald Broughton, founder of Broughton Capital and the lead analyst for the Cass Freight Index.
But many truckers note that it would be tough to continue last year's levels, so it's hard to know how much to read into the annual decline. In 2018, companies were enjoying big tax cuts that spurred some extra purchases and trying to move goods before President Trump's tariffs took effect.
Heavy truck sales (green light) — While trucking shipments look gloomy, another way to gauge the health of the trucking industry (and overall economy) is to look at sales of the big 18-wheeler trucks. That data looks a lot better, a seeming indication that the industry is still in a good enough place for companies to want to invest for the future.
"So far, the data I am looking at does not suggest the economy is slowing," said Brian Wesbury, chief economist at First Trust Portfolios, who likes to watch large truck sales and initial jobless claims.
But Boris Strbac, owner of Star Trucking in Milwaukee, says a lot of trucking company owners wanted to buy trucks at the end of last year and couldn't get them until this year because of heavy demand. He expects sales to drop off.
Jobless claims (green light) — Hiring has been one of the strongest parts of the economy since 2014. Economists closely watch how many Americans file for unemployment insurance, because that data comes out weekly and is often the first indication of trouble.
New jobless claims remain low, but there has been a slight uptick recently at the end of June 2019, reaching a seven-week high. Still, most economists say unemployment claims need to reach at least 250,000 a week before there's concern (the latest data out June 27, 2019 showed 227,000 new claims for the previous week).
Temporary hires (green light) — Another way to gauge how eager companies are to hire people is to look at how many temporary employees they bring on. These workers are usually the first to go if there is any sign of a slowdown, since they are easy to let go and have few ties to the company or management.
The Labor Department measures temporary hires monthly. So far in 2019, temporary hiring has slowed, compared with last year's, but it has yet to turn negative. Temp hiring appears to be consistent with the idea that the economy is slowing gradually this year but not nose-diving.
Business spending (yellow flag) — Business leaders are nervous, according to most metrics of sentiment in the corporate sector. But the question is how is that translating into decision-making? This year evidence is growing that companies are pulling back on investment spending.
Business typically taper their capital spending when they are less certain about the future, making it a closely watched economic gauge. Like temporary hires, business spending has yet to turn negative but it is showing a clear slowing path.
Bank lending (green light) — While many watch the daily gyrations of the stock market, a better gauge of how Wall Street and the broader economy are interacting is what is happening with bank loans. Economists pay close attention to whether banks are tightening lending standards, a sign of growing concern, or easing them.
Lately, banks have been easing lending standards, an indication that most banks do not think a big downturn is imminent.
Matthew Luzzetti, chief U.S. economist at Deutsche Bank, says all of these mixed signs about the economy lead him to predict "a decline in domestic growth momentum in the second half of the year," but he is careful not to say "recession."5
North American Manufacturing
Moderate gains were widespread among the major market groups in May 2019. The production of consumer goods rose 0.5 percent. An increase of 2.0 percent for consumer durables resulted from gains for all of its components but primarily reflected higher output of automotive products. The output of consumer nondurables edged up; an increase for consumer energy products was mostly offset by a decrease for non-energy nondurables.
The indexes for business equipment and for defense and space equipment both increased modestly. The improvement for business equipment came despite a drop for transit equipment that resulted from a decrease in the output of commercial aircraft. The indexes for construction supplies, business supplies, and materials all moved up. The gain of 0.3 percent for materials was driven by increases for nondurable and energy materials.
Manufacturing output increased 0.2 percent in May 2019 after having decreased about 0.4 percent per month, on average, in the first four months of the year. In May, the production of durable goods rose 0.3 percent, while the output of nondurable goods edged up 0.1 percent. Among durables, gains of more than 1 percent were posted by wood products, machinery, electrical equipment, appliances, and components, and motor vehicles and parts. These increases were partially offset by decreases in primary metals and in aerospace and miscellaneous transportation equipment.
Among nondurables, the only gain greater than 1 percent was recorded by plastics and rubber products, and the only decline greater than 1 percent was recorded by apparel and leather products. The index for other manufacturing (publishing and logging) decreased 0.9 percent last month; it has fallen 6.5 percent during the past 12 months.
The output of utilities increased 2.1 percent in May, with identically sized gains in the indexes for both natural gas and electric utilities. Mining output inched up 0.1 percent in May and was 10.0 percent above its level of a year earlier. The increase in the mining index for May reflected gains in oil and natural gas extraction that were mostly offset by a large decline for oil and gas well drilling.
Capacity utilization for manufacturing moved up 0.1 percentage point in May to 75.7 percent, a rate that is 2.6 percentage points below its long-run average. The utilization rates for durable and nondurable manufacturing were little changed, while the rate for other manufacturing (publishing and logging) slipped 0.4 percentage point. Capacity utilization for mining dipped to 91.3 percent but remained well above its long-run average of 87.1 percent. The operating rate for utilities jumped to 77.5 percent; even so, it was still about 8 percentage points below its long-run average. 7
 "Output of utilities increased 2.1% in May"
Trade Policy
U.S. – EU Trade Talks
The U.S. widened its threat to impose tariffs against the European Union, pending the outcome of a World Trade Organization (WTO) case over the EU's subsidies of the airplane manufacturer Airbus SE.
The Office of the U.S. Trade Representative (USTR) said that as part of a long-running dispute over aircraft subsidies, it would consider tariffs on an additional 89 items with an annual trade value of $4 billion, including cheese, pasta, and Scottish and Irish whiskies as well as chemicals and metals. In April 2019, the U.S. began the process of imposing tariffs against the EU pending the resolution of a WTO case that found the aircraft manufacturer has received unfair governmental support. The EU has proposed tariffs against the U.S. over a companion case regarding U.S. subsidies of Boeing Co.
The announcement expands the USTR's earlier threat, and now leaves items with a trade value of about $21 billion a year under consideration for tariffs, according to the statement. The Trump administration has largely sought to portray these tariffs as separate from their other trade efforts, saying that these tariffs are part of a distinct dispute over aviation subsidies, and not part of the overall effort to apply pressure to the EU to negotiate a broad trade deal.
Airbus responded, "this only adds to the trade tensions but in reality does not change anything." The level of retaliation is set by the WTO, the European plane maker said, adding the U.S. move made negotiating a solution harder and could result in a "lose-lose situation" for industries on both sides.
The European Commission's president, Jean-Claude Juncker, and President Trump agreed to negotiate a trade pact last summer, but the two sides have made little progress in their negotiations. Even if the Airbus-Boeing spat is largely separate from other trade issues, the threat of tariffs hasn't been conducive to progress in those talks.
The issue between the aircraft companies, however, predates President Trump by over a decade. The EU and U.S. have been tangling before the WTO for about 15 years over dueling claims that manufacturers are unfairly subsidized. The WTO has found that both sides unfairly subsidize their aircraft and may make a decision later this year that would allow the U.S. and EU to impose tariffs as countermeasures to these unfair subsidies. The WTO will also rule on the extent of harm caused by the subsidies, which would determine the size of tariffs that would be permissible in response.
These tariffs differ from most others pursued by the Trump administration because they would be imposed in response to an official WTO ruling, rather than unilaterally initiated by Washington. The tariffs in place against China, for example, stemmed from a U.S.-initiated investigation into China's intellectual-property practices, which provided legal justification for the administration to impose tariffs, so far, against roughly $250 billion in imports. The U.S. tariffs against global steel and aluminum imports were initiated by Washington with the official justification that steel and aluminum imports threatened U.S. national security.
While some of the administration's tariffs have had few supporters, the WTO case against Airbus has been supported by Boeing. When the tariffs were first announced in April, the aircraft manufacturer said it supported the USTR's efforts to "level the playing field." Experts on the WTO's litigation process do not expect the final scale of tariffs to be as large as that proposed by the U.S. and EU.
"The EU remains open for discussions with the U.S.," according to a European Commission spokesman. The EU's executive arm declined to comment on procedural steps by the USTR, highlighting that the final award is still to be decided. Brussels also reiterated that barring a settlement, it is ready to "promptly" retaliate against the U.S., once the WTO finalizes penalties in the bloc's case against Boeing. The EU award is expected early 2020.
The USTR said its final list of tariffs "will take into account the report of the WTO Arbitrator on the appropriate level of countermeasures to be authorized by the WTO." Before imposing the tariffs, the USTR will hold a public hearing on Aug. 5, 2019, when companies can testify about the effects of the tariffs. 3
U.S. – China Trade Talks
President Trump and President Xi Jinping of China managed to get trade talks back on track this past weekend, but an even tougher job lies ahead – appeasing hard-line factions within their own governments demanding they give no quarter.
President Xi Jinping faces party leaders and executives of state-owned enterprises who believe Washington is out to demolish the government-led economic model that is responsible for China's emergence as a global power and U.S. rival. President Trump, for his part, faces skepticism from some Republican and Democratic lawmakers who worry he will give up too much in any deal, as well as wariness among some of his own appointees. Heading into an election year, President Trump must also contend with restiveness among his supporters in the business community and farm-belt states who have been hit by the tariffs imposed by both countries.
"I see a kind of symmetry in that both Xi and Trump have bases whose support they need," said Hudson Institute China scholar Michael Pillsbury, who advises President Trump's administration. "In China, the hawks have been quite specific that they don't want a free market and they want a more assertive China. On the American side, the base wants not to be ripped off or taken advantage of by China."
Simply relaunching the talks, which had been on hold since hitting an impasse two months ago, took a lot of negotiating. In return for getting China back to the bargaining table, President Trump agreed to hold off on new tariffs on $300 billion in Chinese imports, and China agreed to buy more U.S. farm goods. But a U.S. concession on Chinese telecommunications giant Huawei Technologies Co. emerged as a key bargaining chip, one that illustrates the difficult decisions ahead. 4
Ultra Industry Indicators
Below is a chart (Figure 2) representing the most recent performances of investment portfolios within Ultra's largest industry sectors. Each portfolio is represented by major businesses within each industry and Ultra tracks the year to date high, and year to date low for each portfolio. The dot on each line represents the YTD percent change for each portfolio as of this publication. A positive percent change represents an increase in market price whereas a negative percent change represents a decrease in market price. The blue arrows indicate the monthly performance trend by comparing this month's closing price to the previous month's publication.  The data used in creating this chart was taken from Yahoo Finance. 6
*Aerospace & Defense – Indicated by Boeing, Northrup, General Dynamics, etc.
*Industrial Goods – Caterpillar, United Tech, Honeywell, GE, Raytheon, etc.
*Construction/Housing – Home Depot, Lowes, AvalonBay, Vulcan Materials, etc.
*Software & IT Services – Microsoft, Alphabet, Salesforce
*Consumer Goods – Indicated by CVS, Coca Cola, Kroger, Colgate, etc.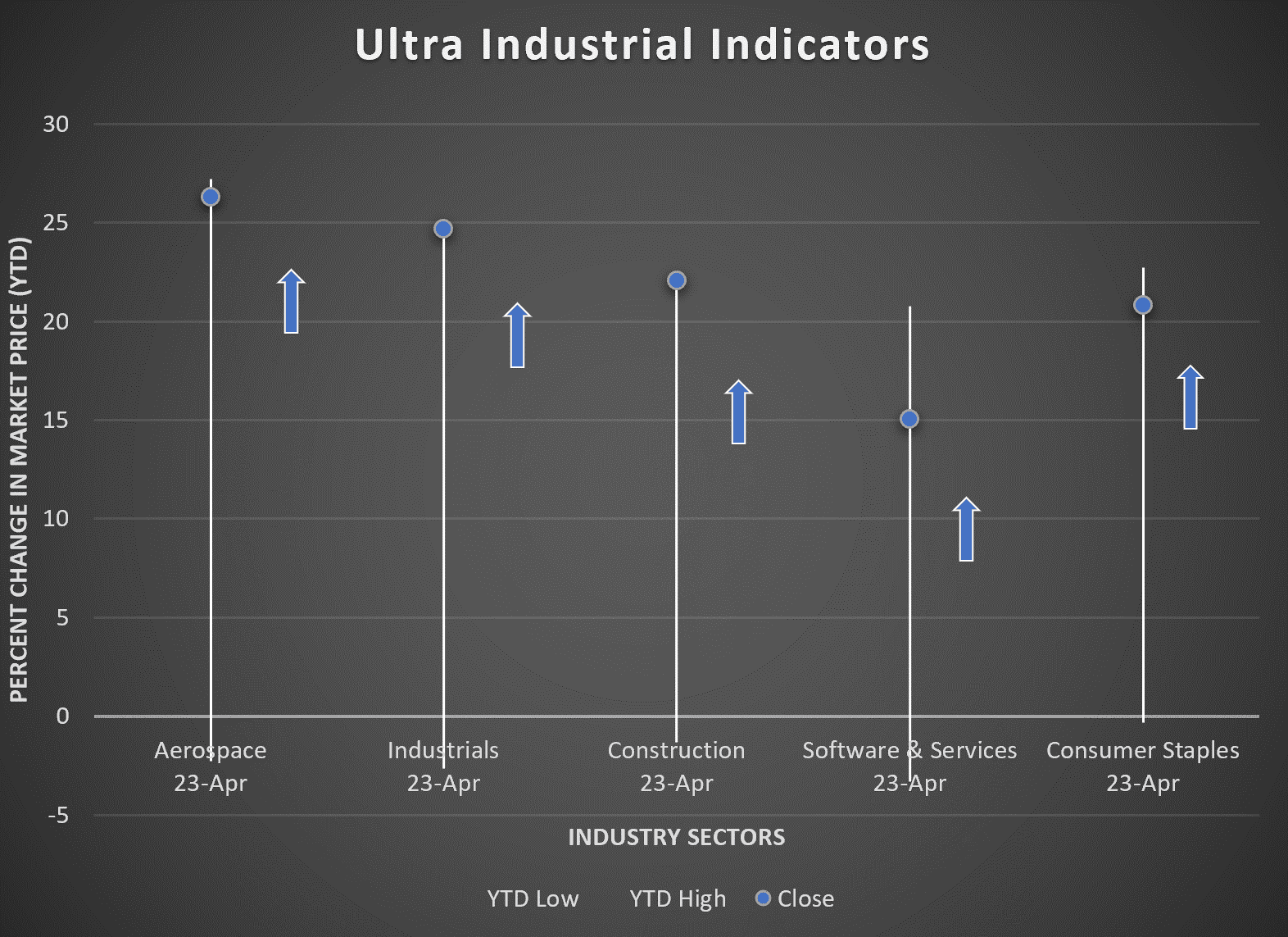 Ultra Perspective
The month of June has not seen much change in projections.  Economists all over the world are having difficulty trying to find a trend that will predict the future.  Generally, the economy is still going strong despite a few red and yellow flags that point towards an economic downturn.  Trade tensions and policy uncertainty have continued to damage global growth prospects.  Developed economies dictate the advancement of the less developed economies, but given the political instability and other security issues, the investment growth in many developing countries slowed sharply.
Previously, trade disputes were taking place between the U.S. and Mexico, and the U.S. and China talks were anything but productive.  In the most recent news, the U.S. and President Trump have threatened to impose tariffs on an additional $4 billion worth of items from the European Union totaling to a trade value of about $21 billion a year in tariffs.  This is in response to a dispute over aircraft subsidies of the European airline company, Airbus.
The EU has fired back with a threat of additional tariffs on the U.S. due a companion case regarding U.S. subsidies of Boeing.  On a better note, trade talks between the U.S. and China are back on track after being stuck in a holding pattern for two months.  The key points include President Trump agreeing to hold off on the proposed tariffs on $300 billion worth of Chinese imports, and China agreeing to buy more U.S. farm goods.  Although talks are back on track, there is a significant level of sensitivity between each nation, and the worldwide economy is heavily reliant on the outcome.
In the U.S., economists are scratching their heads trying to figure out what is going on.  Jobs are abundant, and the stock market continues to grow, hitting record highs multiple times in the past month.  However, many economists are hesitant to show excitement regarding this news due to some significant red flags.  A specific indicator, the Purchasing Managers' Index (PMI) has contracted substantially to its lowest reading since 2009.  Furthermore, the Cass Freight Index has stated that shipment data has plummeted in the past six months.  Other indicators show more positively – jobless claims have decreased, truck sales have been strong, temporary hires are relatively stable, and bank lending standards have eased.
Subsequently, in the wake of much of the above information, general business spending has slowed signifying that business leaders are uncertain about the future.  U.S and China relationships are making progress, but there is a repeating trend affecting international trade – President Trump will not hesitate to threaten tariffs on any of the largest trading partners of the U.S. adding instability to an already unclear economic outlook.
As the debate over the state of the economy continues, we will continue to monitor its progress.  With as many negative economic indicators as there are positive, the outlook continues to look cloudy, and people continue to struggle to find clear indications of what the future may hold.
Sources
https://www.un.org/development/desa/dpad/wp-content/uploads/sites/45/publication/Monthly_Briefing_128.pdf
https://www.washingtonpost.com/business/2019/06/28/how-healthy-is-us-economy-heres-what-key-indicators-reveal/?noredirect=on&utm_term=.09b4a284d4d4

https://finance.yahoo.com/chart/

https://www.philadelphiafed.org/research-and-data/regional-economy/business-outlook-survey/2019/bos0619
https://www.newyorkfed.org/medialibrary/media/survey/empire/empire2019/esms_2019_06_survey.pdf?la=en
7 Steps to Effectively Organize an ERP Project
The 7 Steps to Effectively Organize an ERP Project is designed for ERP project teams from today's forward-thinking manufacturing and distribution organizations.
Read tried and true strategies for manufacturers to effectively manage an ERP selection project. See what it takes to be successful and more with this Download.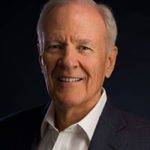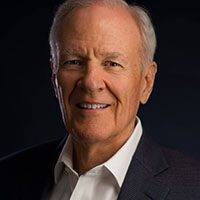 Jeff is the founder of Ultra Consultants, a well-known voice in the ERP consulting industry and an expert on ERP solutions for discrete and process manufacturers. Over the last 40-plus years, his companies have helped more than 2,000 organizations improve their business processes, select ERP software and implement advanced solutions.