Ultra State of the Economy: Summer Heat Makes for Slow Progress
We're in the mid-year summer season in the U.S. Manufacturing and Distribution Industry and as always, it's an ever-changing economic climate with many highs and lows.
Here's Ultra's wrap up of recent economic data and events that have major sway over the economy.
Summer Stagnation
Global growth is projected to reach 3.9 percent in 2018 and 2019, in line with the forecast of the April 2018 World Economic Outlook (WEO), but the expansion is becoming less even, and risks to the outlook are mounting. The rate of expansion appears to have peaked in some major economies and growth has become less synchronized.
In the United States, near-term momentum is strengthening in line with the April WEO forecast, and the US dollar has appreciated by around 5 percent in recent weeks. Growth projections have been revised down for the euro area, Japan, and the United Kingdom, reflecting negative surprises to activity in early 2018.
Among emerging market and developing economies, growth prospects are also becoming more uneven, amid rising oil prices, higher yields in the United States, escalating trade tensions, and market pressures on the currencies of some economies with weaker fundamentals. Growth projections have been revised down for Argentina, Brazil, and India, while the outlook for some oil exporters has strengthened.
Risks Shifting to the Downside
The balance of risks has shifted further to the downside, including in the short term. The recently announced and anticipated tariff increases by the United States and retaliatory measures by trading partners have increased the likelihood of escalating and sustained trade actions.
These could derail the recovery and depress medium-term growth prospects, both through their direct impact on resource allocation and productivity and by raising uncertainty and taking a toll on investment. Financial market conditions remain accommodative for advanced economies—with compressed spreads, stretched valuations in some markets, and low volatility—but this could change rapidly.
Possible triggers include rising trade tensions and conflicts, geopolitical concerns, and mounting political uncertainty. Higher inflation readings in the United States, where unemployment is below 4 percent, but markets are pricing in a much shallower path of interest rate increases than the one in the projections of the Federal Open Market Committee, could also lead to a sudden reassessment of fundamentals and risks by investors.
Tighter financial conditions could potentially cause disruptive portfolio adjustments, sharp exchange rate movements, and further reductions in capital inflows to emerging markets, particularly those with weaker fundamentals or higher political risks.
Avoiding protectionist measures and finding a cooperative solution that promotes continued growth in goods and services trade remain essential to preserve the global expansion. Policies and reforms should aim at sustaining activity, raising medium-term growth, and enhancing its inclusiveness. But with reduced slack and downside risks mounting, many countries need to rebuild fiscal buffers to create policy space for the next downturn and strengthen financial resilience to an environment of possibly higher market volatility.
In any case, advanced economy growth is expected to remain above trend at 2.4 percent in 2018—similar to 2017—before easing to 2.2 percent in 2019. The forecast for 2018 is lower by 0.1 percentage point compared to the April WEO, largely reflecting greater-than-expected growth moderations in the euro area and Japan after several quarters of above-potential growth.
In the United States, near-term momentum in the economy is expected to strengthen temporarily in line with the April WEO forecast, with growth projected at 2.9 percent in 2018 and 2.7 percent in 2019. Substantial fiscal stimulus together with already-robust private final demand will lift output further above potential and lower the unemployment rate below levels last registered 50 years ago, creating additional inflationary pressures. Imports are set to pick up with stronger domestic demand, increasing the US current account deficit and widening excess global imbalances.
Mixed News in North America:
Economic growth is strengthening to about 3% largely due to a substantial fiscal boost. Employment growth remains robust which, coupled with buoyant asset prices and strong consumer confidence, is sustaining income and consumption growth. Business investment is projected to strengthen as a result of major tax reform and supportive financial conditions.
A pick-up in the world economy is underpinning export growth, although tensions have emerged on how best to reduce barriers to trade. Fiscal policy is set to loosen substantially. As spending appropriations are determined, they should prioritize boosting the productive capacity of the economy, such as by supporting infrastructure investment. Fiscal policy combined with structural policies can also help those on the margins of the labor force into employment. As macroeconomic policy rebalances, the projected gradual withdrawal of monetary accommodation is needed to ensure that inflation returns to target and inflation expectations rise to their historical norms.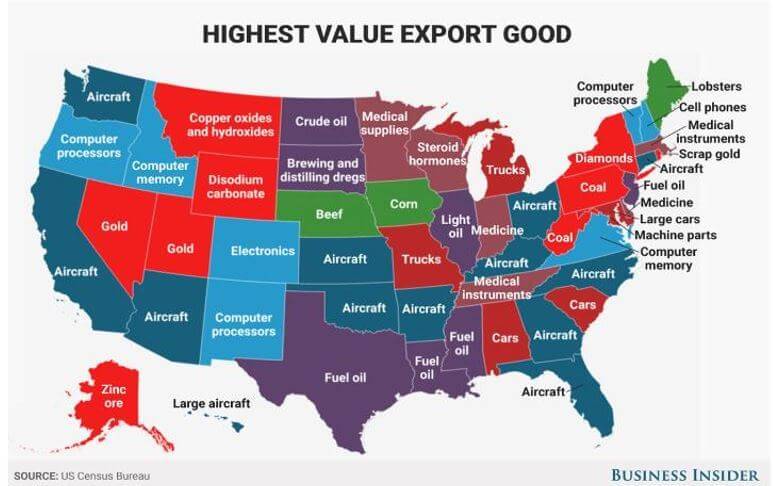 The fiscal boost will contribute to investment and labor market tightening. This will support income growth and consumption, offsetting some of the demographic pressures that will slow employment growth. The fiscal boost will lead to sizeable budget deficits and rising debt levels. Against the backdrop of widespread improvements in external demand export growth is expected to strengthen, though this is offset by rising imports of investment goods.
These developments coupled with a decline in national saving due to the fiscal loosening will contribute to a rising current account deficit. Trade represents a risk to the outlook. Addressing trade-related concerns multilaterally would minimize the risk of retaliatory measures undermining global trade growth. Financial risks have built up in some areas, particularly in the non-financial corporate sector where leverage is high. Reform efforts to reduce regulatory burdens in the financial sector should be careful to avoid exacerbating vulnerabilities. After a long period of quiescent wage and price inflation, the fiscal stimulus could support an acceleration that would boost incomes and price inflation.
Expansion Forecast
The expansion is now one of the longest on record, though it has been relatively weak in comparison with the past. Jobs have been created at a healthy pace, but, in comparison with many other OECD countries employment remains relatively low as a share of the working age population.
Productivity growth has been weak since the start of the expansion, which has been a feature across the OECD. Job growth coupled with buoyant asset prices, consumer confidence and the effects of the tax reforms are supporting strong consumption growth.
The fiscal boost should increase labor force participation and push down unemployment rates further. Wage growth remains lackluster notwithstanding unemployment rates falling below estimates of the structural rate, even as other indicators of labor market slack suggest limited spare capacity.
However, underlying demographic trends suggest labor force growth will eventually decelerate, although the effect on household income will be offset by stronger wage growth in a tight labor market. Investment began to recover in 2017, driven by surging investment in oil and gas exploration and production as the oil price rose. As investment in the oil and gas sector stabilizes, the impact of December's tax reform will sustain healthy business investment in the near term
Manufacturing Outlook
The Manufacturing Outlook Index rose to an all-time high in this report, the seventh straight quarter where the outlook exceeded the survey's historical average. Manufacturers also posted near or all-time high numbers in this quarter's survey when it came to their expectations for hiring workers (highest ever), raising wages (highest since 2001), increasing investments (highest ever), and increased sales (second-highest ever).
Outlook measures for medium-sized and large manufacturers also reached an all-time high in this survey. Clearly, manufacturers continue to be upbeat following Washington's passage of the comprehensive tax cuts package mentioned earlier as well as other positive policy changes out of Washington like its less burdensome approach toward regulatory policy—pro-growth stances that will help manufacturers compete in the global marketplace.
Manufacturers continue to report a pickup in pricing pressures. Indeed, the personal consumption expenditures (PCEs) deflator has risen 2.0 percent over the past 12 months, the fastest year-over-year pace since February 2017.
Excluding food and energy, core PCE inflation rose 1.9 percent year-over-year in March, accelerating for the seventh consecutive month after bottoming out at 1.3 percent in August. At the conclusion of its May 1–2 meeting, the Federal Open Along those lines, the "business environment" is no longer the concern that it once was, with just 19.1 percent citing the tax and regulatory climate as being a top concern (Figure 5). Respondents cited an unfavorable business climate as their primary business challenge as recently as two years ago, with three-quarters of manufacturers noting it as their top problem in the second quarter of 2016.
This quarter's survey found manufacturers citing instead the inability to attract and retain a quality workforce as their top concern; the price of raw materials rose to their second-most concern.
A Look at Regional Activity
The expansion in Texas factory activity continued in June, albeit at a slower pace than in May, according to business executives responding to the Texas Manufacturing Outlook Survey. The production index, a key measure of state manufacturing conditions, declined 12 points to 23.3, signaling a deceleration in output growth. Some other indexes of manufacturing activity also indicated slower growth in June. The capacity utilization and shipments indexes posted double-digit declines, falling to 21.7 and 25.5, respectively. However, demand improved further in June as the new orders index edged up to 29.6, its highest level this year.
In Philadelphia, responses to the June Manufacturing Business Outlook Survey indicate continued expansion for the region's manufacturing sector, although indicators for general activity and new orders fell notably from last month. The firms reported continued increases in employment, and the indexes for prices paid and received continued to reflect widespread price pressures. Looking ahead six months, the firms remain optimistic overall, but the survey's future indicators continued to moderate.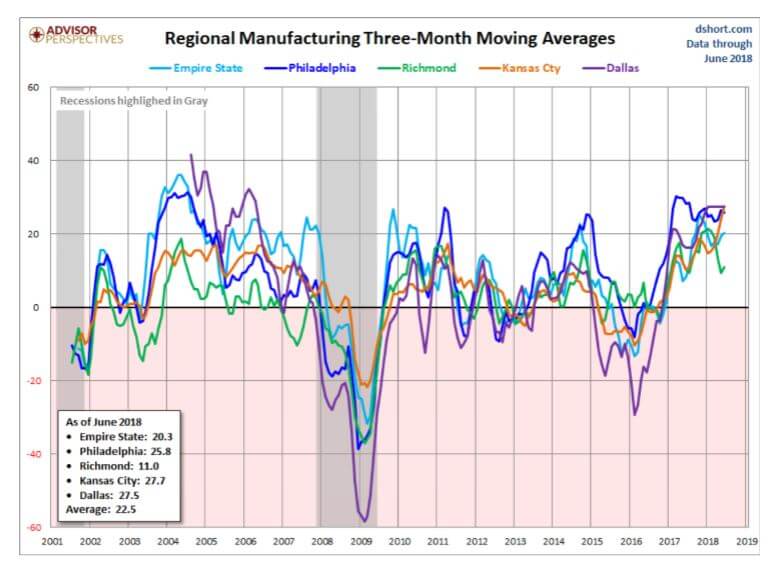 In the Kansas District (Tenth), manufacturing activity continued to expand at a rapid pace in June, with the composite index similar to May's record-high reading. Expectations for future growth increased moderately, and many firms reported difficulties finding qualified workers. Price indexes remained at high levels and factory activity increased at durable and nondurable goods plants, particularly for computer, electronics, and food products.
Business activity continued to grow at a brisk pace in New York State, according to firms responding to the July 2018 Empire State Manufacturing Survey. The headline general business conditions index edged down by over two points to 22.6—still a high level, suggesting a continuation of robust growth. The new orders index dipped three points to 18.2, while the shipments index fell nine points to 14.6, pointing to a modest pullback in growth of orders and shipments. Delivery times continued to rise, and inventories fell marginally. Labor market indicators pointed to continued sturdy growth in employment and a modest increase in the workweek.
Fifth District manufacturing continued to expand in June, according to results of the most recent survey from the Richmond Fed. The composite manufacturing index rose from 16 in May to 20 in June, buoyed by an increase in all three components (shipments, new orders, and employment). Firms also saw an increase in backlog of orders, as the index rose to its highest value of this year. Respondents were optimistic in June, expecting growth to continue across most indicators.
Ultra Perspective
Although global growth is projected to be positive, the current state of world affairs leads us to believe that that view could change at the drop of a hat. Due to conflicting policies within and between nations, growth for anything other than the largest prospects is unclear.
Medium and small sized prospects are just as likely to be strangled as they are elevated by policy and that makes for unstable projections. Many places are solely thinking about short term policy rather than medium or long term initiatives which means that there are increasingly high risks in the long term due to unclear relationships. The best hope we have is that the policies that take priority on a global scale encourage cooperation and medium to long term growth.
In the states, fiscal policy is set to loosen and this may cause a pick up in growth for the United States. Fiscal policy combined with structural policies can also help those on the margins of the labor force into employment. As policy rebalances, the projected withdrawal of monetary accommodation is needed to ensure that inflation returns to target and inflation expectations rise to their historical norms. However, financial risks have built up in some areas, particularly in the non-financial corporate sector where leverage is high. Reform efforts to reduce regulatory burdens in the financial sector should be careful to avoid exacerbating vulnerabilities. After a long period of steady wage and price inflation, the fiscal stimulus could support an acceleration that would boost incomes and price inflation.
All in all, although the U.S. is experiencing one of the largest expansions on record, it has still been relatively weak in comparison with the past.
It seems 2018 is still holding on for the time being. Growth projections are still steady, with advanced economies such as the U.S. experiencing perked up markets. However, global monetary and trade policy still leave those projections at risk. Relationships between nations are strained and long-term vision seems to have been lost upon current policy-makers. Unless a refocus occurs towards the future, these short term perks may be very short lived indeed.
7 Steps to Effectively Organize an ERP Project
The 7 Steps to Effectively Organize an ERP Project is designed for ERP project teams from today's forward-thinking manufacturing and distribution organizations.
Read tried and true strategies for manufacturers to effectively manage an ERP selection project. See what it takes to be successful and more with this Download.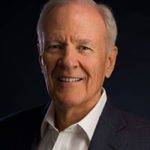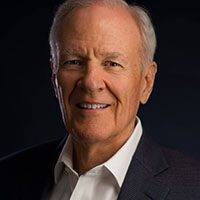 Jeff is the founder of Ultra Consultants, a well-known voice in the ERP consulting industry and an expert on ERP solutions for discrete and process manufacturers. Over the last 40-plus years, his companies have helped more than 2,000 organizations improve their business processes, select ERP software and implement advanced solutions.