Ultra Consultant's Center of Excellence
As an ERP consulting firm serving manufacturing and distribution teams, Ultra Consultants guides enterprises through successful technology solution selection and implementation projects. Most manufacturers and distributors we engage with are looking for educational resources and technical strategies to identify the best technology fit coupled with methods for business process improvement.
That's why we've created Ultra's Center of Excellence.
Ultra's Center of Excellence is your key resource for timely and insightful educational materials about enterprise technology and business process improvement.
Ultra's CEO Jeff Carr speaks with Center of Excellence Director Andrew Bolivar
about the Center's value to today's project team.
What's the Value of Ultra's Center of Excellence?
As you'll see Andrew explain, Ultra's Center of Excellence serves the unique needs of manufacturers and distribution companies in such industries as automotive, industrial manufacturing, food and beverage, pharmaceuticals and more. It delivers value by gathering and unifying process knowledge and technology knowledge from our consultants in the field.
At the same time, the center offers technology evaluation research, for example, about technology options, shifting requirements in different manufacturing verticals, and varying market challenges.
>
Learn More
Whether your enterprise is eager to replace an outdated solution or just beginning the ERP conversation, Ultra's Center of Excellence offers independent enterprise solution research and education.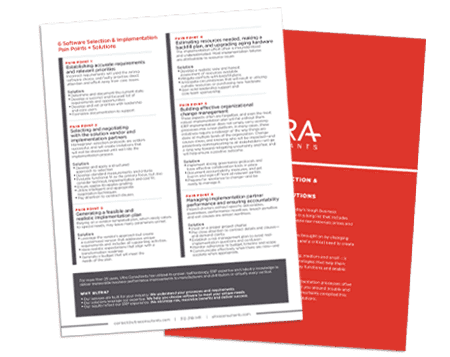 6 SOFTWARE SELECTION & IMPLEMENTATION PAIN POINTS + SOLUTIONS
Software selection and implementation processes often present challenges of their own. To steer you around trouble and help you drive success, Ultra's experts compiled a list of pain points and solutions to be aware of as you embark on this journey.