When project teams from manufacturing and distribution companies head into business process improvement, ERP evaluation, selection or implementation, our role as an independent ERP consultant team is of critical value.
The value these companies obtain from teaming with vendor agnostic ERP consultants means Ultra's allegiance is to your success and your effective use of enterprise technology.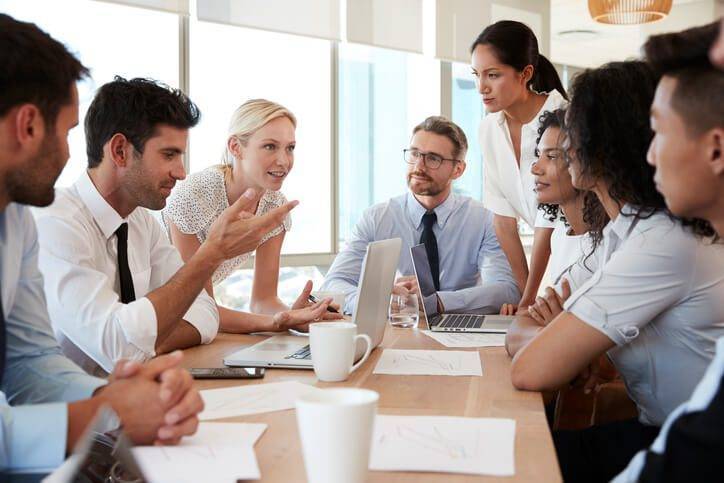 An effective enterprise software implementation is a critical success factor for the typical manufacturing organization. Yet, more than 50% of mid-market enterprises rely on legacy systems and outdated processes, because they simply don't know the latest and greatest in the ERP landscape.
There are many phases to a typical ERP selection project – from ERP requirements definitions, to setting selection criteria and contract negotiations. Selection projects require significant staff resources, time, and cost your organization money.
Vendor Agnostic ERP Consultants: A Smart Approach
Independent ERP consultants – also referred to as vendor agnostic ERP consultants  – are proven to minimize risk, accelerate the selection and implementation process and increase the success and value of enterprise technology.
By teaming with an ERP consulting firm, manufacturers and distributors gain value from technological knowledge and industry expertise to organize, manage and measure success. The focus is on the project ROI and the best fit for the company, not fitting a solution to a specific set of requirements.
Vendor agnostic ERP consultants offer the following distinctions to vendor-influenced resellers, selection or implementation consultants through the following:
Deep experience in all manufacturing and distribution industries delivered by a seasoned team with experience in the manufacturing and distribution sectors around North America. The area of expertise is manufacturing and distribution business process improvement first, and technology that drives success.
A proven methodology with objective, in-depth understanding of enterprise software selection and implementation best practices.
Efficient processes that make your critical resources more productive in the project.
A process that speeds your time-to-benefit. Ultra's methodology cuts to the chase. Our approach gets our clients to the goal line in half the time of traditional methods.
An independent, vendor-neutral team that has worked through the process numerous times, with strategies to accelerate training, implementation and return on investment (ROI).
Cost saving opportunities that stem from ERP contract negotiations. Our methods encourage time and resource savings at all phases of the project, from business process mapping and requirements definitions to training and go-live.
The Value of Teaming with Vendor Agnostic ERP Consultants
As we noted, vendor agnostic is the term that provides insight into the allegiance and motivation of the consulting organization.  Technology projects are evaluated and selected to best serve the company's requirements and not a vendor that we are aligned with.
As an example, if a manufacturer is hindered by outdated inventory management processes, we want to recommend to them the best platform based upon their specific requirements in this area. Likewise, if a company is handicapped by a legacy system that has been customized over the years, the need is for a solution that can handle growth, be flexible to meet mandates and grow with them for optimal performance and has the ability to scale. In each of these scenarios.
Vendor agnostic ERP consultants provide enterprise services built upon objective guidance to match the technology environment to specific customer requirements.
Ultra Consultants was founded to meet the needs of companies who were seeking truly vendor-neutral guidance and were familiar with modern enterprise platforms to provide objective guidance.  The value to project teams includes:
Confidence: Project teams have confidence that there are no vendor allegiances and that the consultants will direct the project team to evaluate, select the solution components based upon the merits of the technology.
Technological Leadership: Companies rely on Ultra as a trusted advisor and obtain unbiased recommendations from experts who understand the modern technology landscape.
Educational Resources: Through Ultra's Center of Excellence, our differentiator is that our experts understand the pros and cons of each product or solution and is able to determine the best solution for the customer based upon the requirements. Located at https://ultraconsultants.com/centerofexcellence, the Center of Excellence provides clients educational resources and best practices about effective selection and deployment of enterprise technology and the tools required to choose the right solution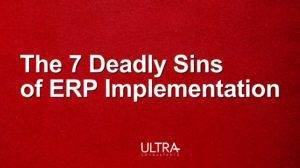 THE 7 DEADLY SINS OF ERP IMPLEMENTATION
Some mistakes are just bad strategic or financial decisions. Some are the inevitable consequence of situational or organizational factors. Some, however, are the result of process-oriented or people-centric choices – and are easily avoided. These are The Seven Deadly Sins of ERP Implementation.
DOWNLOAD NOW