Webinar: Boost Agility and Mitigate Manufacturing Disruption With Low-Code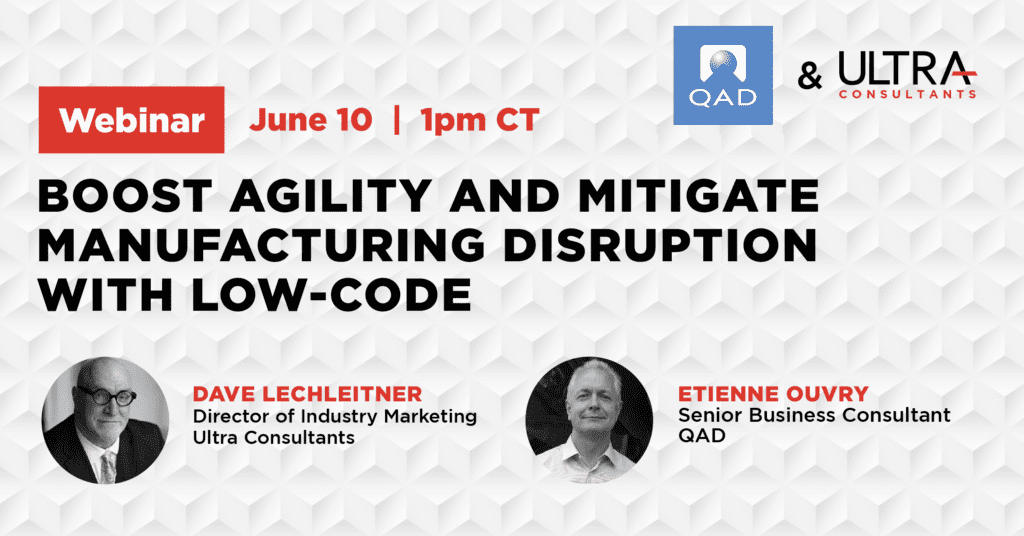 Low-code enables fast app development to tackle unexpected business challenges
In today's manufacturing environment, with unexpected challenges a near-constant, your company must be able to quickly adapt your ERP, business models and business processes. But the development and deployment of ERP applications typically requires too much time – and too much cost.
Low-code ERP platforms accelerate your ERP application development process, support rapid adaptation to your business practices and, ultimately, break down (or even eliminate) one of the biggest barriers to digital transformation.
Join us on June 10 (1 p.m. CT) for "Boost Agility and Mitigate Manufacturing Disruption With Low-Code," a 30-minute conversation sponsored by QAD and Ultra Consultants – and learn how low-code lets your team develop critical ERP apps without IT support.
What's more, QAD Business Consultant Etienne Ouvry and Ultra Director of Industry Marketing Dave Lechleitner will discuss how low-code helped a manufacturer navigate recent chip shortages.