Solution Implementation Management
Expertise applied. Success expected. When utilizing our ERP implementation services, you can expect a focus on your business requirements and value drivers, structured project management, special attention to the utilization of resources and a productive relationship with your chosen vendors. Ultimately, our job is to ensure that your implementation is successful and business value is realized.
Smart software solution implementation focused on your goals.
Ultra's software
solution implementation
methodology and ERP implementation consulting is built on 27 years of manufacturing and distribution industry experience. This expertise is a main contributor to successful implementation, achieving your desired future state for business operations and, ultimately, business performance improvement.
Working with client and vendor resources, the Ultra team drives the activities needed for a more predictable, on-time and on-budget transformation to efficient processes and a modern technology platform. What's more, our organizational
change management
services are embedded throughout our methodology to ensure your organization and people are engaged, educated, collaborative and prepared for significant change.
Software Solution Implementation Strategy
The Ultra team combines forces with your team, technology vendors and software implementation partner to achieve your strategic goals. We utilize our implementation best practices to guide every aspect of the project. Our project framework ensures all related project components are included. And our experienced consultants find and fill gaps in knowledge, skills, and resources.
Alignment & Project Planning
Proven approach. In this initiation phase, we start by ensuring that your team, our team and the software vendor's implementation team are integrated and aligned to project requirements, deliverables, goals and expectations – and the critical future state business and technology objectives. Then we review your implementation vendor's project plan and collaborate to develop an integrated project plan that will be used to manage your project.
Leveraging structured project management tools, we also work closely with you to manage change, establish governance processes, and develop a resource management plan that organizes your internal project teams and gives your people roles that leverage their strengths and areas of expertise. The deliverable from this phase is a highly detailed and comprehensive project playbook.
Key knowledge. Working with your team and your implementation partner, we incorporate your future state process definitions in the solution design. This important activity accelerates the project timeline, reduces your time-to-benefit and ensures that your areas of opportunity and strategic objectives are addressed.
What's more, we consult with your software vendor on configuration to ensure that your unique business requirements are met, drive improved business performance and ensure your new solution will help you achieve your business goals.
Project Management & testing
Invaluable expertise. In this build phase, our experienced consultants offer important guidance and governance to your implementation vendor, identify, and validate that future state business objectives will be met.
And, we support your success with our experience in project management, change management, risk management, information technology and other key competencies.
Finally, verification/test cycles confirm that the solution built will achieve your future state, and that your team is confident in their usage of the solution. This processes is repeated until we are sure that all business goals are met before moving to the deploy phase.
Powerful support. We confirm that the business management team is aligned with the project team, confident in the solution and ready to go forward with go-live.
At this time, the system has been validated and is ready to migrate to production. To minimize risk of business disruption and increase speed to stabilization, our team ensures that the cut-over plan is comprehensive, validated and approved. Then, in order to get to a production state, one final verification/test cycle is performance, and the cut-over plan is rehearsed.
We also manage the effective transfer of knowledge and ownership from your project team to the business with software vendor training and documentation specially tailored to your needs and culture.
At the end of the final test cycle and execution of the cut-over, the system is live.
Benefit delivery. With our support and services, the production phase is the beginning of continuous improvement cycles, needs-driven enhancements and expansion. Most important, it's the start of an ongoing effort to realize the significant benefits of your solution, achieve your aspirations for the future state and discover additional business opportunities.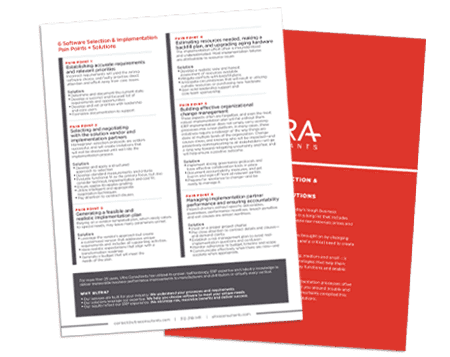 6 SOFTWARE SELECTION & IMPLEMENTATION PAIN POINTS + SOLUTIONS
Software selection and implementation processes often present challenges of their own. To steer you around trouble and help you drive success, Ultra's experts compiled a list of pain points and solutions to be aware of as you embark on this journey.
Solution Implementation Management Frequently Asked Questions
Q: How do I choose the right ERP technology?
A: The most common reason 75% of ERP implementations fail to reach intended ROI and time-to-benefit expectations is because of inexperienced project managers. When the person tasked with bringing the company-wide initiative to fruition is not familiar with either the scope or the process of such an undertaking, problems inevitably arise.
Under inexperienced leadership, there can easily be resistance to change, technology without
business process improvement
, inappropriate ERP selection, and poor communication. Working with a consultant through the selection, implementation, and adoption phases of a new system can help avoid common frustrations and allow for an easier transition.
Q: How do I avoid solution implementation frustration?
A: Implementing a new ERP or business process improvement solution can be overwhelming and frustrating. Many common pain points can be avoided entirely through proper planning. Consider partnering with a consultant who has decades of experience in your industry and who understands your business. An outside expert can facilitate simpler proven methods for implementation and adoption by all team members, removing roadblocks to success and accelerating ROI.
PACIFIC PLUMBING SUPPLY CO.
Complex Project Requires Special Expertise Every implementation has points at which specialized expertise is required, and Ultra brought in resources from inside and outside its organization to resolve complex issues. This access to high-level support was critical to the project's success.
EVANS FOOD GROUP
Acquisitions Drive ERP Upgrade Evans Food Group struggled to manage its operations using multiple legacy enterprise systems, outdated software and unstandardized, inefficient processes. A new ERP was long overdue – and required a smart deployment strategy.
CHICAGO TUBE & IRON
Challenges Met and Overcome Chicago Tube & Iron's unique needs meant that its new ERP required significant custom development – and the utilization of expert resources. What's more, the company planned to do simultaneous rollouts at all its 11 locations.
Looking closer at our ERP implementation services