Enterprise Technology Selection
Proven process. Valuable expertise. Our independence and objective enterprise technology selection methodology help ensure that you make the right choice. And our experienced consultants look closely at your core processes to understand the unique requirements of your business.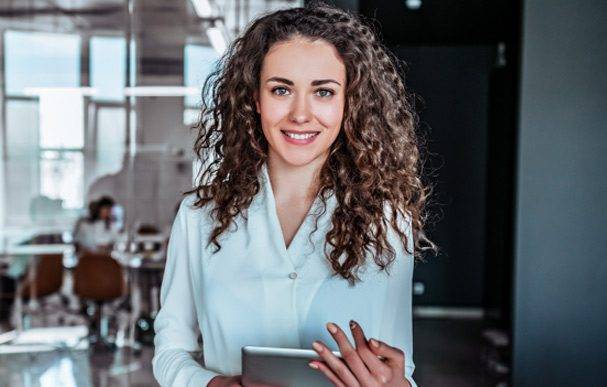 ERP Selection Process: Step by Step
Twenty-seven years of experience and vendor-independence give us a neutral, fact-based structure we use to support your enterprise technology selection process and objectively validate your decision. And, because we focus exclusively on manufacturing and distribution, we also provide you with exceptional industry expertise, nuanced insight and a deep, experience-based understanding of what's important (and what isn't) and what works (and what doesn't).
Our five-step technology selection process provides critical analysis, evaluation and guidance – and provides structure to ensure that you choose the best solution for your industry, organization and processes.
Thorough research.
We do the important legwork. Our research gives you an up-front understanding of qualified vendors and the capabilities of their solutions. By moving you a step ahead, you'll know early in the journey which vendors are experienced and strong in your vertical, and which solutions are suited to your business.
Important questions.
We ask the pointed questions that qualify (or disqualify) potential vendors. With your critical requirements and future state vision in-hand, we require software companies to show you how their software addresses your key business drivers and enable business performance improvement today and tomorrow. These detailed interviews and briefings give you the information needed to filter out the pretenders and identify the contenders.
Success-critical info.
We ask the final vendors to show you how their software will enable the future state operating model of your business. These highly structured demonstrations follow our agenda (not the vendor's) and focus on your complete set of requirements and business aspirations. When these in-depth sessions are done, the data and insight is compiled into a detailed comparative analysis. Then the timeline is refined and the business case is updated.
Final details.
With vendors and solutions determined, this next step is focused on understanding the critical considerations beyond software functionality that are necessary to make an informed final decision. Working closely with your project team, vendor references are checked, total cost analysis is performed, potential implementation strategies are evaluated, and contract negotiations begin.
Informed decision.
At the end of this process, your team – and your organization as a whole – will be confident in the information used to select a solution. All questions about the main selection criteria – functional fit,  vendor fit, solution roadmap, technology alignment, implementation confidence and total cost of ownership – will be answered. For many organizations, the right choice is clear.
In addition, we guide the negotiation of the scope of work, including the implementation plan, strategy and approach, resource requirements and contractual costs. And our exceptional experience in technology selections ensures that you achieve significant cost savings, mitigate risk and proceed with confidence.
Our independent, highly experienced consultants guide your selection.
We work with ERP and ERP-connected software solutions, and nothing else. This concentration means our expert consultants, who understand the unique needs of your industry and your business, also know how to help you select a solution that will deliver the most benefit and greatest performance improvement for your organization. What's more, our consultants understand that time-to-value and return-on-investment are tremendously important to your company, and that your success requires our people, teams, strategies and solutions to be creative, efficient and flexible.
Perhaps most important, we're independent and unbiased, and our primary focus is on facilitating your successful outcome.
Enterprise Technology Selection Frequently Asked Questions
Q: How do I choose the right ERP technology?
A: Knowing where to start with the ERP selection process can be difficult. With dozens of viable options on the market, how do you quickly determine which solutions will solve your current pain points and take you into the future? Most businesses find that teaming up with an ERP implementation consultant is well worth the investment, saving you valuable time and resources. Consultants take an objective look at your business and determine where you may be able to increase efficiency and cut redundant or manual processes. Additionally, their understanding of every viable ERP solution and industry-specific technology on the market gives you a better guide to the most advantageous options for your specific needs.
Q: How do I choose an ERP selection and implementation partner?
A: Choosing the right ERP selection and implementation consultant can greatly impact the success of your project. For help selecting the right ERP solution for your business, make sure your consultant had the following attributes:
Independent. This gives you the certainty that the consultant is not somehow incentivized to steer you toward any certain solution over another.
Experienced in ERP. Consultants with real-world project management experience can help move your project towards the finish line, no matter the size of your company or complexity of your issues.
Industry Experts. You need a team with decades of experience in your industry and vertical who understands from a management perspective the challenges unique to your business model.
Available. Consultants who are not only willing to meet with you , but really listen to the pain points and limitations you are facing with your current system.
Knowledgeable. Choose ERP consultants that have a working knowledge of a variety of ERP technologies.
Supportive. After you have selected an ERP and move into the implementation stage, you'll need help realizing your ROI goals. Make sure the consultancy you choose will be there with you along the way.
Broad expertise to help you make the right choice.
Configure, Price, Quote (CPQ)
Customer Relationship Management (CRM)
Enterprise Resource Management (ERP)
Field Service Management (FSM)
Human Capital Management (HCM)
Manufacturing Execution Systems (MES)
Product Lifecycle Management (PLM)
Supply Chain Management (SCM)
Warehouse Management Systems (WMS)
Transportation Management Systems (TMS)
EVANS FOOD GROUP
Challenges Create Opportunities To enable growth and expand operations, Evans Food Group needed to solve its business process issues and implement an ERP solution that suited the food business, the organization and the company's requirements.
PACIFIC PLUMBING SUPPLY CO.
Independence and Expertise Critical Pacific Plumbing Supply selected Ultra because it wanted a partner that was not tied to a particular software company, a company that works in the mid-market distribution space, and a company that sees the world the way it does.
DESCHUTES BREWERY
Process Insight Informs Selection Ultra built a foundation for Deschutes' transformation by understanding its unique requirements, presenting what is possible with modern solutions and developing a desired future state – and then using that insight to guide software selection.
Examples of technology selection projects.
Looking closer at our enterprise technology selection services
The enterprise technology selection process is informed by your detailed Future State vision, by changes and critical insight from the Business Process Improvement phase, and by our deep knowledge of your industry, organization and unique requirements.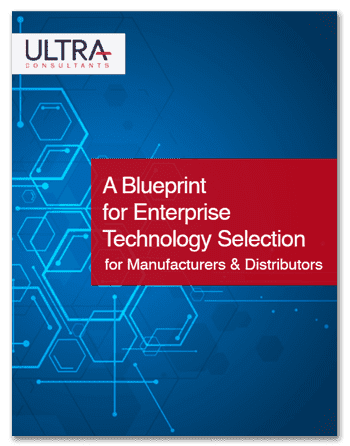 An enterprise technology project is a complex and potentially risk-filled process. Wouldn't it make sense to tap into wisdom from those who have successfully gone before? This ebook offers informative webcasts, podcasts, white papers, articles, videos and more to create a blueprint for success.
Whether your company is implementing an ERP system for the first time, or replacing a legacy implementation, it's critically important to make the right choice.