ERP Selection Consultants
Under guidance from Ultra's  ERP selection consultants, over 300 manufacturing and distribution companies have successfully completed their ERP Selection projects.
What is ERP Selection?
ERP Selection is a vital process a company must go through to acquire modern information technology that will drive business process improvement. Under guidance from Ultra's  ERP selection consultants, over 300 manufacturing and distribution companies have successfully completed their ERP Selection projects.
ERP Evaluation when Led by an Independent Consultant Team
Selecting and implementing a new ERP system is one of the most resource-intensive projects a mid-market manufacturing company can face.
Many of the challenges stem from the size and complexity of such a project.
Further problems arise when the project does not have the needed executive sponsorship, as well as a lack of change management.
We're here to make it easier and more rewarding for you.
Your company can gain value from teaming with an independent expert like Ultra for an effective approach to enterprise software selection. When guided by the right consulting team, you will be able to reduce the effort, resources, and cost of ERP selection.
A properly executed ERP Selection process is a key component to a successful ERP implementation. Implementations that fail to meet expectations can almost always be traced back to a poorly executed ERP selection project.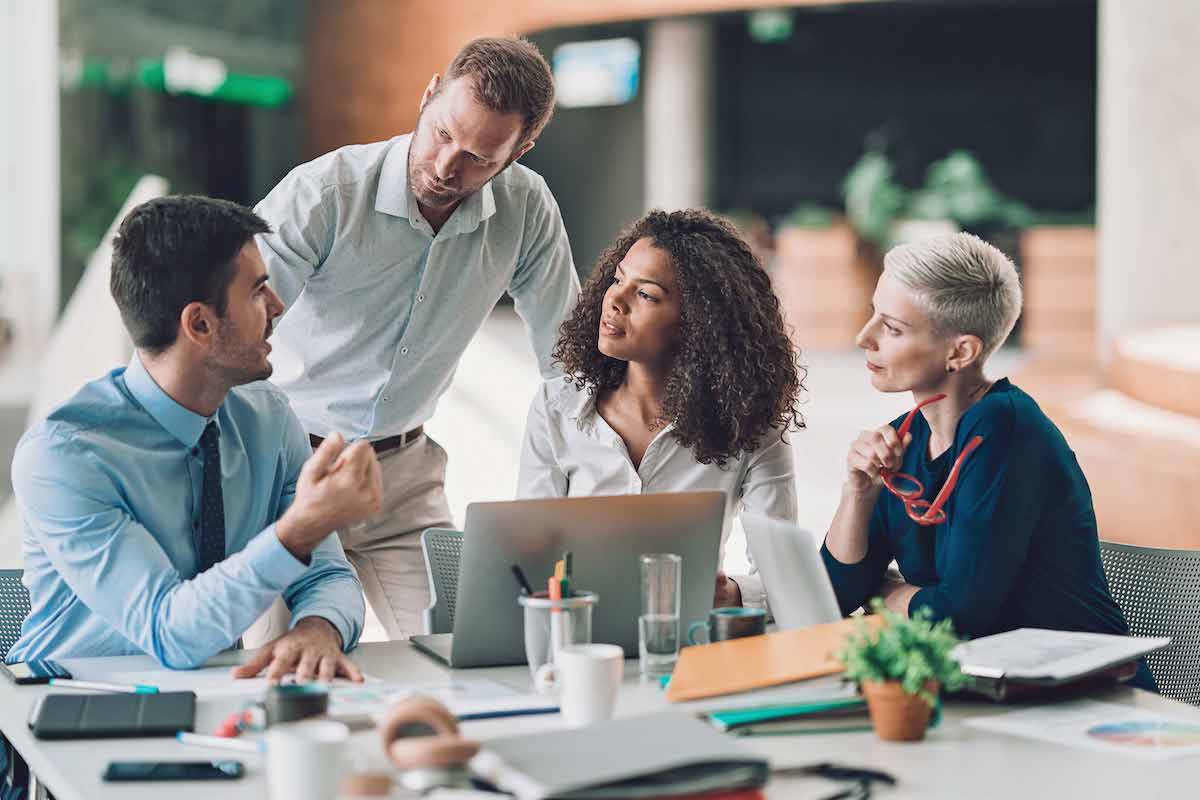 Take the next steps to transform your business
Choosing the right ERP system is a critical step in improving your organization. Talk to the experts.
ERP System Selection Methodology
Ultra Consultants employs a business process evaluation methodology to assess the top ERP vendors in the market today.
Integrate with all of our other service offerings:
Organizational Change Management
The integration of all of these services makes our client teams more efficient, reducing overall time-to-benefit.
Defining your company's business processes, both current state and future state will drive your client evaluation projects. We help our clients identify the vendors that meet the required selection criteria and excel in these business processes within our client's industry.
ERP Selection Criteria
The following 5 areas are critical ERP selection criteria:
Software functional fit to the future state business process needs
Vendor's presence and strength in our client's industry
Vendor's technology direction
Vendor's support ecosystem
The total cost of ownership
Our process will guide you to a vendor that best fits your business process needs, and who will be a good partner for the next twenty years. With all of the options out there today, this is a challenge in itself. We will guide you through the process of navigating the vendor evaluation process.
The ERP Vendor Selection Process
Each of our projects follows our well-defined methodology, which includes the following steps:
Identifying the vendors
A vendor interview process
Developing evaluation drivers
Creating a decision criteria table
Designing process-driven demonstration scripts
A vendor product presentation and evaluation process
Identifying vendor implementation capabilities
Our methodology will make sure the entire selection process is more efficient, thereby shortening the project duration. With our help, your team will become more efficient, and the ERP vendor will become more efficient. This process builds a foundation of information, education, and documentation that will increase the client's project success.
Independent ERP Selection Consultants – Experience Across Industries
Our consultants put into place ERP selection programs that are based upon Ultra's decades of proven methodologies, vendor research and intimate knowledge of manufacturing and distribution.
Manufacturing and distribution are all we do, including serving industries such as:
Aerospace & Defense
Chemical
Consumer Goods
Distribution
Electronic Equipment
Food and Beverage Processors
Industrial Equipment
Medical Device
Metal Fabricators
Pharmaceuticals
Plastics
Next Steps – Team with ERP Experts
For a closer look at effective ERP selection, download an informative white paper entitled "7 Steps to Effectively Organize an ERP Project." This paper shares seven tried-and-true strategies for manufacturers to effectively manage a selection project from analyzing expected ROI, to setting and communicating the priority of the project within the organization.
Additional steps pertain to selecting the team, educating all team members in ERP best practices and system knowledge, as well as issuing a project charter.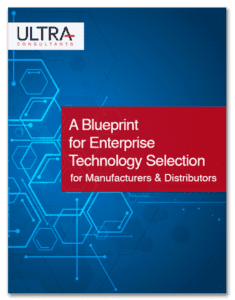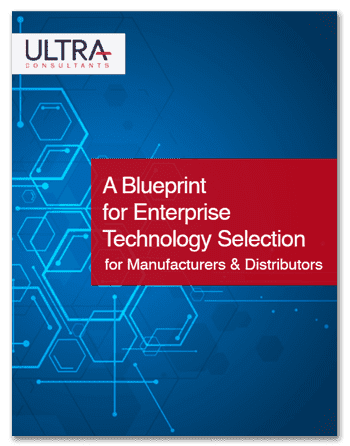 An enterprise technology project is a complex and potentially risk-filled process. Wouldn't it make sense to tap into wisdom from those who have successfully gone before? This ebook offers informative webcasts, podcasts, white papers, articles and videos to create a blueprint for success.