The Role of ERP in Overcoming Food & Bev Challenges
The food industry is a complex and challenging sector that requires a high level of efficiency and accuracy to maintain growth and profitability in any country. The sector faces numerous challenges, including supply chain management, food safety, regulatory compliance and changing consumer preferences.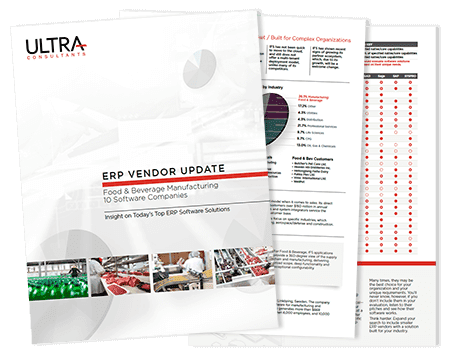 ERP Vendor Update: Food & Beverage Manufacturing
Compiled by Ultra Consultants, the ERP Vendor Update offers a close-up look at today's top Food & Beverage software solutions.
DOWNLOAD GUIDE
The Importance of ERP Solutions In Food and Beverage
Key Focus Areas for Food and Beverage Consulting
As the food and beverage industry continues to evolve and adapt to consumer demands, businesses require expert guidance to stay ahead of the curve.

Regulatory Compliance and Quality Assurance
Regulatory compliance and quality assurance are crucial areas of focus for food and beverage consulting. With an increased emphasis on food safety, federal regulations and guidelines have become more stringent, and your business must ensure it is in compliance with all relevant laws. Quality assurance is also paramount for your company to maintain its reputation and consumer trust.Food and beverage consulting firms provide valuable consulting services, software intelligence and critical capabilities assessments to grant insight in these areas. For example, our team leverages ongoing research, regular software vendor briefings and project technology selections to determine and develop a deep understanding of your business' unique functional requirements. Utilizing this knowledge, we recommend and implement ERP software to improve compliance and quality assurance processes, ensuring that your business remains in compliance with regulations while also producing high-quality products.

Demand Forecasting
Demand forecasting is another crucial focus area for food and beverage consulting services. With the increasing complexity of global supply chains, your business must make accurate predictions of future product demand to ensure efficient and profitable operations. By implementing demand forecasting technology, your company optimizes its production schedules, manages inventory levels and reduces waste.With a deep understanding of the food & beverage industry and ongoing research, the best consultants are uniquely positioned to assist your business in selecting and implementing the right demand forecasting software. With valuable software intelligence and critical capabilities insight, consultants can guide you through the technology selection process, ensuring that you choose a solution that meets your unique functional requirements.In such a complex industry, demand forecasting is an essential tool for achieving long-term success and tapping into both old and new markets. Great consultants offer food & beverage consulting services and are well-equipped to provide the necessary expertise to help your business thrive.

Recipe and Formula Management
Successful food businesses rely on the consistent delivery of high-quality products to maintain their reputation in the market. In food & beverage, ingredients are a crucial component in the success of your company. They not only help create a diverse range of options for your customers but also serve as an opportunity to review and improve your offerings based on client feedback and market trends. Managing recipes and formulas is a complex task that involves ensuring that recipes are standardized, ingredients are high-quality and yield is predictable.Food and beverage consultants work with your staff to optimize your key products, formulas and production processes to increase efficiency while maintaining the desired product quality. Recipe and formula management directly affect the profits you make by controlling ingredient expenditure, minimizing waste and maintaining consistency in product flavor, texture and appearance. Having specific F&B ERP software can help you establish a process for recipe development and marketing, thus making sure you stay ahead of the competition.Effective recipe and formula management also facilitates product innovation, helping food and beverage businesses in creating and responding to changing consumer preferences and market trends. Therefore, recipe and formula management is a key area for food and beverage consulting to help manufacturers develop and maintain competitive advantages, new revenue streams and bottom line profits by leveraging available resources in the marketplace.

streamlining operations
ERP systems play a vital role in overcoming the challenges faced by the food industry. By streamlining operations, optimizing supply chain management, enhancing traceability and compliance and improving overall visibility across the network, ERP systems empower organizations to make informed decisions that drive growth, profitability and client satisfaction.With modern ERP software becoming increasingly accessible and relevant to the food industry, organizations of all sizes are able to leverage these transformative technologies to stay competitive and meet the evolving specific needs of their customers. As such, it is imperative for food companies to choose ERP partners with real-world experience, then embark on a digital journey that empowers them to thrive in an ever-more-competitive marketplace. This range of options allows your organization to optimize its operations, make money-saving decisions and make the most of its profits.
The Ultra Consultants team has been providing food and beverage consulting services, including market research and customized training, for more than 20 years. This extensive experience has allowed us to partner with and serve a wide variety of clients, providing valuable insights and establishing long-lasting relationships throughout the industry. Whether you need a new ERP or want to know how best to optimize your existing system, allow our consultant team to dive into the dynamics between menu engineering, menu-mix analysis, suppliers and procurement and cost analysis at your facility to achieve success. Let us get to work for you and help optimize your operations for maximum results.