Experience. Intelligence. Insight.
ERP Consulting & Implementation Services
The journey to a successful software implementation can be difficult. We lead your organization through the complex process, help you realize the significant benefits of modern enterprise technologies and give you the tools to achieve your business goals.
400 clients, 500 projects and millions in benefits
Our services are built for the unique needs of your industry and organization. We've helped hundreds of companies – big, medium and small – transform their processes and boost their performance.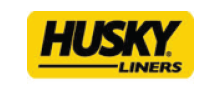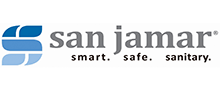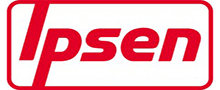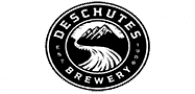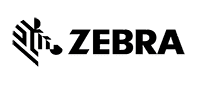 What our customers are saying...
"Ultra understands the challenges of running a manufacturing business. Their persistent focus on our business value remains a cornerstone to our long standing partnership." 
Bob Wahlen, President & CEO, Stoughton Trailers
"The business process improvement phase was wide-ranging and detailed, and got us thinking the right way.  We learned what we needed to learn. It helped us approach the project properly, and it made the selection phase easier."
Chris Prodoehl, Vice President of Information Technology, Chicago Tube & Iron
"I would be pretty scared to evaluate vendors without the help of a partner. There is a lot at stake for your company and the vendor. What is really helpful is Ultra can bring an objective way to evaluate these folks, and they know how to keep them honest."
Daniel Hanawalt, United Equipment Accessories
"Ultra really was a trusted advisor, especially when interacting with vendors during the selection process. I don't think there was ever a moment where we didn't think Ultra had our best interests at heart. There was never a moment where we didn't trust Ultra was looking out for us."
Tim Plummer, IT Director, Deschutes Brewery
"Ultra led a software selection and implementation of ERP/WMS that resulted in more than $350,000 annual savings from improved processes."
Tom Cesario, VP of U.S. Operations & IT, Radio Flyer
"Ultra guided us through the entire ERP project. They are an extremely qualified and competent partner at every stage."
Kelly Renner, CEO, The Wagner Companies
"The business process improvement (BPI) phase benefited us exactly how Ultra said it would.  Their team showed us why it was important and critical to focus first on our processes."
Don McNeeley, CEO, Chicago Tube & Iron
"All the solutions we considered were similar in their capabilities, and everyone could check off the core functions. Ultra guided the discussion using a detailed demo script, which allowed us to dig deeper to get to the second level of capabilities, and to get the information we needed to choose the solution that suited us best."
Chris Prodoehl, Vice President of Information Technology, Chicago Tube & Iron
"I negotiate supplier contracts every day. One of the key factors for selecting Ultra was their experience and reputation for ERP solution negotiations. Ultra did a masterful job to create a negotiation strategy and kept us all on track to get the best value of software and services from the vendor."
Mike Johnstone, Vice President of Purchasing & Business Integration, Stoughton Trailers
We change how your business works. Our job is to work with your team to optimize your business processes, employ a structured approach to reduce your risk and costs, and utilize leading enterprise technologies to drive improved performance.
INDUSTRY EXPERTISE
Our people bring deep knowledge of the fundamentals, pain points and core processes of the manufacturing and distribution industries, as well as an understanding of the needs and nuances of your business. The result is specialized solutions that successfully and comprehensively address your specific requirements and aspirations.
UNIQUE METHODOLOGY
Our four-phase approach guides your company through the business transformation lifecycle. Business Process Improvement builds a foundation for your transformation. Enterprise Technology Selection determines the best-fit solution. Solution Implementation Management shortens time-to-benefit and reduces your risk. Business Value Realization maximizes return on investment and ensures your organization continues to get every benefit from your solution.
SOFTWARE KNOWLEDGE
We focus exclusively on ERP and ERP-connected software solutions for the manufacturing and distribution industries. This concentration means our expert consultants, who understand the unique needs of your vertical and your business, also know which solutions will deliver the most benefit and greatest performance improvement for
your organization.
CLIENT-CENTRIC
Our emphasis is on execution and outcome. We understand that time-to-value and return-on-investment are tremendously important to your company. We know that an on-time, on-budget, high-value solution requires our teams, strategies and solutions to be creative, efficient and flexible. And we believe that we must invest in your success.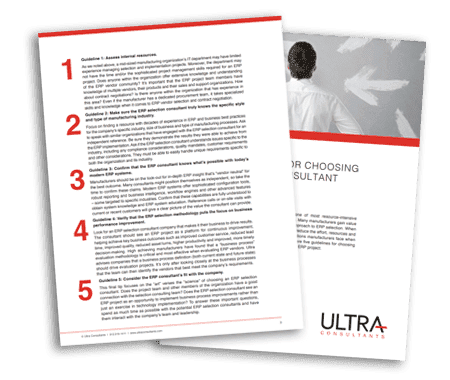 Selecting and implementing a new ERP system is one of the most resource-intensive decisions a mid-market manufacturing or distribution company can face. When guided by the right consulting team, these companies reduce the effort, resources and cost of ERP selection.
Discover the five guidelines for choosing the right consulting team for an efficient and effective enterprise software project.