ERP Selection &
Implementation
Imagine your business running at peak
performance.
Imagine your business running at peak
performance.
Driving improved business performance.
We get you there
. Our methodology and
ERP consulting services
provide the roadmap. Our experience provides essential knowledge. Our expert consultants provide critical guidance. And our primary goal is to help you maximize business performance.
Focused on manufacturing and distribution.
We know your business
. From our first day in 1994, we've served the
manufacturing and distribution industries
exclusively – and our teams bring deep knowledge of your fundamentals, pain points and core processes to every project.
Independent, unbiased and trusted.
We put you first
. We guide you through the business transformation process, offer objective insight into today's advanced enterprise solutions and help you determine and select the right ERP software for your organization.
Learn more about Ultra
.
READY TO TRANSFORM YOUR BUSINESS?
Exceptional expertise. Extraordinary results.
We have one goal: To maximize your business potential. And to accomplish it, we leverage our deep manufacturing and distribution expertise, apply our exceptional enterprise software knowledge, and utilize our rigorous, proprietary methodology throughout your transformation lifecycle.
Our services continuum – ERP Selection Consulting, Business Process Improvement, Enterprise Technology Selection, Solution Implementation Management and Business Value Realization – offers your organization the opportunity to find new efficiencies, improve operational insight and drive step-change improvements to business performance.

"Ultra understands the challenges of running a manufacturing business. Their persistent focus on our business value remains a cornerstone to our long-standing partnership."

"In the distribution industry, the road is littered with the carcasses of expensive, failed implementations, and businesses irreparably damaged by unsuccessful upgrades. With Ultra on our team, we were able to get past the bumps and avoid the potholes, and not be one of those companies."
400 clients, 500 projects
and millions in benefits
Our customers represent virtually every segment of manufacturing and distribution. And we've helped these organizations – big, medium and small – improve their business performance.
We change how your business works. Our job is to help you optimize your business processes, employ a structured approach to reduce your risk and costs, and utilize leading enterprise technologies to drive improved performance.
Our company brings to every project deep knowledge of the fundamentals, pain points and core processes of the manufacturing and distribution industries, as well as an understanding of the needs and nuances of your business. The result is specialized solutions that successfully and comprehensively address your specific requirements and aspirations.
Our
four-phase approach
guides your company through the business transformation lifecycle. Business Process Improvement builds a foundation for your transformation. Enterprise Technology Selection determines the best-fit solution. Solution Implementation Management shortens time-to-benefit and reduces your risk. Business Value Realization maximizes return-on-investment and ensures your organization continues to get every benefit from your solution.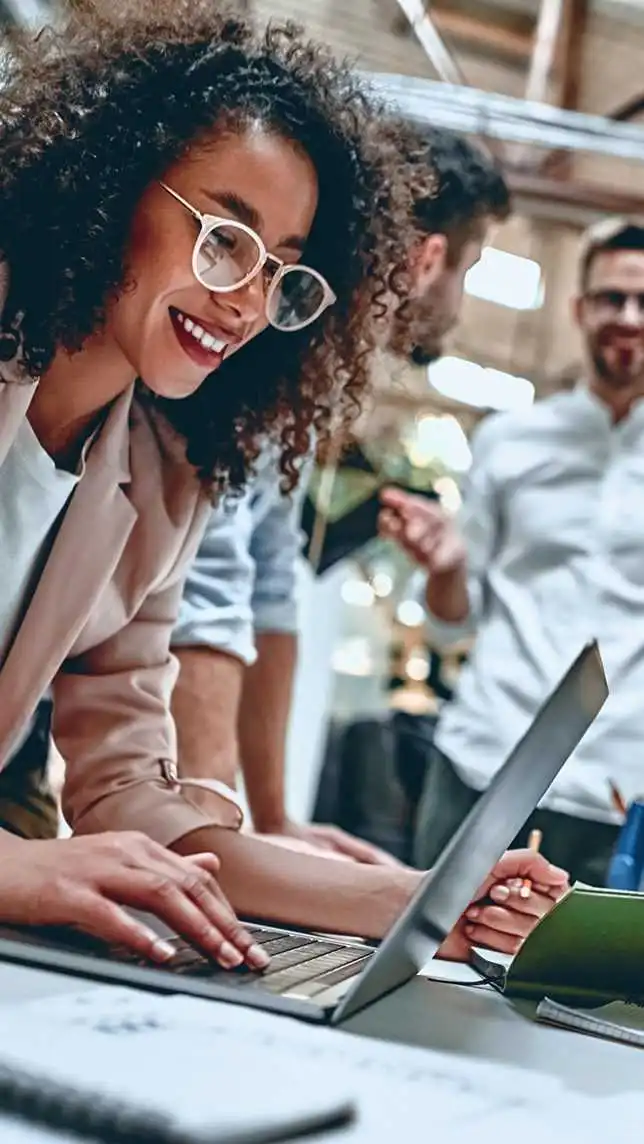 We focus exclusively on ERP and ERP-connected
software solutions
for the manufacturing and distribution industries. This concentration means our expert consultants, who understand the unique needs of your vertical and your business, also know which solutions will deliver the most benefit and greatest performance improvement for your organization.
Our company
emphasis is on execution and outcome. We understand that time-to-value and return-on-investment are tremendously important to your company. We know that an on-time, on-budget, high-value solution requires our teams, strategies and solutions to be creative, efficient and flexible. And we believe that we must invest in your success.
Whether your existing ERP system is at the end of its lifespan, your vendor is sunsetting support for your current version, or you feel you're not getting enough value from it, moving to a new ERP system is a big undertaking.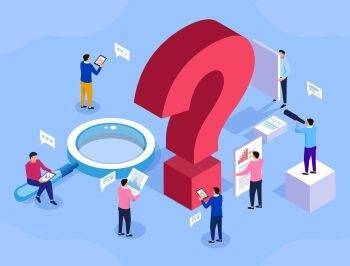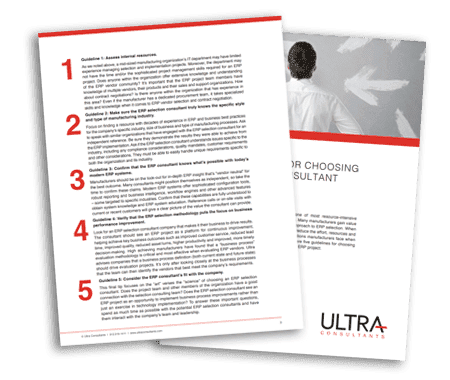 Selecting and implementing a new ERP system is one of the most resource-intensive decisions a mid-market manufacturing or distribution company can face. When guided by the right consulting team, these companies reduce the effort, resources and cost of ERP selection.
Discover the five guidelines for choosing the right consulting team for an efficient and effective enterprise software project.