Business Process Improvement Consulting Services
Rigorous analysis. Transformation focus. Every digital transformation project follows a unique path.
And with our business process improvement, or BPI consulting services, the journey starts with your unique Business Process Improvement.
Fundamental

Understanding your business requirements and improving your business processes is essential. Our business process improvement consulting services build the foundation for your business transformation.

Value-Driven

Intelligent, optimized processes deliver real, bottom-line benefits that include greater efficiency and lower costs – and maximize the ROI of your technology projects.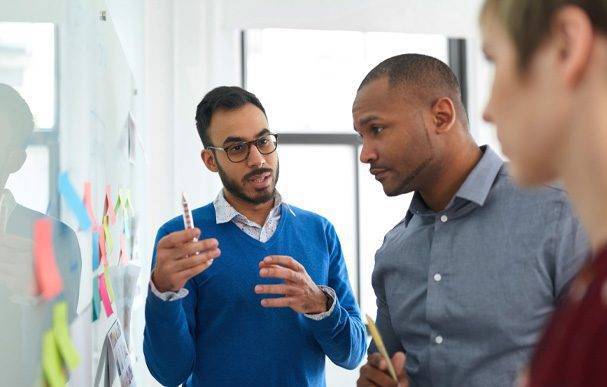 5-Step Business Process Improvement Methodology
Most ERP consulting firms start with software selection. But our business process improvement consulting services are well rounded and set us apart from the competition.  Instead, we focus on your operational performance first. A detailed analysis of your processes, practices, and structure will pinpoint any areas for improvement, accelerate the time-to-benefit, and inform you of the technology selection process.
Critical Structure
Your project – and every project we do – starts with the basics. Guided by our project manager, Project Organization includes a number of important first steps: Ensuring that the executive sponsor can eliminate barriers and provide the necessary resources. Setting up the project team structure. Selecting a team from a variety of functions and workstreams – business process owners who can offer deep knowledge, key people who understand the desired future state, and essential staff who will play important roles on your project teams.
Essential discovery
The successful transformation of your business first requires a thorough assessment of your Current State. This critically important, Lean-influenced business process analysis maps core business processes and functions, identifies gaps in efficiency and productivity, gathers key performance metrics, and produces documentation that makes it easy to see inefficient, wasteful and redundant effort.
When completed, this business process review offers an exploration and evaluation of business operations, business processes, IT strategy and software systems, as well as master data and information flow – and identifies and prioritizes problems and opportunities. Perhaps most important, this step provides the KPIs that will be used to measure business performance value achieved by your transformation.
3

- Education & Visioning
Necessary foundation
An underappreciated but key component of the BPI process, Visioning & Education brings you, your team and your organization's executives up-to-date on the capabilities of today's technologies (and the possibilities and opportunities they offer), educates you on current best practices, helps you imagine your processes transformed, creates a platform to define a future state, and prepares your team to effectively evaluate potential solutions.
Valuable vision
The conceptualization and definition of your organization's Future State is critically important: Knowing the destination improves project focus, shortens implementation timeframe, prevents detours, eliminates wasted energy and expense, and shortens time-to-benefit. Most important, a documented future state will inform the software selection process and drive your digital transformation forward.
The process begins with collaborative business process re-engineering workshops that drive problem resolution, gap analysis and quantification of opportunities. It continues with a deep dive into your future requirements and technology landscape. And it concludes with the delivery of a detailed vision of your remade processes, a transformation roadmap and a project charter.
Required rationale
This final step organizes the information and insight gathered in all the previous steps. And it answers your most important question – Why? – by establishing the goals of your project and validating the improvements offered by your redesigned business processes. What's more, it provides a scorecard that can be used to assess your progress toward, and achievement of, your transformation goals.
The foundation of the Business Case for Change is a thorough analysis of the gap between your Current State and Future State. And its building blocks are a transformational roadmap, the identification of high-value opportunities, and a quantification of the efficiencies and high-value opportunities that will be delivered by streamlined and optimized business processes. The Business Case for Change is crucial: It measures and quantifies business performance improvement throughout the transformation.
Business Process Improvement Frequently Asked Questions
Q: What is a business process improvement consultant?
A: A Business Process Improvement (or BPI) consultant is an expert who understands the latest technology and best practices relating to the client's industry and analyzes a business's current people, processes and systems to make recommendations that improve overall efficiency.
Q: What are the benefits of using BPI consulting services?
A: An external business process improvement (BPI) consultant views internal people, processes and systems in an unbiased manner.  With efficiency and profitability as end-goals, the consultant highlights opportunities to automate and streamline every aspect of operations, from purchasing to shipping. This reduces human error and removes redundancies while improving datastreams for decision-makers.
Q: Does Business Process Improvement work?
A: In today's hyper-competitive business environment, companies can't afford to stagnate. A continuous-improvement methodology, known as kaizen, a Japanese term meaning "change for the better", is the basis for most successful BPI initiatives. With the right choice of expert business consultant, Business Process Improvement strategies can work to remove inefficiencies and improve the productivity of employees, leading to improvements in market share and the company's bottom line.
Our expert consultants offer exceptional insight.
Our consultants and project managers bring a deep understanding of the fundamentals, pain points and core processes of the manufacturing and distribution industries, and have the ability to quickly and comprehensively understand the unique needs and nuances of your business.
In addition, our team offers extraordinary expertise in business management and business process improvement: More than 50% of our consultants have MBAs or Master's Degrees. More than half hold Lean or Six Sigma Certification. And 23% are PMP Certified.
The result: Specialized solutions that successfully address your requirements and organizational goals.
Our focus is on business process improvement.
Click on a success story above to read the full case study
Looking closer at our business process improvement consulting services
Download a comprehensive eBook that shares insight to plan, structure and implement a business process improvement initiative.