Ultra State of the Economy Update – A Slow Thaw?
As we enter into the second quarter of the year, it's key for manufacturing and distribution project teams to keep tabs on current economic affairs.
Ultra's focus is on the U.S. manufacturing and distribution Industry. We see that events have a direct impact on today's manufacturing and distribution companies.
Read on for this month's summary of economic data and events that have major sway over the economy.
Spring  2019 – A Slow Thaw?
Amid signs that global growth has peaked and with renewed uncertainties over the monetary policy trajectory of the United States Federal Reserve, high global debt is not only a financial risk in itself but also a source of vulnerability in case of a downturn. A faster-than-expected increase in interest rates and a sudden rise in global financing costs pose risks to debt and financial stability.
While high levels of corporate debt can amplify an economic downturn, high sovereign debt constrains fiscal policy space, hindering the policy response and potentially delaying the recovery. These aspects are especially relevant as global growth has been heavily dependent on extraordinary monetary policy easing and short-term expectations of rising asset values.
This has exacerbated financial risks by reinforcing search-for-yield behavior and by encouraging financial activities, such as mergers and acquisitions, and share buy-backs, rather than productive investments.
The J.P. Morgan PMI fell to its lowest level since 2016; operating conditions deteriorated in the intermediate goods category; U.S. output increased at the slowest pace in 17 months.
Against this backdrop, the ongoing rise of leveraged loans in several developed countries is increasingly seen as a potential risk for financial stability. The term "leveraged loans" is used to describe syndicated loans at floating interest rates provided to firms that already have high levels of debt relative to earnings and poor credit standards. After collapsing during the global financial crisis, leveraged loans have recently resurged in the United States of America and Europe, especially in the United Kingdom of Great Britain and Northern Ireland. The current total size of the global leveraged loan market is about $1.3 trillion, more than twice the size a decade ago.
The recent expansion of leveraged loans could also have implications for productivity growth.
While these loans provide an important source of financing for firms undergoing temporary economic and financial difficulties, they can also keep poorly managed and low-productivity firms in the market. This can prevent a more dynamic and efficient reallocation of resources, thus constraining productivity growth. The prevalence of so-called "zombie firms"—firms with persistent problems in meeting their interest payments obligations—has continuously increased in developed countries in recent years. While it is difficult to establish a direct connection between leveraged loans and productivity growth, recent evidence shows that reduced financial pressure and lower interest rates are associated with a higher prevalence of such firms.
More broadly, while the observed slowdown in productivity growth has been mainly linked to factors such as technological change, demography and trade, the role of monetary policy deserves further attention. To manage future crises, it is critical to better understand the short- and medium-term implications of ultra-loose monetary policies for the corporate sector.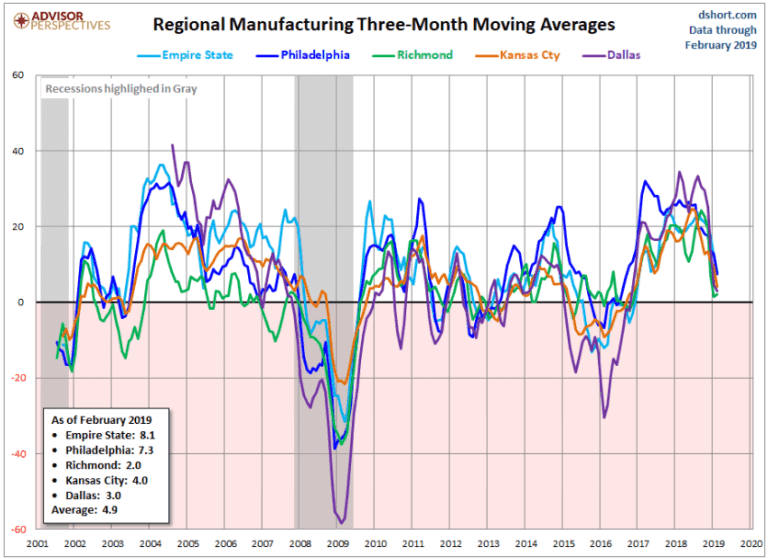 Tracking regional manufacturing activity is critical to stay current with industry trends.
The Manufacturing Outlook
For manufacturing, the J.P. Morgan Global Manufacturing PMI fell to its lowest level since June 2016 and is now at 50.6  at the most recent analysis. Operating conditions improved in the consumer and investment goods sectors but deteriorated in the intermediate goods category. PMI readings signaled expansion in 18 out of the 29 nations for which February data were available.
Among the largest countries covered by the survey, above global average growth was signaled in the U.S., the U.K., India, Brazil, Mexico, Canada and Australia. The Japan PMI fell below 50.0 for the first time since August 2016, while the China PMI recovered to 49.9 (up from 48.3 in January). Growth of global manufacturing production eased to a 32-month low in February, as the rate of expansion in new orders stayed close to the stagnation mark. Scratching beneath the surface of the trend in production highlighted noticeable national divergences.
The U.S. saw output increase at the slowest pace in 17 months, while the euro area reported a contraction for the first time since June 2013 and the rate of decline in Japan was the fastest since May 2016.
However, this was partly offset by a recovery in China, where output rose marginally after its weakest performance in two-and-a half years in January. Broadly similar trends were also seen for new orders. The trend in international trade remained lackluster in February, as new export business contracted for the sixth straight month. Both developed and emerging nations saw declines (on average) during the latest survey month. Job creation continued in February, with the rate of growth holding steady at January's modest pace. Employment rose in the U.S., the euro area, Japan, India, Brazil, Canada, Mexico and Australia.
Job losses were seen in China, the U.K., Turkey, Poland, Vietnam, and Thailand. Business optimism fell to its second-lowest level in the series history during February. Confidence eased (on average) to its weakest in over six years in developed nations and to a two-month low in emerging markets. Input price inflation eased slightly in February, reaching a near two-and-half-year low. In contrast, the rate of increase in output charges rose to a three-month high.
North American Activity Round-Up
In the United States, the federal budget deficit reached 29 percent of outlays in the first quarter of the current fiscal year, compared to 23 percent in the previous year. Total receipts increased by 0.2 percent, with revenue from corporate income taxes falling by almost 15 percent and from individual income taxes by 4.2 percent, as a consequence of the tax cuts initiated in 2018. This was offset by higher revenue from payroll taxes, excise taxes, and customs duties, following the introduction of various tariffs.
Total outlays increased by 9.6 percent, driven by sharply higher interest payments and increases in spending on military and social security.
These quarterly trends have important implications for the fiscal outlook. First, at a time of a booming economy with record-low unemployment, almost 30 percent of federal outlays are not covered by receipts. This leaves the economy on track to add more than 6 percent of GDP to its total debt by the end of the fiscal year.
In the case of an economic slowdown or recession, the resulting decline in revenues and increase in spending could cause a further sharp increase in both ratios.
Second, a large part of the current federal budget consists of mandatory spending on entitlement programs, which will likely further increase in the future. Demographic factors will drive social benefit payments higher in the coming years. In addition, with interest rates rising from historically low to more normal levels, the cost of covering future budget shortfalls and refinancing previous ones will steadily increase under current trends. Rising interest rates, combined with the existing stock of debt and continuous high financing needs, will likely further increase spending just to finance the outstanding public debt.
U.S. manufacturing remains well below its level of a year earlier.
Manufacturing output in the U.S. decreased 0.4 percent in February after falling 0.5 percent in January. In February, the index stood 1.0 percent above its year-earlier level. The output of durables edged down. Losses of 1 .5 percent or more were registered by nonmetallic mineral products, by machinery, and by furniture and related products, while gains of more than 1 percent were registered by computer and electronics products, by aerospace and miscellaneous transportation equipment, and by miscellaneous manufacturing. Nondurable goods production fell 0.7 percent. Most major nondurable goods industries posted decreases; the only increases were recorded by paper and by food, beverage, and tobacco products. Production of other manufacturing (publishing and logging) increased 0.5 percent but remained well below its year-earlier level.
The output of utilities rose 3.7 percent in February; the output of electric utilities rebounded from decreases in the previous two months. Mining output moved up 0.3 percent for its 13th consecutive monthly increase, and the index was 12.5 percent above its level of a year earlier.
Capacity utilization for manufacturing declined 0.4 percentage point in February to 75.4 percent, almost 3 percentage points below its long-run average, with losses for durables and for nondurables but a gain for other manufacturing (publishing and logging). The utilization rate for mining decreased to 94.6 percent but remained well above its long-run average of 87.1 percent.
The rate for utilities jumped to 78.6 percent, but it was still nearly 7 percentage points below its long-run average.
The Ultra Indicators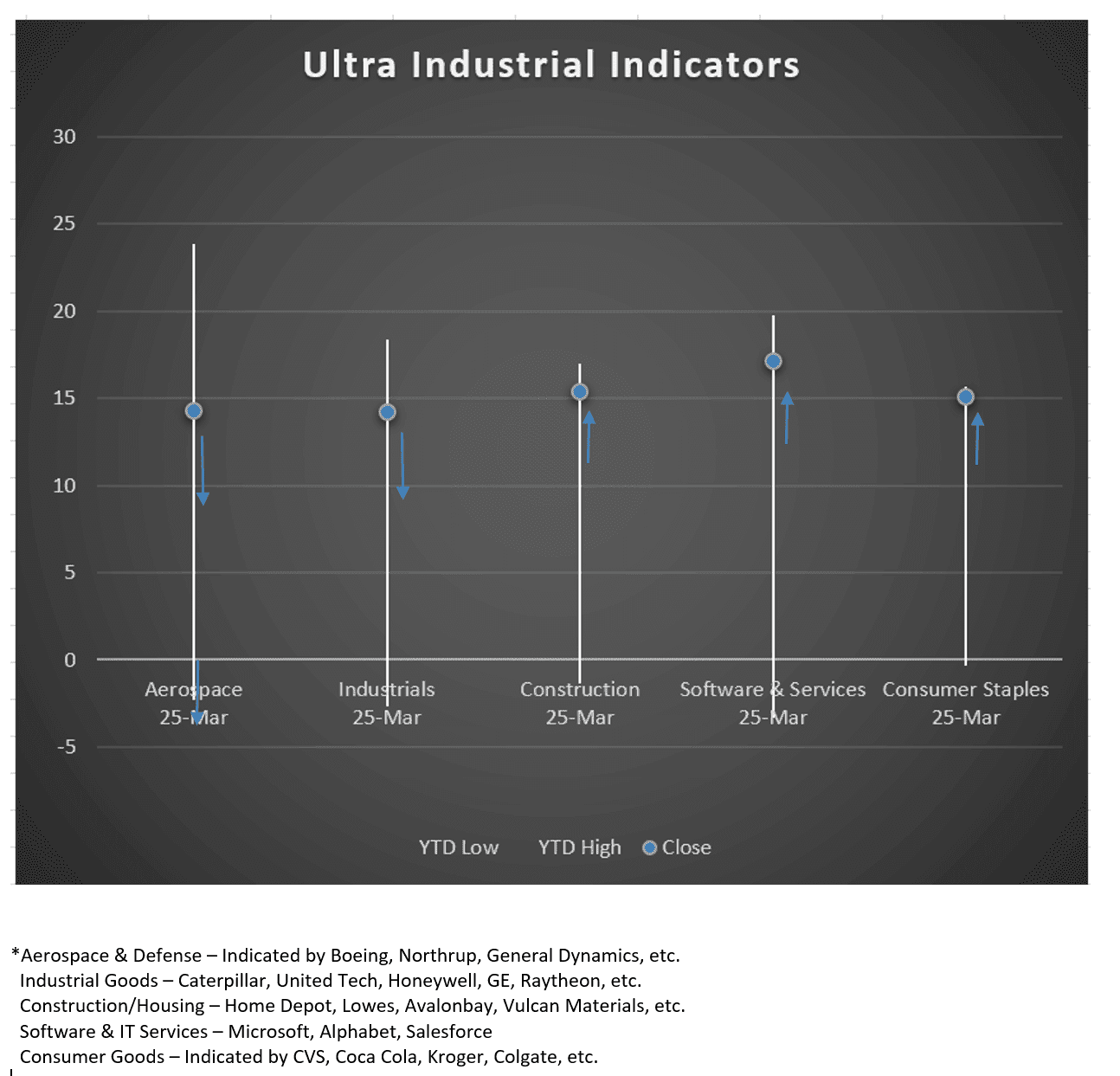 The chart represents the most recent performances of investment portfolios within Ultra's largest industry sectors.
Each portfolio is represented by major businesses within each industry and Ultra tracks the year to date high, and year to date low for each portfolio.
The dot on each line represents where the portfolio stood as of this publication.
Blue arrows indicate whether the closing number was above or below our previous publication.
Industry, Policy Economic News
The major market groups recorded mixed results in February: Increases for materials, for business supplies, and for defense and space equipment were accompanied by decreases for consumer goods, for business equipment, and for construction supplies. The output of consumer goods just edged down, reflecting a small drop in non-energy nondurable goods. The index for business equipment fell more substantially, with losses for transit equipment and for industrial and other equipment. The increase for materials reflected gains for both durable materials and energy materials; the output of nondurable materials fell.
Furthermore, the Trump Administration has issued its 2019 trade policy agenda in a several-hundred-page report to Congress.  The report covers a broad range of trade topics, many of which have been at the forefront of the Administration's agenda for the past couple of years.  These include renegotiating the NAFTA into the USMCA, WTO reform, use of legal tools to impose tariffs on a variety of global imports, and robust enforcement of trade remedies laws.
According to the Office of the U.S. Trade Representative (USTR), the trade policy agenda emphasizes three major points. First, the agenda states that this Administration inherited a "deeply flawed global trading system" and that it is striving to improve.  The agenda calls out the primary targets of the Administration's trade efforts to date:  overhauling the North American Free Trade Agreement (NAFTA) into the United States-Mexico-Canada Agreement (USMCA), the overreach of the World Trade Organization's (WTO) Appellate Body, and unfair trade practices from U.S. trading partners, such as China's non-market policies.
Second, it states that the Administration continues efforts to improve domestic trade policies to better serve U.S. workers.  While the agenda reviews a number of the Administration's recent achievements, it highlights that a primary goal of 2019 is to obtain Congressional approval of the USMCA, which the President has touted as better serving the interests of U.S. workers, farmers, and businesses than NAFTA.  Trade issues with China are unsurprisingly a significant focus, with USTR highlighting its negotiations with China to eliminate a range of unfair trade policies and practices.  The Administration's concern that the WTO Appellate Body's decisions are overreaching is well-known, and the agenda promises a commitment to WTO reform efforts.
Third, the Administration intends to pursue new trade deals and to continue its enforcement of current trade laws.  Here, the Administration highlights its focus on efforts to preserve U.S. national security and national defense, a nod to its current use of Sections 232 and 301 to impose tariffs on a broad range of global imports.  The agenda also notes USTR's intent to pursue new trade deals with Japan, the European Union, and the United Kingdom, as well as to concentrate on trade and investment with Kenya.
Overall, the 2019 agenda focuses on the ongoing goals of the Administration to improve conditions for American workers, to strictly enforce U.S. trade laws, and to encourage U.S. economic growth.   How well such initiatives are implemented, however, remains to be seen.

Ultra Perspective
The global economy is still progressing at a tentative pace throughout the first quarter of 2019. Growth is positive but extremely slow with many countries seeing multi-year lows in manufacturing and overall GDP growth.
Unfortunately, things also don't look to be progressing much due to current projections.
High global debt is rampant and is not only a financial risk in itself but also a source of vulnerability in case of a downturn. A faster-than-expected increase in interest rates and a sudden rise in global financing costs pose risks to debt and financial stability. Financial risks are exacerbated by reinforcing search-for-yield behavior and by encouraging financial activities, such as mergers and acquisitions, and share buy-backs, rather than productive investments. Formerly positive projections have now taken a more cautious approach leading analysts to believe that there is almost no confidence in either growth or easing throughout the coming months at this time.
Outlook – less than stellar
The outlook for the U.S., specifically, continues to be less than stellar. Manufacturing declined yet again, and growth is projected to slow at a faster rate than was predicted last month, for the next few years. The Trump administration released its goals for trade and commerce policy for the year but the initiatives are much the same as before, promoting the reclaiming of jobs to America and renegotiating current trade relationships with some of our biggest partners. Although these sound promising on paper, the current state of the economy, as well as the lack of new goals, leads many to wonder what the effectiveness of such initiatives would actually be if implemented properly.
2019 was off to a terrible start and the quarter since has been marginally better. Slow growth among developed countries is pervasive and projections for the months ahead have reeled back into more neutral territory. Confidence in future growth is at a low and although loose financial markets are allowing for growth, they are also allowing much risk in a time when nothing seems promising.
At the moment, we can only wait and see what will happen next while eking out as much progress as we can with what we've got.
7 Steps to Effectively Organize an ERP Project
The 7 Steps to Effectively Organize an ERP Project is designed for ERP project teams from today's forward-thinking manufacturing and distribution organizations.
Read tried and true strategies for manufacturers to effectively manage an ERP selection project. See what it takes to be successful and more with this Download.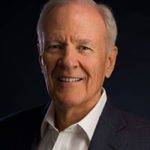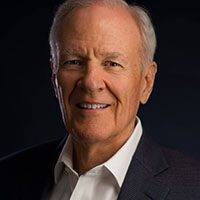 Jeff is the founder of Ultra Consultants, a well-known voice in the ERP consulting industry and an expert on ERP solutions for discrete and process manufacturers. Over the last 40-plus years, his companies have helped more than 2,000 organizations improve their business processes, select ERP software and implement advanced solutions.