Ultra's ERP News- What Koch Industries' Purchase of Infor Means for Users
Manufacturers and distributors depend on Ultra's independent ERP consultant team for vendor-agnostic guidance in ERP evaluation, selection, implementation and business process improvement.
Koch & Infor News
In 2020, Koch Equity Development LLC, the investment and acquisition arm of Koch Industries, Inc., purchased Golden Gate Capital's remaining equity stake in Infor. Koch plans to keep Infor's management team in place once the transaction is complete, and Infor will continue to operate as a standalone subsidiary of Koch Industries. However, some users are wondering what the Koch Industries purchase means for the future of Infor.
First of all, Koch has held a stake in Infor since 2017, so this acquisition is more of an expansion of ownership than a completely new inroad into the company, or technology companies in general. Koch companies have invested over $26 billion in technology-related endeavors in the past six years. Koch is also an Infor customer, giving the company insight into what Infor actually does.
Overall, as is the case with most acquisitions, it's too soon to tell how the Infor purchase will affect customers. However, we recommend keeping an eye on three key indicators as to the direction the company will take: ownership, leadership, and vision.
The vision at Infor, as well as the leadership, remains consistent, despite the new ownership. Leadership is the primary driver of a company's vision, and if the leadership remains the same, it is unlikely that customers will be affected negatively. Kevin Samuelson will remain in the same position as CEO, and prior to his appointment, he served as Infor's CFO. He's very well entrenched in the Infor vision.
Private equity investment in technology companies tends to be a positive indicator for customers. In this case, Infor will have more capital to invest in human resources, research and development, and improvements in its go-to market strategy. While it's too early to make a blanket statement that this is good or bad, early indicators seem to be optimistic.
What we normally see when one technology company buys another, like Dassault Systems LLC purchasing IQMS, is that the purchaser is looking to fill a gap in their existing product offerings. In the case of Dassault, the company did not have its own ERP system to offer, so it bought IQMS to shore up its product portfolio. This is what SAP has historically done when it purchases smaller companies and brings their products into their fold. But Koch's purchase of Infor is an investment, not a takeover.
For customers and companies considering ERP systems, what these acquisitions really mean is that they need to examine what is happening with the company's leadership and vision. If these two indicators shift, along with the ownership of the company, this could mean the purchaser plans to sunset the product in the future. It might not be next year, but it is always a possibility, particularly if a company is buying one of its competitors. It may seem like the infusion of cash would lead to research and development, but in reality, it means fewer options for the customer.
Our advice, for now, is to wait and see what happens with Infor. It really is too early to tell, but if history is any indicator, Koch will likely continue to invest in Infor and improve the product.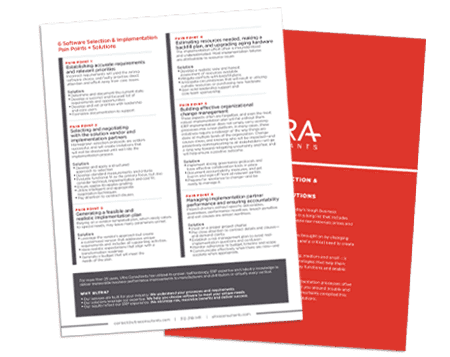 6 SOFTWARE SELECTION & IMPLEMENTATION PAIN POINTS + SOLUTIONS
Software selection and implementation processes often present challenges of their own. To steer you around trouble and help you drive success, Ultra's experts compiled a list of pain points and solutions to be aware of as you embark on this journey.