Global producer of pork pellets and private label, co-packed, and branded pork rinds.
The Challenge
Evans Food Group, Ltd. was experiencing growth and had tried to solve the company's growth challenges through ERP before. By the time they engaged with Ultra Consultants for the ERP selection process, they were considerably overdue for solution upgrades to meet customer demand and business growth. During its current state analysis, Ultra uncovered other challenges, including the need for: improved recall and traceability, a single version of the truth, standardized business processes across all locations, reporting functionality across locations within a single system, elimination of inefficient processes, and maximized productivity through improved production planning.
With the company's growth, selecting and implementing an ERP solution that was a right fit across all locations and business units was essential.
The strategy was to deploy the new solution to the entire company in one business release across all locations.
Evans Food Group needed consultants that thoroughly understood the company and its industry, including processes, culture and professional dynamic. Ultra Consultants led efforts to map out and analyze the company processes.
The team's familiarity with food industry best practices became invaluable.
The Solution
Ultra's proven approach and methodologies in ERP selection and evaluation, coupled with the selection of an industry-focused solution, delivered a clear value-add for the implementation project.
By documenting the current and future states and establishing improved business processes, the project team gave Evans a repeatable blueprint for standard business solutions as the company acquires new business units.
Onboarding new business units through acquisitions is now a manageable task.
Benefits of Selecting the Best Fit ERP
Evans Food Group has reaped a variety of improvements following its work with Ultra Consultants to identify and implement a "best fit" new ERP solution.
70 percent improvement in inventory tracking; management knows where all items are at any given time
50 percent faster production reporting with improved data visibility and data access
50 percent reduction in onboarding new companies, acquisitions; the company is well positioned for the next acquisition
50 percent time savings accessing data, especially with recalls, with an ability to search product history faster
50 percent improvements from reduced manual handling of with lot and item numbers, replacing  manual notes with automated data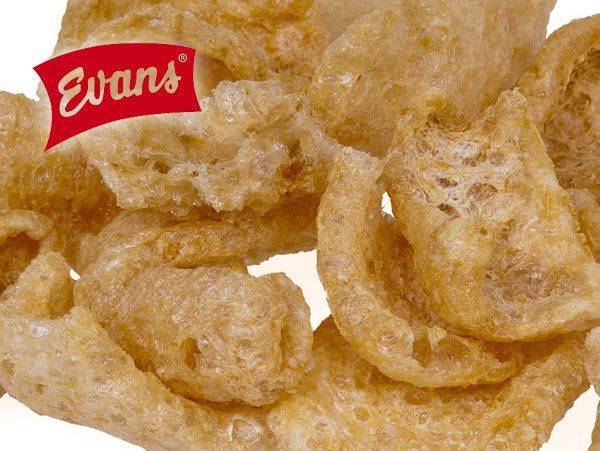 About The Company
Evans Food Group Ltd. is a global producer of pork pellets and private label, co-packed, and branded pork rinds. Founded in 1932, this Chicago-based company has grown to be the world's leading producer of pork rinds and one of the largest Hispanic-owned businesses in the country.
Ultra Services on Project
Value from Teaming with Ultra
As a result of teaming with Ultra, Evans achieved the following return on investment.
Speed of Implementation: Evans recently acquired a new business. Ultra's implementation team brought it up and running in a mere five months, which is an unheard-of, fast-tracked result.
Improved Traceability, Recall Management, Operations: By working through the BPI and selection, Evans implemented an industry-specific solutiont hat improved traceability, recall management, operations and other key areas.
Improved Strategic Position:  Evan's Food Group CFO, Craig Leese, shared his thoughts, "Working with Ultra Consultants on this ERP project has placed us in an improved strategic position as we continue to grow within and beyond our pork rind industry. Acquisitions are coming online with unprecedented short timelines. We're impressed."
Software selection and implementation processes often present challenges of their own. To steer you around trouble and help you drive success, Ultra's experts compiled a list of pain points and solutions to be aware of as you embark on this journey.