Most manufacturers judge an ERP implementation by the initial expense, ongoing operating or maintenance costs, return on investment, and time-to-value.
In today's competitive business climate, we suggest an even more rigorous focus on enterprise software implementation by tracking additional metrics like disruptions in operations, impact on productivity, and level of ERP adoption across the enterprise.
Unfortunately, there are many horror stories of failed ERP implementations, cost over-runs, time delays, disruptions in operations and more. Now, mid-market manufacturers can avoid these pitfalls with our proven ERP expertise.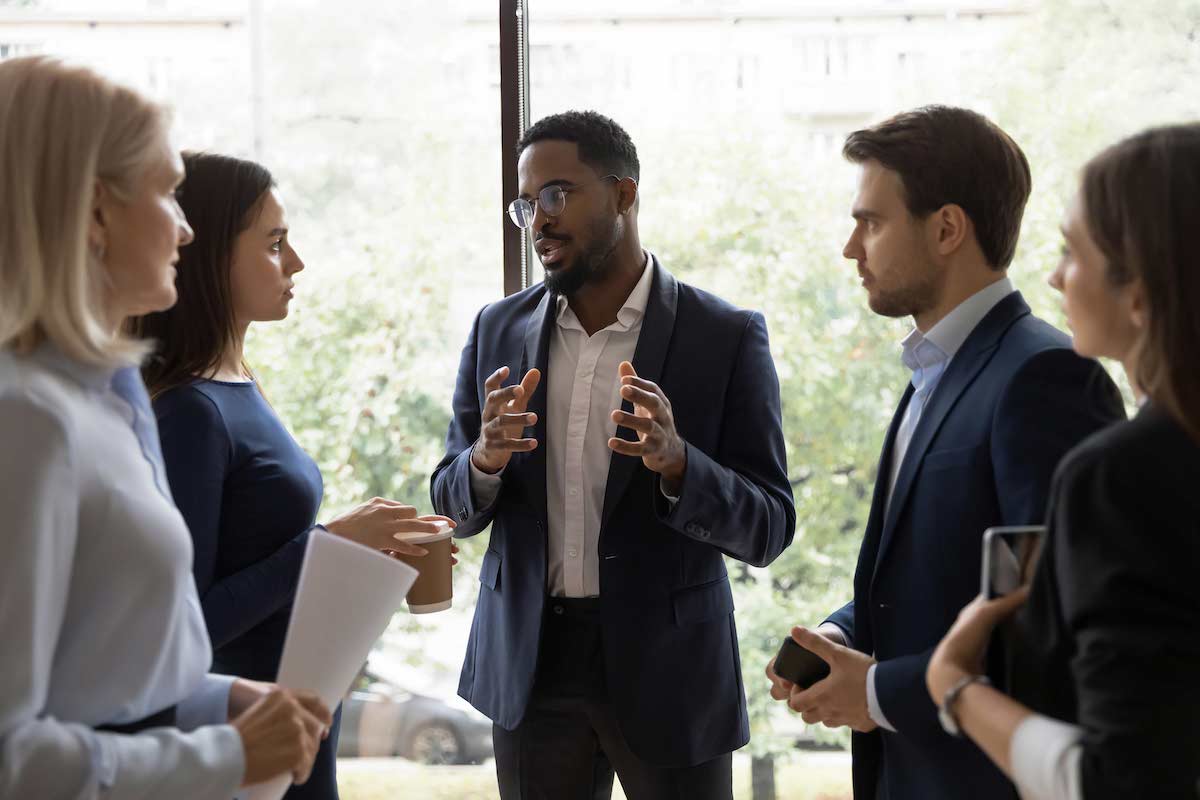 ERP Implementation Expertise
ERP systems impact almost every aspect of a company, so the success of an implementation is of the utmost importance.
Our team of ERP consultants helps mid-market manufacturers reduce the chance of implementation problems by helping manage complexity, risk, and data integration challenges.
Proven Methodology
Whether your company is switching to a completely new system or undergoing a major upgrade, take advantage of our proven ERP implementation methodology. Our past ERP services have helped reduce the load on company resources.
---
ERP Implementation Experts
While most mid-market manufacturing companies are lacking in implementation expertise, our team of experts are here for you to leverage for best results. We will supplement your team in all critical focus areas of the project, including:
Configuring the future state
Testing the system with your end-users
ERP data conversion
Driving performance improvements
---
An Engaged Process
We're with you all the way. The most successful and seamless implementation occurs when the manufacturer is fully engaged in the process. Ultra will help you align your resources, the executive team and the needs of the project.
Ultra's ERP Implementation Services
Our multi-step implementation process has helped over 300 manufacturing and distribution companies optimize their business processes. Here are our main areas of focus in an ERP Implementation project:
Pre-Implementation Expertise
During the business process improvement phase, we will help you define your key performance indicators and a reporting strategy as part of the future state.
---
ERP Project Management
Our project managers are experts in managing and leading client and vendor teams towards a successful ERP implementation.
---
Change Management
Organizational change management is a key part of process improvement, and therefore a key part of every ERP implementation. We will guide your client team every step of the way in the development of a change management plan.
---
ERP Education
Our team excels at setting up and delivering effective ERP education materials to the manufacturing enterprise. All process owners must become "ERP experts" in their own right in order for a successful implementation and go-live. A thorough ERP education helps with ERP adoption and effectiveness in the years to come.
---
Design and Configuration
Ultra offers guidance to both the manufacturer and vendor team when designing and configuring the system to meet specific business requirements.
---
ERP Data Conversion
Ultra's consultants are experts in ERP data conversion and management. During the review of the current state and the development of the future state, we will map a data strategy for the conversion of data files, both current and historic. Ultra will assist the client IT team with the planning and execution of data conversion to a new system.
---
Quality Control
Ultra has significant experience designing an effective development/test phase for extensive testing of the new system in conference room pilot environments. We will lead in-depth sessions for testing of processes, integration and workflow.
---
Deploy/Go-Live
Ultra assists in the final deploy and go-live after thoroughly managing and tracking the pilot, tests, data migration/integration and fixes or customizations and other pre-deployment phases. Ultra will help your company turn the focus onto user instruction, user documentation and training with the entire user community. Finally, the team finalizes the "cutover" plan of activities, and revises as needed to minimize disruptions to the operation.
---
Deliver Business Performance Improvements
Ultra will ensure the project team keeps their eye on the true goal: business process improvement. All too often ERP teams lose sight of the true goals of the project yielding to the desire to "just get it implemented." Ultra's change management activities keep everyone's attention on driving business process improvement that drives business performance improvement.
Your Resource for Effective ERP Implementation
It's clear that experienced ERP resources implement a new ERP system much faster than the uneducated business user. Through all of our cases serving mid-market manufacturers, we have been able to greatly reduce the time for this task.
Ultra's knowledge of ERP coupled with our knowledge your company's future state goals becomes a key ingredient to the success of the project and time-to-benefit.
As our manufacturing clients will attest, Ultra's ERP experience is a main ingredient to successful ERP project management. Our ERP implementation consultants supports all of the activities needed for a successful transformation to a modern information system.
Note that Ultra services do not replace the need for vendor consultant services that bring product knowledge to the project. Ultra focuses on supporting the manufacturing organization in the ERP implementation project.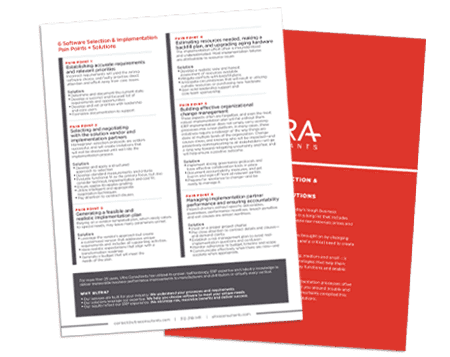 6 SOFTWARE SELECTION & IMPLEMENTATION PAIN POINTS + SOLUTIONS
Software selection and implementation processes often present challenges of their own. To steer you around trouble and help you drive success, Ultra's experts compiled a list of pain points and solutions to be aware of as you embark on this journey.
We're with you all the way.
DIRECT CONNECTION

Our experience shows that the hard work done in the business process optimization phase has a clear positive effect on implementation efficiency, project timeframe and time-to-benefit.

CRITICAL STRUCTURE

Ultra's implementation management methodology is designed to maximize the integration of your team, your software vendor, your implementation partner and our consultants.
IMPORTANT CONTINUITY

With our business process consultants managing your implementation, you ensure your solution is implemented and configured to achieve your future state.

MEASURABLE RESULTS

A well-managed implementation delivers greater speed-to-value, faster payback and better ROI, as well as lower risk, less scope creep and fewer delays caused by error and rework.

"Ultra understands the human element in ERP - that successful implementations are more about the people and processes than the software. The difficulty is in change management, and Ultra does that every day."