ERP project management is key to a successful enterprise software implementation. Inadequate project management has played a major role in failed implementations. A qualified, dedicated project manager is rule number one for a successful ERP implementation.
The Project Management Office (PMO)
Ultra recommends the establishment of a project management office (PMO). The PMO should be staffed with experienced ERP project managers. The role requires full-time management. A PMO can include multiple team members as long as responsibilities are clearly defined.
What is the role of the project management office in an ERP implementation?
The PMO is responsible for managing the resources and the implementation plan. The PMO will report directly to an executive steering committee. The project team – both vendor and client – report to the PMO. The team members are responsible for completing their tasks according to the plan.
The following are characteristics of a good project manager:
Previous experience managing projects
Respect of organization
Ability to lead
Demands satisfactory performance from the team, both client and vendor
Understands the entire range of processes
Ultra can often supplement client resources with the execution of PMO duties.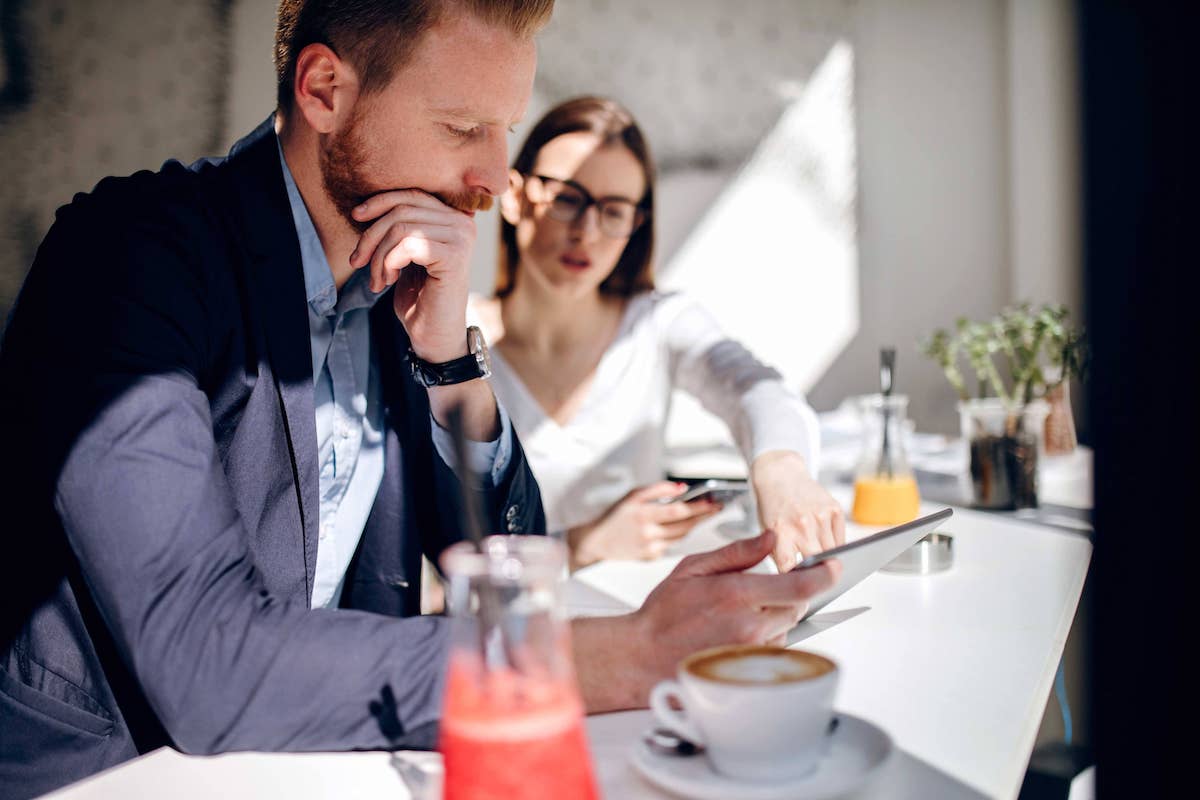 Ultra's ERP Project Management Resources
All consultants at Ultra are skilled, experienced ERP implementation project managers. We can assist our clients with any of the following capacities:
Project Manager
One of our esteemed consultants can fill the position of Project Manager. In this position, Ultra will manage your staff and the ERP software vendors to achieve an on-time, on-budget implementation. The Ultra resource assigned to your project will be on-site 100% of the time. Ultra's clients in the past have requested this service once they find they do not have a manager within their company they can assign to this role.
---
Project Manager Assistant
An Ultra consultant or partner can fill the position of Project Manager Assistant. In this role, the Ultra resource will assist the client project manager with the enterprise project management duties. The Ultra Consultant will be on site one to three days per week. Time requirements will vary based on how much time the client manager can devote to the project. Our clients request this service when they have an internal manager, but the individual cannot devote 100%, and therefore needs an experienced assistant.
---
Business Team Leader
An Ultra consultant can fill the position of business team leader. Each ERP project requires several functional team leaders. One example is a financial team leader. This individual leads the client staff through the implementation process. The Ultra Consultant will be on site three to four days per week. Clients request this service when they do not have an individual that has the time or the ability to lead a functional team.
---
Steering Committee Advisor
An Ultra consultant or partner can fill this position. In this role, Ultra provides advice and counsel to the project steering committee and project team throughout the project. The Ultra Consultant or Partner will be on site two to four days per month. Clients request this service when they have qualified a project manager, but want to maintain Ultra's experience and knowledge into the implementation.
Ultra's ERP Project Management Services
Our team of experts combines forces with your team, your vendor and your implementation partner to drive project success.
The following make up Ultra's project management services:
Project planning
Organizing roles and responsibilities
Scheduling
Reporting requirements
ERP data conversion plans
Communication and reporting
Weekly meeting management
Issues log
Project budget
Project reports
Steering committee meetings
Project monitoring
Issue resolution
Budget
Vendor performance
Core team performance
Ultra's ERP project management services do not displace the vendor project manager, nor does the vendor project manager displace the need for an Ultra or Client project manager. Ultra's services are designed to support the client's responsibilities throughout the ERP implementation.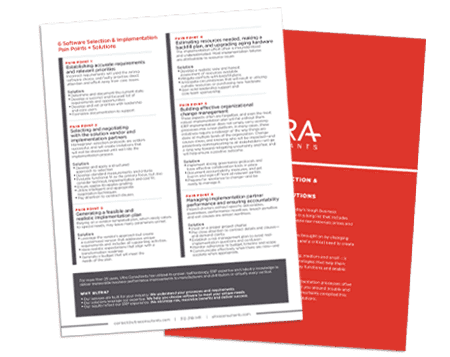 6 SOFTWARE SELECTION & IMPLEMENTATION PAIN POINTS + SOLUTIONS
Software selection and implementation processes often present challenges of their own. To steer you around trouble and help you drive success, Ultra's experts compiled a list of pain points and solutions to be aware of as you embark on this journey.
We're with you all the way.
DIRECT CONNECTION

Our experience shows that the hard work done in the business process optimization phase has a clear positive effect on implementation efficiency, project timeframe and time-to-benefit.

CRITICAL STRUCTURE

Ultra's implementation management methodology is designed to maximize the integration of your team, your software vendor, your implementation partner and our consultants.
IMPORTANT CONTINUITY

With our business process consultants managing your implementation, you ensure your solution is implemented and configured to achieve your future state.

MEASURABLE RESULTS

A well-managed implementation delivers greater speed-to-value, faster payback and better ROI, as well as lower risk, less scope creep and fewer delays caused by error and rework.

"Ultra understands the human element in ERP - that successful implementations are more about the people and processes than the software. The difficulty is in change management, and Ultra does that every day."