What Does an ERP Consultant Do?
In this article, we will outline
We are often asked, "What does an ERP consultant do?" An Enterprise Resource Planning (ERP) consultant, such as the experts we employ at Ultra Consultants, is a professional who assists companies with the planning, implementation and management of large-scale integrated software systems by providing expert guidance and technical oversight. Whether an organization wants to select a new ERP system or optimize its existing system, an ERP consultant works closely with clients to understand their needs and goals and design solutions that meet those needs and achieve those goals.
To develop customized ERP applications by integrating various functions such as finance, supply chain, manufacturing, and customer relationship management into a single system, an ERP consultant also plays a critical role in the implementation process, providing insight and technical support to ensure a smooth transition to the new system and realized returns on investment. 
The best ERP consultants are Ultra Consultants—trusted experts who provide experienced guidance, industry expertise and customization services to help organizations streamline their processes, reduce costs and increase productivity. They do this by working closely with senior managers to analyze all processes and suggest ways to make them more efficient by choosing new technology and best practices, then selecting and implementing the right system to manage all the details.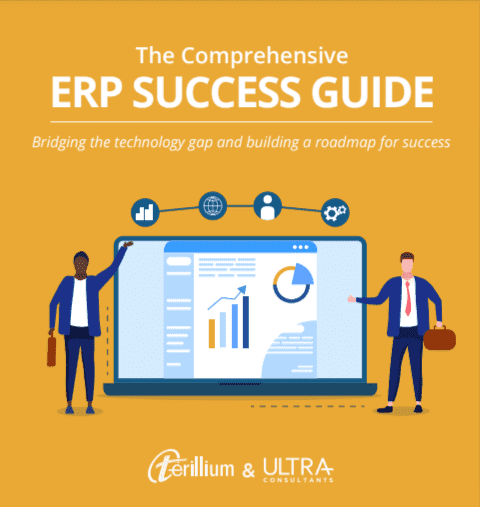 The Comprehensive ERP Success Guide
From choosing the right solution to the best practices for implementation, this ERP Success Guide will give you the knowledge you need to ensure your new solution achieves your business goals.
DOWNLOAD SUCCESS GUIDE
Top 5 Factors for Hiring an ERP Consultant 
When making resource planning decisions and selecting the perfect ERP consultant or entire company, it is important to keep the following factors in mind:
Each stage can take varying amounts of time and effort depending on the scope and complexity of the ERP implementation plan. So, how long does erp implementation take? How do you estimate the timing and plan an ERP system timeline? Our ERP consultants have decades of experience with hundreds of implementations under their belts. Here's how they handled questions about the average timeline for a successful ERP implementation.
Make sure you select an ERP consultant or firm that has experience and expertise in your particular industry. This will ensure that they are familiar with the unique challenges of the industry as well as any best practices or solutions that may be applicable to your organization's needs.
2. Technical Requirements & Capabilities
Determine what kind of technical requirements you have and make sure the consultant can meet them. They should also have extensive knowledge of computer science and a good understanding of various programming languages and platforms such as Java, .NET, SQL, etc.
3. Scalability & Expansion
Your ERP system should be able to grow with your organization's changing needs over time, and the consultant should be able to demonstrate how this can be done without significant re-implementation costs.
Evaluate all pricing options and determine which one provides the most value for the money spent, while keeping timelines in mind so that implementation does not take longer than necessary and detract from business operations.
5. Responsiveness & Communication Style
Make sure the consultant responds promptly to inquiries and is willing to take the time to explain concepts or proposed solutions clearly so everyone on your team is on board with them.
By taking these considerations into account when selecting an ERP consultant, you can ensure you find a professional who can appropriately meet your organization's needs while helping you reach your goals efficiently and effectively.
Responsibilities of an ERP Consultant
The best of the best—Ultra Consultants—hires industry leaders in full-time roles, in order to effectively serve our clients. But with literally thousands of companies to choose from for your implementation help, make certain your consultant is ready and able to perform the tasks that many ERP consultants handle:
The best consultants are responsible for developing and implementing project plans for ERP implementation or upgrade projects, then managing the entire ERP project, from design to implementation and ongoing support. This involves managing timelines, budgets, and resources to ensure the project is completed on time and within budget.
Managing All Stakeholders 
Managing the complex project can be a significant challenge for company executives. The implementation process often involves multiple stakeholders, such as IT teams, business process owners, and senior management. Ensuring that all stakeholders are aligned and that the project is on track requires significant project management skills.
Business Process Analysis
Good ERP consultants can analyze an organization's processes and workflows to identify areas for improvement and optimization and determine how the new system can be used to improve these processes and workflows. Consultants will typically begin their work by analyzing the company's existing business process management software, processes and operating methods for areas of possible improvement. They will look at current data collection methods, how data is stored and possible inefficiencies within the relevant company management system. After assessing their findings, they can then work with relevant company management to create a plan for establishing efficient processes within management software that enables better oversight on all company operations and transparency throughout the supply chain. They can help organizations streamline their operations to improve efficiency, reduce costs and increase productivity.
One of the critical responsibilities of a consultant is to conduct a thorough needs assessment. This involves addressing the client's relevant ideas, converting the information gleaned from the business process analysis and defining the key performance indicators (KPIs) that will be used to measure the success of the ERP implementation.
Once the needs analysis is complete, consultants work with clients to design the ERP solution. This involves selecting the appropriate system and configuring it to meet the needs of the business. Consultants may also develop custom modules or add-ons to the new system to address specific business requirements.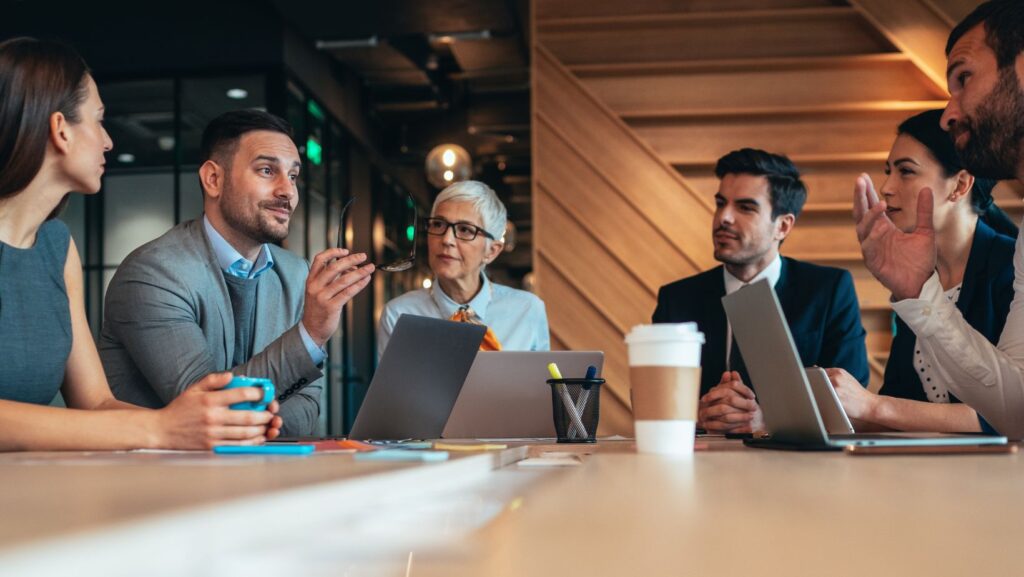 Expert negotiating skills are the hallmarks of the top consulting firms like Ultra Consultants. Our consultants work with vendors in order to establish the best contractual position for our clients. Later, we may be called upon to procure hardware or software upgrades when needed in order to keep business operations running optimally. This may involve negotiating prices with vendors as well as monitoring compliance with all licensing agreements made between vendors and the client we represent.
Data Migration and Integration
Data migration is a crucial process that involves transferring data from legacy systems to the new system. Often, poor data cleansing can hold up this process, so the ERP consultant is responsible for ensuring that this process runs smoothly, including mapping data between systems and verifying the accuracy of the data after the migration. Integration with other systems is also a necessary step in ensuring that the new system works seamlessly with other business applications.
Customization and Configuration
Good ERP consultants are responsible for customizing and configuring the selected software to meet the specific functions-related needs of the organization, typically working with the system's vendor and designated IT personnel to achieve this. This may involve using existing infrastructure, developing new functionality, modifying existing functionality to define system requirements and configuring the system for a successful integration of specific business processes.
The consultant is primarily responsible for overseeing the implementation of the system, which involves configuring the software to meet the specific needs of the organization, conducting testing and quality assurance to ensure the system is functioning properly and managing the deployment of the system to end-users.
The ERP consultant provides user training to employees and system administrators to ensure they can all use the system effectively. This can include training on specific modules, features, and functions, as well as general training on best practices and workflows, typically through online courses. The consultant is also responsible for providing technical support, often by ensuring ongoing technical support is available  through the vendor, and addresses issues or challenges that arise after the system has been deployed. They collaborate with other IT professionals, such as developers and system administrators  to ensure seamless integration of the new enterprise system with other business systems.
One of the major challenges faced by many consultants is dealing with resistance to change. Implementing ERP software requires significant changes in business processes, which can cause anxiety and resistance among employees. Expert consultants must employ effective change management strategies to address these issues and ensure that all employees are on board with the implementation.
Troubleshooting Post-Launch Issues
The consultant may also provide support during post-launch by troubleshooting any issues that may arise after the implementation is completed. They may need to resolve user complaints or provide system updates remotely in order to ensure the ERP software runs smoothly going into production environments for both users and supervisors alike.
This involves helping clients optimize their existing processes and other organizational procedures and related systems and software to improve business processes and achieve better results. This can include tasks such as process reengineering, data analysis and system tuning. Consultants work with clients to identify areas for improvement and develop solutions to optimize the software.
The responsibilities of an ERP consultant are critical in ensuring a successful implementation of a new system. From needs assessment to continuous improvement, the consultant plays a critical role in customizing, implementing, and optimizing the functions established throughout the ERP selection and implementation process, so that all specific business challenges are addressed and the path is cleared for the organization to achieve its goals.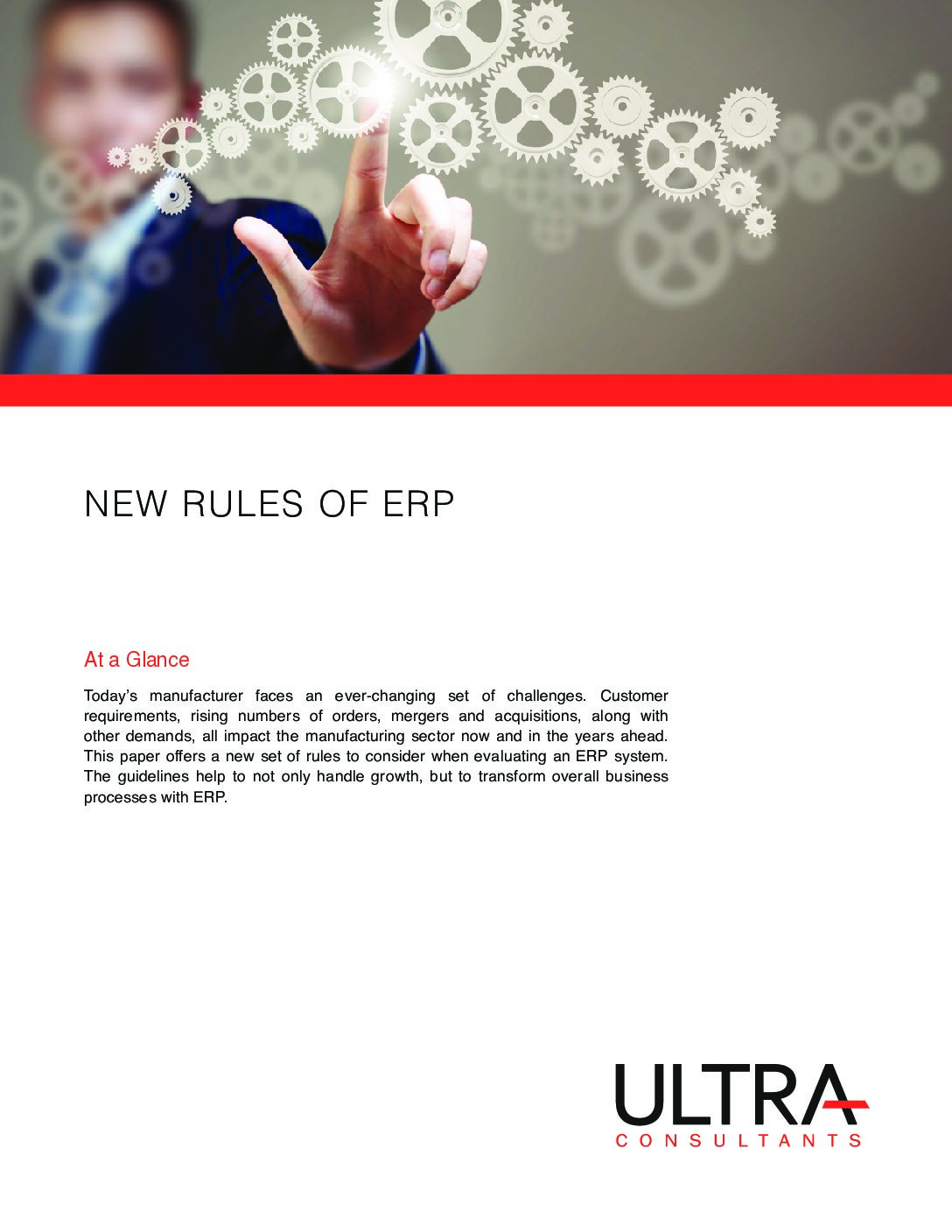 New Rules of ERP
To be successful, companies must play by a new set of rules when selecting an ERP system. To help guide the process of ERP evaluation and selection, here are seven new rules to keep in mind when entering into an ERP project.
DOWNLOAD GUIDE
Skills Required of Top ERP Consultants

Not just anyone can become an ERP consultant. The career path for the best consultants leads through a diverse range of skills that enable them to effectively manage projects and advise clients in the selection, Implementation and maintenance of enterprise systems. A successful ERP consultant has an in-depth knowledge of current technology, extensive business knowledge, excellent communication abilities, tested project management experience and deep analytical skills.
Technical skills are an essential component of how an ERP consultant does their work. An ERP consultant must possess a technical understanding of the software that runs the system, its configuration and its customization, with a solid grasp of software architecture and infrastructure. They must have expertise in programming, databases, system integration, and support-related testing. They should remain up-to-date on the latest software and industry trends. This requires ongoing learning and professional development.
Business knowledge is essential for an ERP consultant. A good ERP consultant must have a thorough understanding of all organizational processes and how they are incorporated into the new system. They must be able to identify gaps in business processes and suggest solutions that fit into the system. A command of the financial aspect of the business through accounting, plus supply chain management, distribution, sales and customer management is also crucial.
Communication skills are a vital aspect of an ERP consultant's job. They must be able to explain complex technical concepts to non-technical stakeholders in a clear and concise manner. It is essential to communicate effectively throughout the project, including during the requirements-gathering phase, configuration, testing, and training. Strong written and verbal skills are critical for documenting requirements, collaborating with stakeholders, and presenting solutions effectively.
Project Management Experience
Project management skills are essential for the best consultants. They must have the ability to manage complex projects, including defining project scope, developing project plans and monitoring progress against the plan. The ERP consultant helps cross-functional and technical teams to oversee solutions and manage conflicts effectively. Additionally, they have the ability to prioritize tasks, manage risks and coach organizations through change management.
Balance Competing Priorities
Top consultants also balance competing priorities, including the need to meet project timelines and budget constraints while also delivering quality work. This requires strong prioritization and decision-making skills.
Analytical skills are essential for an ERP consultant to understand and identify business process issues and devise solutions. They need to analyze and interpret data from various business management systems and ERP processes and provide recommendations for system enhancements or workarounds to resolve issues. As an expert in problem-solving, system analysis and critical thinking, an ERP consultant should provide insights and propose solutions to optimize the ERP system's performance.
Education and Certifications
Most ERP consultants have a bachelor's degree in computer science, information technology or a related field. However, a full one-third of Ultra Consultants have added to their bachelor's degree and obtained their Master's Degree in Business Administration, which is highly beneficial, providing a more in-depth understanding of global oversight and operations management. Additionally, another one-third of our consultants have achieved Six Sigma certifications and expertise in the discipline of Continuous Improvement.
A consultant must possess a combination of technical, business, communication, and project development, management and analytical skills. Without these requisite skills, it would be challenging to manage the system configuration and implement a successful system that meets the diverse needs of an organization. However, with these necessary skills, an ERP functional consultant can go beyond merely implementing a new system and ensure that the organization gets the highest possible return on investment.
Top consultants face numerous technical tools and challenges in implementing ERP software in organizations. Effectively managing change, project complexity, competing priorities, mitigating project risks and maintaining technical knowledge are critical to success in this field.
How to Get an Industry Specialist ERP Consultant
Before selecting an Enterprise Resource Planning (ERP) consultant, it is important to research industry-specific providers who specialize in that field. Here are some tips on how you can do so:
Reach out to other companies in your industry and inquire about the ERP consultation services they may have used. This can give you a first-hand account of the quality of service they provide and whether or not they are worth considering.
2. Evaluate Credentials & Accreditations
A legitimate ERP consultant should be able to prove their reputation through certifications, awards, or affiliations with professional organizations related to the industry.
3. Research Online Reviews
Look for unbiased reviews from past customers on reputable sites such as Gartner, Clutch, and Trustpilot to get an objective idea of what kind of feedback the provider has received regarding their services.
4. Request a Quote & Demonstration
Request a quote that outlines costs associated with the project as well as potential timelines for completion. This will also give you an opportunity to see a demo of the system before making a final decision on which vendor to use.
5. Testimonials & References
Ask any potential vendors if they can provide testimonials and references from existing clients who have used their services in the past, as this can provide more insight into what actual customers think about them and how successful previous implementations were. Ultra Consultants routinely provides potential clients with a list of our most-recent 100 client engagements for this exact purpose.
By following these steps, organizations can make sure they select a consultant that matches their unique requirements and delivers quality results at a competitive price point.
A good consultant is invaluable to human resources, when it comes to selecting and implementing erp software for organizations. By leveraging the consultant's expertise, businesses ensure they best utilize their own staff for mission-critical activities and ensure they have a successful implementation that meets all of their needs.
Using Your Consultant to Understand the ERP Pricing Structure
Before deciding about an ERP system, your ERP consultant will help you compare each potential vendor's services and pricing. Here's how Ultra Consultants gets you the information you need:
1. Reviews Feature Sets & Services
Our consultants carefully review and compare the features, services and support each provider offers. This can help you determine which one best meets your needs in terms of both functionality and cost.
2. Asks About Scalability & Expansion Options
Our consultants determine whether a vendor can scale their services depending on your organization's growth and the kinds of changes that may occur over time in terms of technology requirements or functionality that may be needed.
3. Obtains Detailed Cost Estimates
Our consultants request detailed cost estimates for both setup fees and ongoing maintenance costs from potential vendors so there are no surprises when budgeting for the project.
4. Examines Turnaround Times & Project Milestones
Our consultants find out how long it takes them to deploy from start to finish and if they provide ERP-related milestones throughout the process so you know what to expect at each stage.
5. Read Contracts Carefully
Our consultants make sure you understand all of the stipulations spelled out in any enterprise resource planning systems contracts before signing off on them so that there is no confusion later regarding payment plans or service obligations.
Ensure that any potential ERP consultant understands and practices these considerations. Then your organization can be certain to make an informed decision when selecting a provider who meets your specific needs at a fair price point.
Enterprise systems are vital tools for modern businesses to manage and streamline their operations. However, both the selection and the implementation management of ERP systems can be complex and time-consuming processes that require a comprehensive vision with expertise and experience. This is where the vast experience and deep industry knowledge of the ERP specialists at Ultra Consultants come in. 
Our services are best used by:
Organizations that are considering which new enterprise solution to get for their business

Organizations that need to implement customized enterprise solutions, systems or software they've selected

Organizations that are struggling to get the most out of their existing customized enterprise solutions, systems, or software
Some consultants may work for software vendors or as independent contractors, but Ultra has hired the best and brightest industry experts who work for us as full-time employees to develop customized ERP solutions for our clients. Each ERP consultant's primary goal is to help our clients maximize the value of their ERP investment by improving processes, increasing efficiency, and reducing costs. They also provide ongoing support and maintenance services to ensure that newly implemented ERP systems continue to meet the needs of the businesses we serve.
READY TO TRANSFORM YOUR BUSINESS?
We know your fundamentals
and core processes.
Our consulting services are directed at achieving your business transformation. Applying today's best practices, leveraging our exceptional expertise in manufacturing and distribution, and utilizing a rigorous methodology, our services are geared to deliver business performance you never imagined possible.