5 Change Management Strategies for an ERP Project
Implementing or upgrading an ERP system is a good opportunity for a manufacturer to create lasting business change within an organization. That's why change management strategies for an ERP project are so important.
We looked at this topic last month in a blog post about what is needed for an effective change management plan.
Another archived blog post outlined typical questions about change management and ERP, as this is a key topic facing today's manufacturing and distribution organization.
More Than Software Selection
As business improvement consultants, it's our experience that ERP change management is more than simply selecting and implementing an ERP system.
Manufacturers look to Ultra because we view ERP change management as transformational business process improvement. It involves introducing best practices throughout the entire organization to increase efficiency, improve overall business performance and maximize the ERP system's value.
As with any complex project, resistance to change is the norm, not the exception. Expect it, prepare for it and manage it to minimize the impact that it can have. Ignoring it and hoping it will go away is not an option.
As part of ERP process improvement services, we guide clients by driving change management tactics that can be used to reduce this resistance. Both individual and organizational values affect how a change is received in the organization and both need to be addressed in order to be successful.
5 Change Management Strategies for an ERP Project
As an independent ERP consulting firm, change management is a topic that comes up often as project teams look to Ultra to understand the best way to work through and ERP project to improve key processes.   We often guide our clients to work through these key change management strategies for an ERP project.
1 – Mobilize and Align Leaders & Articulate the Case for Change
As a first strategy, it is key to clearly articulate the case for change. We encourage teams to communicate project scope, rollout strategy and implementation schedule as the ERP project gets underway.  Key aspects of this strategy include:
Leadership understands implementation strategy and clearly define leadership actions to support the change
Communicate project scope, rollout strategy and implementation schedule
Empower the implementation team and employees for broad based action by sanctioning them with the authority to make decisions
2 – Identify and Manage "People" Opportunity and Risk
It is also critical for the ERP project team to look at both the opportunity and risk of a project. Here's where a change management strategy and team is put in place to address the cultural changes the implementation will create. Key areas to address include the following:
Conduct organization and people readiness assessments to identify both opportunity and risk as early as possible and define actions to realize these opportunities and mitigate risks
Monitor the "people" risk mitigation progress by conducting mid-course and post implementation checks
Identify key stakeholders within the business and across the enterprise and implement best practices for adoption
3  – Stakeholder Communications
An important strategy when it comes to organizational change management is to define and deploy a detailed communication plan – which answers what will be communicated, why, to whom (audience), by whom, when, and how. All communications should include:
Definition of project scope, objectives, milestones, deliverables, critical success factors and approaches
Information between and among all project stakeholders
Plan for the transition process through implementation to post go-live
4 – Create the Future Organization
As business improvement consultants, we hear all about the desire for a transformed organization once an ERP implementation is complete.
Developing and designing the desired future organization is also key to change management and ERP. This phase includes assessing job redesign and competency requirements for the new environment.
These efforts also include:
Analyze the current condition of the business, locations, and departments in terms of processes, organization and people systems
Develop a transformation plan that defines actions, responsibilities and timeframe to get to target condition
Analyze implications for HR such as performance management, compensation and classification, recruiting, hiring and on-boarding, etc.
5 – Enable the Workforce
A critical part of change management strategies for an ERP project involves enabling the workforce to thrive in the transformed organization. This phase is more than simply training on a new technology. This usually involves overall job, skill and organization design changes. We suggest a focus on the following initiatives:
Assess current workforce in terms of skills, abilities, experiences and capabilities; assess staffing impacts
Develop/implement training strategies and plans to close learning gaps
Well before go-live, help end-users, leaders, implementation team members, process owners, customer, suppliers understand how their processes and work will be impacted

Additional Resources – Change Management Strategies for an ERP Project
This post offers high-level change management strategies for an ERP project, but the change management process must be a priory throughout a project. Those impacted by change must be informed, empowered, willing and able for changes to be made effectively. By being engaged and involved, stakeholders will accept a change if they understand that the organization will benefit.
As an ERP consulting firm serving manufacturing and distribution teams, we're committed to the success and health of this important industry sector – with services focused on change management.
Contact Ultra Consultants to start your technology-enabled transformation.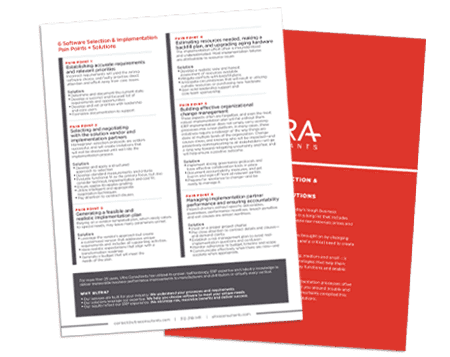 6 SOFTWARE SELECTION & IMPLEMENTATION PAIN POINTS + SOLUTIONS
Software selection and implementation processes often present challenges of their own. To steer you around trouble and help you drive success, Ultra's experts compiled a list of pain points and solutions to be aware of as you embark on this journey.