What if You Had a "Blueprint" for Your ERP Project?
As independent ERP consultants, we've long known that when an ERP initiative is driven by Business Process Improvement, a team is better positioned to get maximum benefit from the technology investment.
An ERP evaluation and selection can seem somewhat daunting. More than just setting up software demos, It requires a rigorous evaluation of existing work processes which results in a "current state" report. The team then defines the desired "future state" of how the enterprise will function more efficiently after deploying new enterprise technology solutions.
But when an ERP project gets off track, and the focus moves away from technology selection and BPI, it can go off the rails. The project can become too complex and resource-intensive to succeed.
A blueprint provides manufacturing and distribution project teams valuable insight culled from hundreds of successful ERP initiatives.
What if you can tap into a set of resources from those who have paved the way?
What if you can access insight to identify potential risks and mitigate those risks before they could become an obstacle to the success of the project?
That's the idea behind an eBook which serves as your blueprint for ERP success.  The eBook gathers in-depth resources that puts the emphasis on people and processes.
"A Blueprint for Enterprise Technology Selection" assembles informative webcasts, podcasts, white papers, articles, videos and more to create a blueprint for success that you don't want to miss.
A Blueprint for Success
With this blueprint for enterprise technology selection, your teams can learn from those who have paved the way with resources to help you:
Get started with an ERP project
Plan the approach to ensure a successful outcome
Understand the key software selection decision drivers
Build the most effective project team
See the specific steps unique to manufacturing and distribution organizations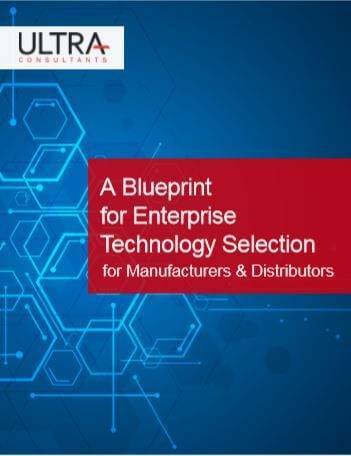 Get a Blueprint for Your ERP Project
Success follows from a structured, purposeful approach aimed to help transition people, teams, and organizations from their current state to the desired future state.
This blueprint sheds light on the importance of the project scope, rollout strategy and implementation schedule as the project gets underway.
The information offered in this eBook is made possible by more than 25 years of enterprise technology project leadership.
Download the blueprint to take advantage of this informative, new resource from Ultra Consultants.
6 Software Selection & Implementation Pain Points + Solutions
Software selection and implementation processes often present challenges of their own. To steer you around trouble and help you drive success, Ultra's experts compiled a list of pain points and solutions to be aware of as you embark on this journey.