ERP in 2019: Despite Cyclical Industry Risks, It Pays to Drive Business Process Improvement
Thinking ERP in 2019? Many of the manufacturing and distribution teams we speak with are in the process of prioritizing their strategic plans. And many of these enterprises are considering the timing of an enterprise technology project.
Regular readers know that Ultra's team puts an emphasis on sharing the latest in economic activity through our series of informative economic update blog posts.
When looking ahead to ERP in 2019, planning efforts must take into the consideration market activities and expected industry performance.
2019 Market Forces
Analysis from Advanced Manufacturing entitled "U.S. Economic  Momentum Poised to Cool in 2019" notes that the impacts of increased protectionism and the trade war against China will weigh on business activity. The uncertainty it creates will also influence business investment growth.
Elsewhere on the trade front, the United States-Mexico-Canada Agreement (USMCA) will replace and modernize NAFTA. While politicians on all sides tout a hard-fought victory, the economics remain little changed.
Labor markets are also impacted amid increasing tightness in the labor market and rising inflation.
So in short, several risks cloud the 2019 outlook — trade protectionism, emerging market turmoil, volatile asset prices, and elevated oil prices.
Thinking Business Process Improvement? Stay the Course
When it comes to enterprise technology projects, a robust, modern ERP system is not a "nice-to-have" – it is a requirement to effectively run a business.
Despite the projections for a cooling of economic momentum in 2019, Investing in modern ERP systems to drive business process improvement pays off.
Ultra'sIndependent ERP consultantteam guides companies to realize that technology streamlines business processes and provides insight into operations, inventory, supply chain, and external market demand.
Many ERP systems automate serial and lot tracking and traceability, as well as swift product recall processes, saving the company time and money. Further, an ERP provides improved control over components inventory, more accurate demand-planning, streamlined production scheduling, and more effective coordination of distribution channels, which enable companies to improve on-time delivery of products, a critical performance metric for today's manufacturers.
On Demand Webinar
If your team is evaluating an ERP selection project, these topics and many others are explored in an on demand educational webinar session.
Ultra's Andrew Bolivar, Director of the Center of Excellence, hosts the webinar entitled New Year, New Goals: Increase ROI  in Your ERP Project available for on demand viewing.
This one-hour educational webinar helps you develop confidence that your project will deliver your Return on Investment (ROI) expectations and position your business for long-term success – even in the face of volatile market conditions.
Andrew Bolivar shares an example of why and how to create an effective Business Case for Change to ensure your ERP investment is a well-defined, budgeted, and expectations are clear.
In addition, you'll understand the main areas of where you can realize ROI: inventory management, supply chain management, product development, and many more.
Finally, to drive business process improvement, see the investments to make in people, processes and both IT and plant-level technology.
The session is of value to C-level leaders at manufacturing, distribution companies, IT directors, Operations Directors, Operations Managers and anyone responsible for overall business process improvement.
ERP in 2019: Next Steps
Looking ahead when it comes to ERP in 2019? Check out these resources:
View an educational webinar to optimize the ROI of your ERP project.
Gaining knowledge is key when heading into a major enterprise technology selection project.  Check out ERP Education resources to expand your horizons.
Please Contact Ultra for a look at the most effective path forward in the New Year.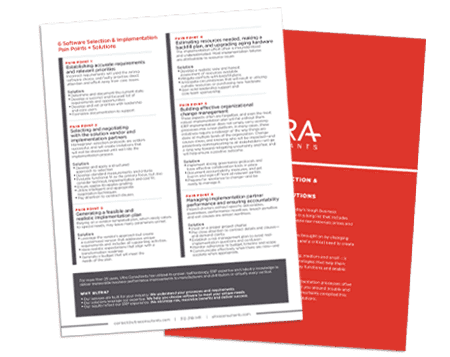 6 SOFTWARE SELECTION & IMPLEMENTATION PAIN POINTS + SOLUTIONS
Software selection and implementation processes often present challenges of their own. To steer you around trouble and help you drive success, Ultra's experts compiled a list of pain points and solutions to be aware of as you embark on this journey.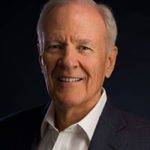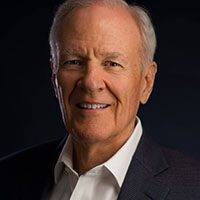 Jeff is the founder of Ultra Consultants, a well-known voice in the ERP consulting industry and an expert on ERP solutions for discrete and process manufacturers. Over the last 40-plus years, his companies have helped more than 2,000 organizations improve their business processes, select ERP software and implement advanced solutions.