As a business owner or manager, choosing the right enterprise resource planning (ERP) system for your organization can be overwhelming. With countless options available in the market, it can be challenging to determine which one will best meet your business needs. This is where choosing an ERP selection firm comes in.
Software selection consulting and implementation consultants help you identify the right ERP system for your organization, set up vendor evaluations, streamline the implementation process and ensure the success of your ERP implementation project. Choosing the right selection firm is critical to achieving your future business goals.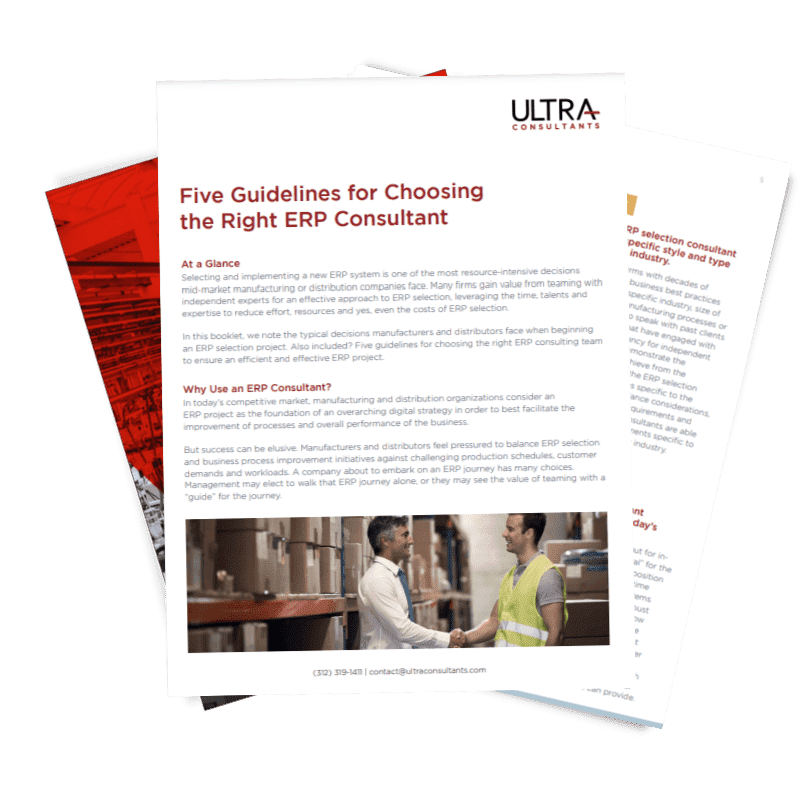 Five Guidelines for Choosing the Right ERP Consultant
Selecting and implementing a new ERP system is one of the most resource-intensive decisions! Download our guidelines.
DOWNLOAD NOW

What is an ERP Selection Firm?
An ERP integrates various departments and business processes such as finance, accounting systems, inventory management, human resources and supply chain management into a unified system for better decision making and streamlined operations. 
An ERP selection firm is a consulting firm that specializes in helping organizations choose the right industry-specific solution for their business needs. Software selection consultants focus on what your enterprise system requires in order to meet your organization's needs. Choosing the wrong system can be costly and detrimental to your organization's operations. Software selection firms have expertise in assessing business processes, working with clients to understand their unique business process requirements, making the business case for ERP systems and providing guidance on the selection process. The firm can also provide a managed service approach for ERP implementation and maintenance, ensuring that the system is properly integrated into your organization's operations.
A software selection firm and implementation consulting firm such as Ultra Consultants can help businesses identify their specific requirements and map them onto the available software options within industry-specific systems. Ultra Consultants offers guidance on analyzing key requirements, software consulting services such as vendor selection, new system customization and implementation best practices. Working with Ultra Consultants can help businesses save time and money, as well as minimize risk during the software selection, vendor evaluation and implementation of their digital transformation strategy.
Criteria for the Best Enterprise Resource Planning Selection Firms
Experience and Expertise
When choosing a technology selection firm, it is crucial to consider the company's experience and expertise in the industry. Experience means the number of years the firm has worked in the software selection field, while expertise refers to mastery and depth of knowledge in the software selection process and in your particular industry. Companies with years of experience in software selection consulting will be more likely to have a proven track record. Newer firms don't have too many software projects completed and thus may lack a thorough understanding of the market. Experience gives selection firms a better understanding on what might make the software projects fail or be successful. Before selecting a firm, make sure to assess their industry knowledge and look for past successes or client testimonials. Ensure that the firm has a team of experienced professionals who are knowledgeable in both technical and functional aspects of ERP. 
Services Offered
When choosing enterprise software, you should also consider the services offered by the ERP consultants. Enterprise software consultants focus on providing services that help businesses choose the right ERP solutions for their organization. The services offered by these firms include conducting a requirements analysis, identifying software vendors, evaluating vendors, negotiating contracts and implementing the top vendor's cloud ERP offering or system, including helping with data migration to a hosted data center.
It is essential for businesses to choose an enterprise software consulting firm that can handle all aspects of the selection process and implementation, from making the business case, to data migration, to education of best practices and more. A comprehensive approach ensures that the selected ERP solution is the right fit for the business' needs, is implemented correctly and delivers the expected benefits. Therefore, businesses should conduct extensive research to identify an experienced and reputable selection firm that offers comprehensive services and helps businesses make informed decisions about their software selection.
Methodology
ERP software selection firms assist businesses in selecting ERP and cloud solutions that meet their specific needs and requirements. When considering a software consulting firm, it is important to ask about their selection methodology. This will give you an idea of how the firm operates and whether their methods align with your business' needs. Factors to keep in mind when evaluating methodology include the degree of customization and involvement of stakeholders.
A good enterprise software selection firm will work with you to understand your unique requirements and constraints before recommending solutions. They should also involve key personnel in the process, as they are the ones who will be using the new system on a daily basis. By ensuring that the methodology of the software selection consulting firm aligns with your business practices and specific needs, you can increase the likelihood of selecting an effective and efficient solution for your business. At Ultra, our proven methodology comes from experience with hundreds of clients over nearly 30 years. 
Cost and Budget
It is important to choose an enterprise software selection firm that can provide comprehensive software selection consulting services within your budget without compromising on the quality of service. Vendors who sell software have a variety of pricing models, so a selection firm should be familiar with all options and negotiate on your behalf. Ultra Consultants actually saves our clients an average of $160,000, more than making up for the costs of our software selection services and implementation consultants.
References
References are a powerful tool in assessing consulting firms and ensuring a successful implementation. By reviewing references, organizations can gain insight into an enterprise software selection firm's level of experience, expertise and customer satisfaction. The references should include the company's previous clients and projects undertaken by the firm. An ERP implementation is a significant investment, and it is crucial to select a consultancy with a proven track record of success in similar projects. 
References allow an organization to gauge the firm's performance, their ability to work within a budget and timeline and their ability to meet customer needs. Additionally, references act as a benchmark for assessing the firm's expertise in specific industries and technologies. (Ultra Consultants makes a practice of giving potential clients a list of our 70+ most-recent clients as references.) Knowing the experiences of businesses that have worked with the potential consultancy can help executives determine if the firm is the right fit for their organization's needs. Therefore, thoroughly reviewing references should be an essential step in the ERP consultant selection process.
Vendor Independence
When choosing a software consultant, it is also essential to consider whether a firm has absolute and total independence from vendor influence. A vendor-neutral selection firm should not be affiliated with any ERP systems vendor. Having an independent firm for vendor evaluation ensures that the selection process is unbiased, transparent and that their advice is based on the best interests of the client. The firm's primary function is to help companies select an ERP solution and guide them through the selection process. 
A vendor-neutral firm can provide objective insights into different products, vendor viability and technologies which help the client to make an informed decision based on an objective look at many qualified vendors and solutions. Furthermore, the firm's staff should have extensive experience in project management, business analysis and customer relationship management to drive success in ERP implementation. Therefore, businesses seeking an enterprise software system should carefully evaluate whether their chosen software consultant is affiliated with any ERP vendors. At Ultra, we value our close vendor relationships that enable us to have deeper insights into the features and functionally of every viable system for manufacturing and distribution, but we are fiercely independent, and we always will be. 

The Importance of an Independent Software Selection Firm
Unbiased Evaluation
As an independent consulting firm, we bring a completely objective perspective to the table, free from any vendor bias. An independent firm, such as Ultra Consultants, is crucial for businesses looking to implement a software system. An unbiased evaluation of the various ERP options available is critical to ensure the system is chosen that best aligns with the organizational goals and objectives. Without an independent software consulting company, companies risk selecting a system based on commission levels, biased opinions or a vendor's sales pitch.
At Ultra Consultants, we offer software selection services that are tailored to meet the specific needs of our clients. Our team of experts brings extensive knowledge and experience to the table, which enables us to identify the best solution for our clients' business. With Ultra Consultants' involvement, companies can reduce the risk of selecting a system that ultimately fails to meet expectations, saving valuable time and resources.
Software Consulting Expertise
Selecting the right system for your business is a complex and time-consuming process that requires an extensive understanding of the industry and the underlying technologies of available solutions. This is where an independent software selection firm such as Ultra Consultants truly shines. With our expertise, we can guide organizations in selecting the best-fit solution that meets their specific needs and budget.
For example, hosted data centers and cloud-based systems add a new layer of complexity to the software selection process, which requires expertise and experience to navigate effectively. As the future of business is becoming more reliant on cloud-based systems, it is essential to evaluate cloud-based ERP solutions that align with better business practices.
We have extensive knowledge of the cloud-based and onsite ERP landscape and are able to assess and compare different software solutions, helping organizations to make informed decisions. Additionally, as implementation partners, we provide valuable insights into managed services that can further streamline the process and ensure success. 
With Ultra Consultants' assistance, companies can avoid costly mistakes and ensure that they are investing in a system that will support their business goals and drive growth. Our ERP selection consultants have the expertise and experience to make the process as smooth and painless as possible, ensuring that our clients end up with the right system for their needs.
Risk Management
An independent consulting firm such as Ultra Consultants is crucial for risk management within a company. When selecting software, there are many factors to consider, such as scalability, functionality, customer relationship management, business processes and cost. Making the wrong choice can result in costly delays, lost productivity, legal issues, and damage to customer relations.
Ultra Consultants can help mitigate these risks by providing unbiased expert advice to project managers, conducting a thorough evaluation of potential software vendors and negotiating contract terms, including service level agreements (SLAs). With our expert guidance and analysis, we can also help ensure that the chosen system will align with the company's goals and needs, provide maximum ROI and minimize disruptions during the implementation process. By partnering with Ultra Consultants, companies reduce the risk of costly errors and make a more informed decision about their software selection process. Our software selection consultants have extensive experience and knowledge in the field, making them the perfect partner for companies looking to make the right decision for their business.
Reduced Costs
The importance of an independent selection firm such as Ultra Consultants cannot be overstated when it comes to reducing costs and overall business process improvement. A selection firm without vendor ties provides a neutral perspective on which software vendor will best suit a company's unique needs while also minimizing expenses. Through an objective analysis of the company's requirements and the various software offerings available on the market, Ultra Consultants can recommend the most cost-effective solution for the organization.
Additionally, our software selection consultants have extensive experience in negotiating with vendors, including leveraging our network of industry connections to negotiate better pricing and contract terms on behalf of our clients. This ensures that businesses can save money on both the upfront costs of implementing a new software system and the ongoing expenses related to licensing, maintenance and support.
Choosing a technology selection firm like Ultra Consultants can ultimately help companies minimize their expenditures while still achieving their desired outcomes. Our expertise in software selection consulting and business process improvement can further enhance the value that our clients receive from our services.
Improved Outcomes
A firm like Ultra Consultants plays a crucial role in improving outcomes for businesses who are in search of the best enterprise software vendors. By providing vendor evaluation and objective assessment of various ERP solutions, we help businesses make well-informed decisions based on their specific needs and requirements. We not only have extensive knowledge and experience in the industry, but we also have four full-time researchers on staff who keep us up-to-date with the latest software and technology upgrades.
With our expertise in evaluating solutions, we guide our clients through the complex selection process, ensuring that they choose the best software vendor that aligns with their business objectives. Our software selection consulting also includes support for a successful implementation, ensuring that the chosen system is integrated seamlessly into the business process. The result is improved outcomes in terms of better efficiency, productivity, software reliability and profitability.
Businesses that collaborate with Ultra Consultants benefit from a thorough evaluation of their current business processes and system requirements, resulting in a more streamlined selection process that meets their unique needs. Ultimately, our vendor evaluation and software selection consulting services can help businesses achieve their desired outcomes and improve their overall success.
Negotiation Power
Working with an ERP selection consultant like Ultra provides businesses with a significant advantage in selecting the right enterprise system. Our experience with software selection projects allows us to objectively evaluate and compare software reliability and compatibility of multiple enterprise software vendors, resulting in well-informed decisions that meet our clients' specific requirements. Moreover, our independence from software vendors means we act as a buffer between clients and vendors, providing negotiation power that can lead to better deals on software pricing, licensing and implementation services. This helps companies optimize their ROI on ERP software investments while minimizing risk and maximizing value. Therefore, by leveraging Ultra Consultants' negotiation power, businesses can obtain contracts that are more favorable and cost-effective, ultimately achieving their desired outcomes.
Ongoing Support
Ultra Consultants provides unbiased guidance throughout the entire software selection process, including such modules as industry-specific CRM systems. And, our services don't end with the selection and implementation of a particular system. We provide ongoing support to ensure that the selected enterprise system remains aligned with business objectives and meets the organization's needs. Our expert advice on managing system upgrades, utilizing new features and addressing any issues that may arise helps businesses optimize their use of systems from a variety of technology vendors. By partnering with Ultra Consultants, organizations gain access to expert advice, software consulting services, and ongoing support that will ensure they continue to reap the benefits of their ERP investment over the long term.
Conclusion
In conclusion, choosing the right ERP consulting company is crucial to the success of your ERP implementation process. An experienced and reputable firm such as Ultra Consultants can provide your business with a comprehensive range of services to help choose the right system for your unique business needs. 
By considering factors such as experience and expertise in services offered, methodology and industry knowledge, businesses can select an ERP implementation partner that will enable future growth, from an additional machine to major acquisitions. 
Independent consultants, such as Ultra Consultants, provide unbiased evaluations of the current systems and recommend suitable ERP solutions that align with your organization's needs. By working with an independent implementation partner, you can ensure vendor independence and avoid any conflicts of interest. This approach reduces the risk of selecting a software system that ultimately fails to meet expectations, saving valuable time and resources while ensuring future business success.
Turn to Ultra When Choosing an ERP Selection Firm
Choosing an ERP selection firm can bring real benefits to your ERP project. From vetting ERP vendors, to negotiating contract details, the ERP consultant makes all the difference in a smooth kickoff to your project. Reach out to Ultra Consultants for more  information on our ERP selection services.