How do I choose an ERP selection consultant?
Assess internal resources
Ensure the ERP selection consultant knows your industry
Confirm the ERP consultant knows  today's ERPs
Verify the ERP selection methodology focuses on BPI
Consider the ERP consultant's fit with the company
Given that choosing and implementing a new ERP system is one of the biggest decisions a mid-market manufacturing company will ever make, taking the time to evaluate an ERP selection consultant is a critical task. After all, it makes business sense to shorten the selection process, improve the chance of finding
a system that will be a good match for the company, and instill confidence to achieve a faster ROI.
The ERP selection consultant should save the manufacturer time and money, and get the project off to a great start.
It is in this spirit that we offer the following five guidelines for picking the right ERP selection consultant: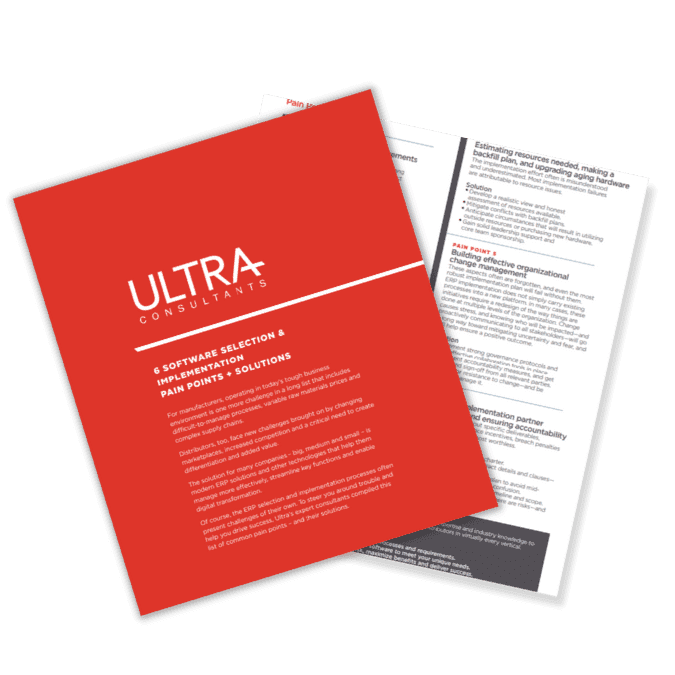 6 Software Selection & Implementation Pain Points + Solutions
Software selection and implementation processes often present challenges of their own. Ultra's experts compiled a list of pain points and solutions to help as you embark on this journey.
DOWNLOAD NOW
5 Guidelines for Picking the Right ERP Selection Consultant
Guideline 1: Assess internal resources.
As we noted above, a mid-sized manufacturing organization's IT department may have limited experience managing selection and implementation projects. Moreover, the department may not have the time and/or the sophisticated project management skills required for an ERP project. Does anyone within the organization offer extensive knowledge and  understanding of the ERP vendor community? It's important that the ERP project team members have knowledge of multiple vendors, their products and their sales and support organizations. How about contract negotiations? Is there anyone within the organization that has experience in this area? Even if the manufacturer has a dedicated procurement team, it takes specialized skills and knowledge when it comes to ERP vendor selection and contract negotiation.
Guideline 2: Make sure the ERP selection consultant truly knows the specific style and type of  manufacturing industry.
Focus on finding a resource with decades of experience in ERP and business best practices for the company's specific industry, size of business and type of  manufacturing processes. Ask to speak with similar organizations that have engaged with the ERP selection consultant for an independent reference. Be sure they demonstrate the results they were able to achieve from the ERP implementation. Ask if the ERP selection consultant understands issues specific to the industry, including any compliance considerations, quality mandates, customer requirements and other considerations. They must be able to easily handle unique requirements specific to both the organization and its industry.
Guideline 3: Confirm that the ERP consultant knows what's possible with today's modern ERP systems.
Manufacturers should be on the look-out for in-depth ERP insight that's "vendor neutral" for
the best outcome. Many consultants might position themselves as independent, so take the time to confirm these claims. Modern ERP systems offer sophisticated configuration tools, robust reporting and business intelligence, workflow engines and other  advanced features – some targeted to specific  industries. Confirm that these capabilities are fully understood to obtain system knowledge and ERP system education. Reference calls or on-site visits with current or recent customers will give a clear picture of the value the consultant can provide.
Guideline 4: Verify that the ERP selection methodology puts the focus on business performance improvement.
Look for an ERP selection consultant company that makes it their business to drive results. The consultant should see an ERP project as a platform for continuous  improvement, helping achieve key  business outcomes such as improved customer service, reduced lead time, improved quality, reduced asset turns, higher productivity and improved, more timely decision-making. High achieving manufacturers have found that a "business process" evaluation methodology is critical and most effective when evaluating ERP vendors. Ultra advises companies that a business process definition (both current state and future state) should drive evaluation projects. It's only after looking closely at the business processes
that the team can then identify the vendors that best meet the company's requirements.
Guideline 5: Consider the ERP consultant's fit with the company.
This final tip focuses on the "art" verses the "science" of choosing an ERP selection consultant. Does the project team and other members of the organization have a good connection with the selection consulting team? Does the ERP selection consultant see an ERP project as an opportunity to implement business process improvements rather than just an exercise in technology implementation? To answer these important questions, spend as much time as possible with the potential ERP selection consultants and have them interact with the company's team and leadership.
Manufacturing organizations are challenged to reduce the effort, resources and cost of ERP selection. An
ERP selection consultant, when chosen carefully, can help select the right technology for business process improvements, drive savings and guide companies to a faster ROI.
The guidelines noted above provide a framework for an efficient and effective ERP project. A careful ERP
selection process builds a foundation of information, education, and  documentation that will increases a company's project success.
For those organizations evaluating partnering with a guide, note that many manufacturers have gained
value from teaming with Ultra Consultants for proven methodology and effective approaches to ERP selection methodology.