BUSINESS PROCESS IMPROVEMENT
Epicor Insights 18 Recap – At the Intersection of Product and Industry
On the road again! Ultra is continuing our tour of the ERP vendor user group conference circuit.
Teams from Ultra have attended events including IFS World Conference 2018, as well as the Netsuite annual conference SuiteWorld.
Ultra also attended the recently concluded PowerPlex 2018 User Conference hosted by Plex Systems in Detroit.
Most recently, I had a chance to attend Epicor's annual Insights 2018  conference in Nashville, TN.  The event brought together more than 3,400 global users from manufacturing, distribution, services and other industries.
With an overall theme of technology to enable global operations and the "digitization" of today's organization, many of the presentations stressed the importance of data access and availability. Whether from the Cloud or via mobile applications, the theme was one of business intelligence and industry specialization.
Event Highlights
Data as the Currency of Success: Epicor CEO Steve Murphy, who joined the company in November 2017, set the tone of the overall gathering to stress the importance of data accuracy and availability – it's the expectation of customers, partners, employees and the industry.
Industry Specialization: Murphy went on to showcase how Epicor's robust suite of products offer specialized industry focus and features. From manufacturing, distribution, retail, services to lumber and other specialized sectors, the product vision is that "Epicor fits you, not the other way around."
Look/Feel: System usability is on the minds of Epicor customers. Lee An Schommer, Epicor's Senior Vice President of Product Management shared that usability ranks highest as a customer requirement in the most recent customer survey. She announced the Kinetic program,  Epicor's new design system which will drive a modern sleek look and feel
Innovation: We always enjoy hearing from ERP product leaders at the vendor's annual events. The day one presentations gave a chance to hear from Himanshu Palsule, Chief Product and Technology Officer at Epicor.  He shared success stories of implementations that emphasize connectivity, combining IoT and ERP.   As an example, he anticipates a time when drone delivery of inventory is triggered by machine intelligence. This will fully automate production, streamline supply chains and provide intelligent data manufacturers and distributors need to react quickly to changing consumer demands. It hit home when Palsule noted that the goal of business intelligence is to "move data from insights to action."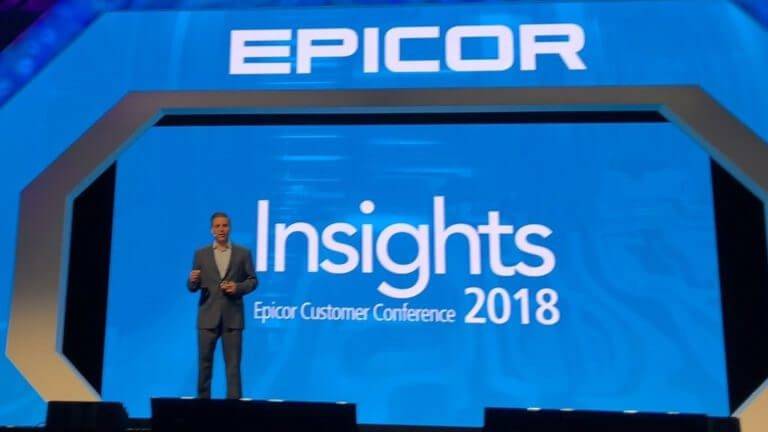 Epicor's CEO Steve Murphy kicks off Insights 18 with a message of customer centricity, digitization, cloud, and industry specialization. (Source: Epicor)
Product News
The event was the official announcement of Epicor's expanded strategic partnership with Microsoft to deliver Epicor enterprise-class solutions globally on the Microsoft Azure platform.
The announcement was made from the main stage during the event's keynote, with Epicor noting that they will initially standardize cloud deployment of its Epicor ERP and Epicor® Prophet 21® ERP suites on Microsoft Azure.
In the official announcement, CEO Murphy notes:  "We looked at several public cloud options. Microsoft Azure offers the best foundation for building and deploying enterprise business applications that will enable our customers' businesses to adapt and grow. Today, we are seeing more than three-quarters of prospects ask about cloud ERP. As that deployment model becomes the norm, we are ready to enable our customers to move to the cloud with confidence leveraging the reliability, security, and scalability of Microsoft Azure."
In a video of Satya Nadella, CEO of Microsoft played from the main stage, he echoed his enthusiasm about Epicor standardizing cloud deployment on Azure. Nadella shared the perspective that for most companies, the big question is not if, but when they will adopt cloud computing for the bulk of their IT operations. The Epicor and Microsoft partnership expands options to a global scale.
Partner-Driven Innovation
Attendees also heard news of an Epicor initiative entitled Alliance of Independent Software Vendor (ISV) program designed to bring innovative technology solutions from a host of providers to Epicor customers.
Epicor partners now have a centralized location that encompasses development and quality analysis. The initiative offers improvements in five key areas:
Productivity – the program allows partners to a secure ISV hub for solution development and testing.
Access – partners can run their systems against working software, providing sandbox instances on Azure.
Quality – the initiative launches a solution certification program.
Visibility – customers can quickly find solutions that can meet their business needs
Value – the overall goal is that the initiative provides quick start value to those customers accessing partner solutions.
Learn More
Ultra's independent ERP consultant team works hard to keep pace with the ERP vendor landscape, especially in terms of product roadmap and direction. Watch for additional summaries of upcoming user group conferences taking place in the next few months.
Contact Ultra to consider your strategies in the face of a complex technology environment.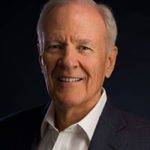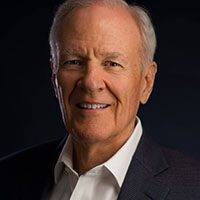 Jeff is the founder of Ultra Consultants, a well-known voice in the ERP consulting industry and an expert on ERP solutions for discrete and process manufacturers. Over the last 40-plus years, his companies have helped more than 2,000 organizations improve their business processes, select ERP software and implement advanced solutions.