What Does Today's Processor Need to Know about Food Safety and ERP?
Many food and beverage manufacturers we speak with are challenged to comply with current and future regulations. Ever-changing regulations such as the Food Safety Modernization Act and GS1 make compliance challenging.
The trade journal Food Safety News article entitled "Five years of data show bacteria-related food recalls increasing" cites that a key recall index showed the largest increase in recalls since 2012.
As the article notes, a 2018 U.S. Center for Disease Control report shows the food and beverage industry experienced the most dramatic spike in units recalled over the past five years.
Food Safety and ERP
When considering food safety and ERP, the technology offers the required visibility into quality control and traceability. Food and beverage firms can use modern systems to put processes and procedures in place to manage food safety and traceability and reduce the risk of costly food safety recalls or regulatory infractions.
Ultra's team of independent ERP consultants guides project teams to consider systems that can track products and ingredients both upstream and downstream—from raw ingredients to the finished goods and back. Data from every point in the supply chain must be recorded to provide an audit trail.
Food Safety and ERP Advisory Services
Today's food and beverage processor must implement the appropriate processes and systems that not only manage recalls, reporting and document control, but also offer the flexibility to respond to changing regulatory requirements.
We recently announced that Ultra Consultants, Inc and Kestrel Management, a consulting firm that helps companies achieve food safety regulatory and certification standard requirements, launched a partnership to provide food safety compliance and remediation advisory services to North American food and beverage processors.
As part of this strategic alliance, food and beverage processors and manufacturers benefit from advisory services that help meet and sustain food safety compliance, certifications, and regulatory mandates by applying proven methodologies including enterprise software selection services.
The expanded services draw upon proven methodologies to integrate compliance programs into core business processes and systems.
Learn More
This alliance will enable food and beverage processors to more efficiently reduce operational risks, achieve food safety requirements, and realize sustained value through effective use of enterprise technology.
For additional insight, see the following resources.
Food and beverage processors can learn more about the expanded food safety advisory services.
For further insight, read 5 Questions to ask about Food and Beverage Enterprise systems.
Read a food and beverage ERP success story.
Contact Ultra Consultants to effectively drive your technology-enabled transformation.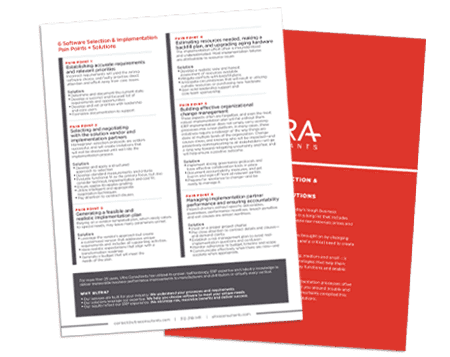 6 SOFTWARE SELECTION & IMPLEMENTATION PAIN POINTS + SOLUTIONS
Software selection and implementation processes often present challenges of their own. To steer you around trouble and help you drive success, Ultra's experts compiled a list of pain points and solutions to be aware of as you embark on this journey.