Ultra State of the Economy Update: Tariffs, Retaliation Temper The Promise of Spring
Current economic affairs, with a special focus on the U.S. Manufacturing and Distribution Industry, have a direct impact on today's manufacturing and distribution companies.
Here's our wrap up of recent economic data and events that have major sway over the economy.
Spring Promises or Threats?
By far the biggest news is the impending U.S. tariffs on steel and aluminum imports from Canada, Mexico and the European Union.  Called a threat to the manufacturing sector by many industry associations,  many analysts foresee retaliation and far-reaching hits to economic growth.
This news has tempered many of the positive results, such as the recent IMF Update, global trade, which tends to be highly correlated with global investment. As recently as April 2018, this index recovered strongly in 2017 after two years of weakness, to an estimated real growth rate of 4.9 percent.
The upsurge was more pronounced in emerging market and developing economies (with trade growth rising from 2.2 percent in 2016 to 6.4 percent in 2017), reflecting improved investment growth rates in formerly stressed commodity exporters as well as the recovery in advanced economy investment and domestic demand more generally.
Among advanced economies, large exporters, such as Germany, Japan, the United Kingdom, and the United States, contributed strongly to the recovery in exports, while the recovery in imports was broad-based, except in the United Kingdom. Among emerging market and developing economies the rebound in export growth was particularly strong in emerging Asia, especially China. In contrast, the rebound in imports largely reflects an import recovery among commodity exporters—countries that had earlier experienced sharp investment and import contractions during the 2015–16 commodity price downturn.
The IMF's Primary Commodities Price Index rose 16.9 percent between August 2017 and February 2018—that is, between the reference periods for the October 2017 WEO and the current report. As described in the Commodities Special Feature, the increase was driven primarily by rising oil and natural gas prices. Among the other sub-indices, metals and agricultural commodity prices also rose, although less rapidly than energy prices.
The Manufacturing Sector In many countries, manufacturing appears to have faded as a source of jobs. Its share in employment in advanced economies has been declining for nearly five decades. In developing economies, manufacturing employment has been more stable, but among more recent developers it seems to be peaking at relatively low shares of total employment and at levels of national income below those in market economies that emerged earlier.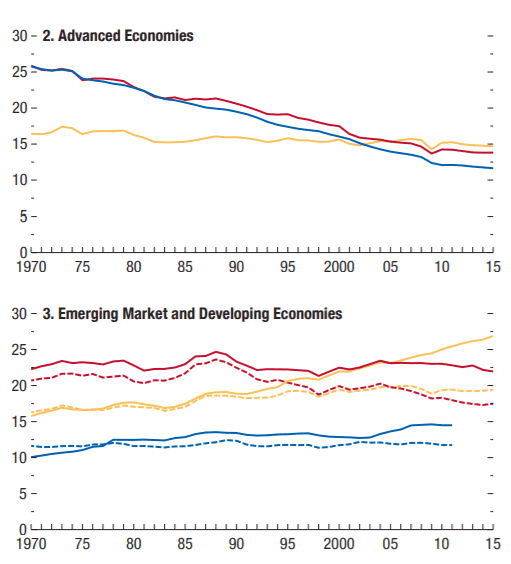 The share of jobs in the service sector has risen almost everywhere, replacing jobs in either manufacturing (mostly in advanced economies) or agriculture (in developing economies). From a long-term economic perspective, the shift of capital and labor into different forms of economic activity is accepted as "structural transformation"—the natural consequence of changes in demand, technology, and tradability.
A key question for policy is whether the service-led growth patterns observed in many developing countries since the early 2000s will continue to hold or whether they were a byproduct of a temporary boom in global demand. Higher commodity earnings and easy borrowing conditions, for instance, may have temporarily boosted the demand for nontraded services produced with less-skilled labor and facilitated the shift of labor out of agriculture—where productivity tends to be relatively low. In many developing countries, less buoyant growth in domestic demand in the period ahead may restrain the expansion of nontraded services, while skill shortages may hold back the expansion of the traded, productively dynamic ones.
The uncertainty surrounding future productivity trends and sizable gaps in output per worker among developing countries call for strong policy efforts to boost productivity in all sectors and help channel labor to the most dynamic and productive activities through skill development and the removal of barriers to entry and trade in service sectors.
In countries where manufacturing jobs are disappearing outright, policymakers ought to facilitate the reskilling of former manufacturing workers and reduce the costs of their reallocation, while strengthening safety nets to alleviate the adverse consequences of joblessness and job transitions for the workers and their communities

Mixed News in North America
Manufacturers added 24,000 workers in April, the seventh consecutive month with robust hiring growth in the sector, averaging 26,571 per month over that time frame. As such, the latest jobs numbers confirm that the labor market has tightened significantly, with manufacturers increasing employment by a rather strong 19,000 per month on average since the end of 2016. Since the end of the Great Recession, manufacturing employment has risen by 1,202,000 workers, with 12,655,000 employees in the sector in this report.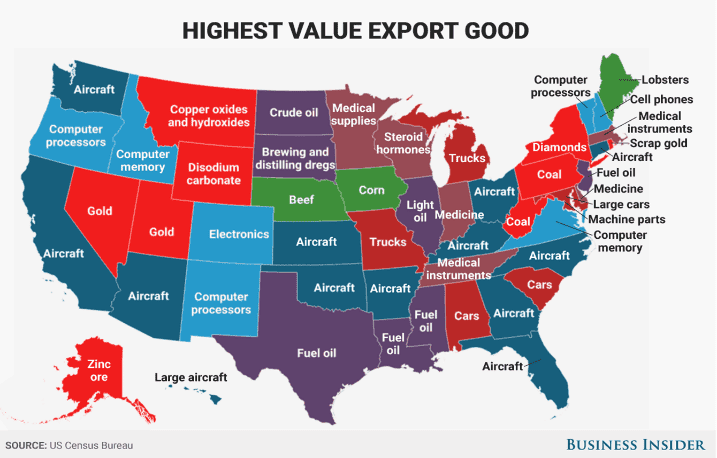 That is the highest level of manufacturing employment since December 2008. More importantly, healthy jobs growth is also leading to higher wages. Average weekly earnings for production and nonsupervisory employees in the manufacturing sector rose to $907.78, up 4.2 percent over the past 12 months.
Manufacturers continue to report a pickup in pricing pressures. Indeed, the personal consumption expenditures (PCEs) deflator has risen 2.0 percent over the past 12 months, the fastest year-over-year pace since February 2017. Excluding food and energy, core PCE inflation rose 1.9 percent year-over-year in March, accelerating for the seventh consecutive month after bottoming out at 1.3 percent in August.
At the conclusion of its May 1–2 meeting, the Federal Open Market Committee (FOMC) acknowledged that inflation had approached the committee's 2-percent goal, but as expected, participants chose not to raise short-term rates. The Federal Reserve did note continued strength in the U.S. economy, especially in the labor market, and the FOMC is widely expected to hike the federal funds rate again at its June 12–13 meeting for the second time so far this year.
The Conference Board Leading Economic Index® (LEI)for the U.S. increased 0.4 percent in April to 109.4 (2016 = 100), following a 0.4 percent increase in March, and a 0.7 percent increase in February.
A Look at Regional Activity
In regional terms, Texas factory activity rose markedly in April after posting slower growth in March, according to business executives responding to the Texas Manufacturing Outlook Survey. The production index, a key measure of state manufacturing conditions, increased 11 points to 25.3. Perceptions of broader business conditions remained highly positive on net in April. The general business activity index was largely unchanged at 21.8, and the company outlook index edged up four points to 23.6. Both indexes remained far above their average levels.
In Philadelphia, the diffusion index for current general activity remained positive but declined, from 25.8 in February to 22.3 this month (see Chart 1). Nearly 37 percent of the manufacturers reported increases in overall activity this month, while 14 percent reported decreases.
In Kansas, Tenth District manufacturing activity continued to expand rapidly, with the composite index at its highest level in survey history for the second consecutive month. In addition, contacts remained optimistic about future activity. Price indexes were little changed but generally remained at high levels.
Business activity grew at a solid clip in New York State. The new orders index and the shipments index suggested ongoing, albeit more measured, growth, with the first index falling eight points to 9.0 and the second declining ten points to 17.5. Delivery times continued to lengthen, and inventories moved higher. Labor market indicators pointed to a small increase in employment and significantly longer workweeks.
The indexes for both prices paid and prices received remained elevated. Firms' optimism about the six-month outlook waned sharply, with the index for future business conditions plunging twenty-six points to its lowest level in more than two years.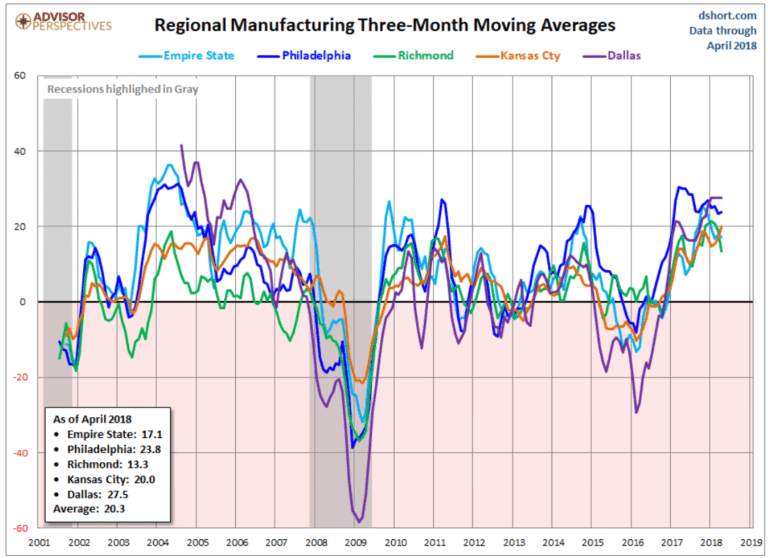 Fifth District manufacturing firms saw robust growth in May, according to survey results from the Federal Reserve Bank of Richmond. The composite index swung from −3 in April to 16 in May, boosted by growth in the indexes for shipments, new orders, and employment. Local business conditions also moved back into expansionary territory, after weakening in April, and firms remained optimistic that growth would continue in coming months.
Survey results indicate that both employment and wages rose among manufacturing firms in May, however, firms still struggled to find the skills they needed. They expect this struggle to continue in the next six months and also expect employment and wages to increase further. Many manufacturing firms continued to increase spending in May. The growth rate of prices paid continued to rise, on average, but firms seemed able to pass some of the change through to customers, as prices received also grew at a faster rate.
Keeping a Spring Promise?
It's always good to take a step back and look at the big picture. Luckily the IMF Global Outlook report came out last month and gave us the opportunity to do just that.
Even though trade policy and uncertain markets have been making the world and regional economies seem rather bleak lately, broad trends are still very positive. Notable trade growth is occurring in developing countries, as well as developed ones (albeit at a slower rate) and has been occurring rather consistently for the past few periods.
One point of concern is how the manufacturing sector, in particular, will be affected in periods to come. The IMF noted that jobs in the manufacturing sector are starting to plateau in developed countries in favor of an increase in service jobs.
It is still unclear what the cause might be for this, but the general idea may have far-reaching implications if the trend occurs in countries on the border of economic stability.
In the states, growth was slow but mostly positive. Any negative effects from trade policy seem to have been mitigated and recovered from. However, price increases have continued to put pressure on manufacturers who are struggling to find ways to pass those costs onto consumers. In a more positive vein, hiring has grown at an extremely high rate, reaching peaks not seen since 2008.
As discussed last month, the U.S. enacted some drastic steel and aluminum tariffs against many of our closest trading partners earlier this spring. China quickly retaliated, but recent news shows that the EU, Canada, and Mexico are also not having it and are expected to move forward with their own retaliatory measures after being incredulous at the policies in the first place. News of their discontent can only harm manufacturers and consumers on both sides of this disagreement and next moves for the Trump administration are unclear thus far.
In other areas, U.S. trade policy has simmered down in the past month with immediate conflicts being relegated, among everything else, to repeated rounds of negotiations. The U.S. is supposedly pursuing initiatives that focus on bringing jobs to the U.S. and hammering out more strict agreements with large trading partners, but nothing has been solidified in recent months.
It seems 2018 hasn't been so bad in the grand scheme of things. Although top economies are exhibiting much slower growth, things are still on the upswing even as economies are trying to absorb enormous social and political shifts.  The U.S. manufacturing markets have recovered nicely in the last period and hopefully will stabilize, even in the event of more policy uncertainty.
One hopes that any changes will not be dramatic for U.S. firms and that trade agreements will continue to be profitable for all parties. Even though the IMF has promised stable growth, we are still struggling to see most of it. Perhaps the buds sown in the last month will flower into spectacular improvements in the coming summer.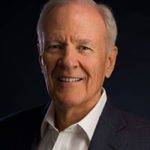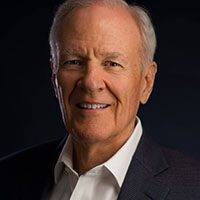 Jeff is the founder of Ultra Consultants, a well-known voice in the ERP consulting industry and an expert on ERP solutions for discrete and process manufacturers. Over the last 40-plus years, his companies have helped more than 2,000 organizations improve their business processes, select ERP software and implement advanced solutions.