Ultra State of the Economy Update: Volatility is the Watchword
Our team of  independent ERP consultants understands that the state of the economy impacts the business decisions project teams make about modernization requirements.
Consequently, Ultra takes a concerted interest in world economic affairs, with a special focus on the U.S. Manufacturing and Distribution Industry.
Here's an in-depth economic update summarizing recent events that influence the economy.
March: Spring is in the Air
Financial markets have been quite volatile over the past few weeks. Fortunately, however, the global manufacturing sector continues to be healthy. In February, all of the top-20 markets for U.S.-manufactured goods expanded, illustrating the strength of the international economy once again.
In addition, the J.P. Morgan Global Manufacturing PMI edged down from 54.4 in January to 54.2 in February, and it remained just shy of December's pace, which represented the fastest pace since February 2011. New orders, output and exports were somewhat softer in February but still quite positive. Hiring growth was not far from the December reading, which—like the headline index—was the best since early 2011. Manufacturing leaders remain very upbeat in their global outlook for the next six months, with the measure for future output at a three-year high.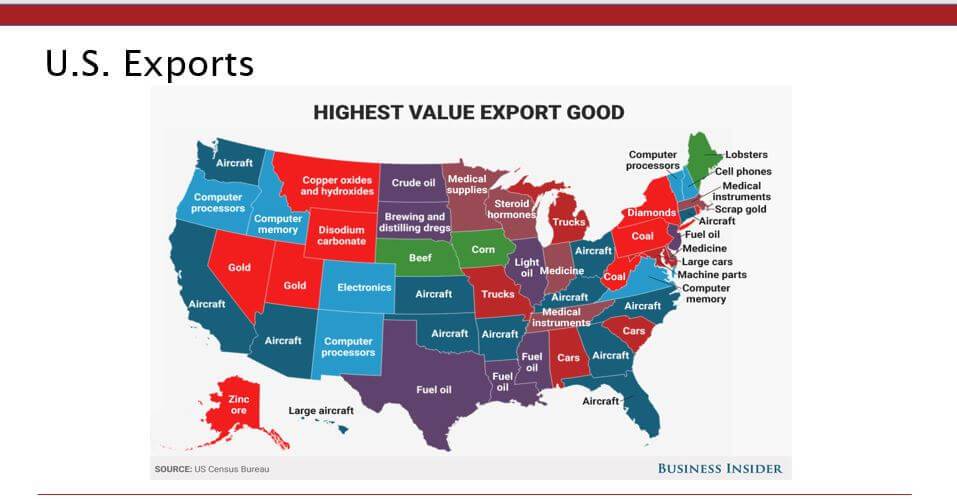 The U.S. dollar has trended higher over the past few weeks, up 1.9 percent since January 25. The trade-weighted U.S. dollar index against major currencies from the Federal Reserve Board has risen from 84.6338 on January 25—its lowest level since December 18, 2014—to 86.2256 on March 2.
This index reflects currency units per U.S. dollar, suggesting that the dollar can now purchase somewhat more than it could before. With that said, one of the most significant stories last year was the depreciating U.S. dollar. Since the end of 2016, it has declined 9.9 percent against major currencies.
Global Activity
The IHS Markit Eurozone Manufacturing PMI has fallen from 60.6 in December—its best reading since the survey began in June 1997—to 59.6 in January to 58.6 in February. Although that was a four-month low, the data remain consistent with strong growth overall for European manufacturers.
The key underlying data were lower across the board, consistent with the slower headline number. Although numbers were lower across the board, activity did jump in Netherlands, Greece, Spain, and Switzerland.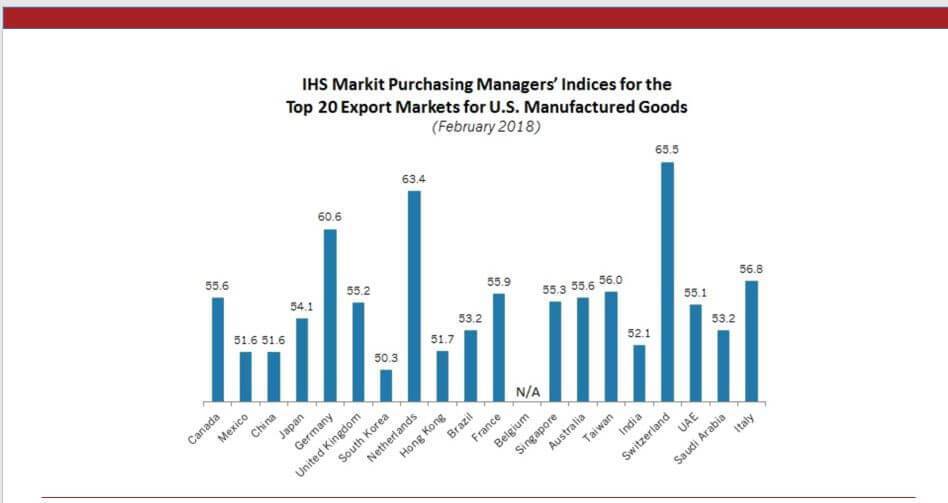 The Chinese economy grew 6.8 percent year-over-year in the fourth quarter, the same rate as in the third quarter. For the year, Chinese real GDP rose 6.9 percent, which was better than expected. Industrial production ticked higher in the latest data, up from 6.1 percent year-over-year to 6.2 percent.
The Caixin China General Manufacturing PMI inched up from 51.5 in January to 51.6 in February. New orders and future output accelerated in February, but other measures slowed somewhat while remaining very modest, including output and exports.
Net hiring has contracted every month since October 2013, and that measure showed a decline that picked up in February.
Additionally, regarding China, President Trump announced huge tariffs on imports, with 50 billion in tariffs being applied towards Chinese goods. China responded with three billion in tariffs on U.S. goods.
Other recipients of the Trump tariffs have threatened to tax significant U.S. exports as well, and the possibility of a trade war now looms although no actions have been taken thus far.
Mixed news in North America
In Canada, real GDP grew 0.4 percent in the fourth quarter, which translated into 1.7 percent growth at the annual rate, up from 1.5 percent in third quarter. Consumer and business spending and exports were primary drivers of growth in the fourth quarter, with drags from inventories and imports.
Nonetheless, manufacturing sales were off 0.3 percent in December, mostly on reduced fabricated metal products, food, petroleum and coal products and primary metals demand. Still, manufactured goods sales have risen 3.7 percent year-over-year.
Similarly, retail spending declined 0.8 percent in December, but Canadians spent a whopping 6.7 percent more over the past 12 months.
In the southern part of the continent, Mexico continued to underperform. Along those lines, real GDP decelerated from 1.6 percent year-over-year in the third quarter to 1.5 percent in the fourth quarter, the slowest growth rate in four years. Industrial production declined 0.7 percent year-over-year in December, falling for the sixth time in the past seven months.
A Look at the Manufacturing Sector
Manufacturing—which had fared better for much of the past year—was off 0.1 percent year-over-year in December, down from 2.5 percent in November and 5.0 percent in May. Meanwhile, the unemployment rate ticked up to 3.4 percent in January, up from 3.1 percent in December, the lowest rate since December 2007.
In the U.S. the labor market has tightened significantly as a result of strength in the manufacturing sector and larger macroeconomy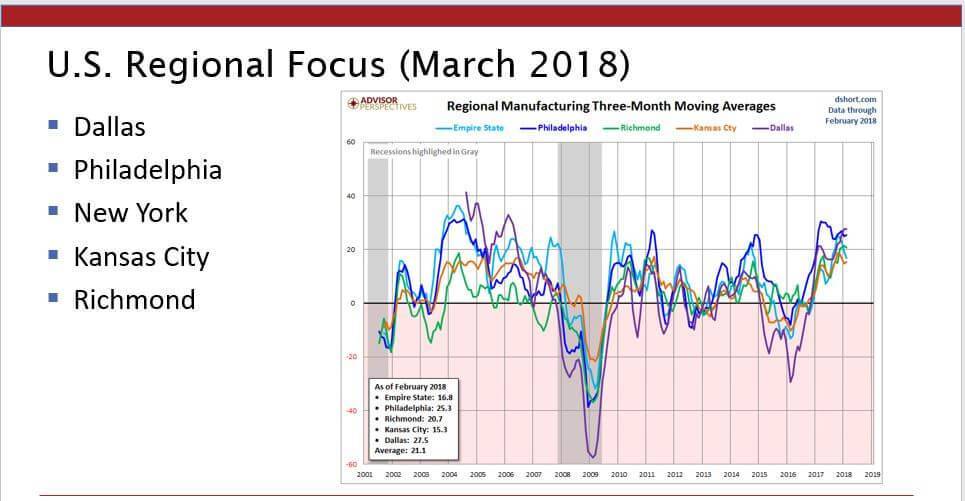 For instance, there were 427,000 manufacturing job openings in January, up strongly from 374,000 in December.
The manufacturing sector hired 360,000 workers in January, just shy of the 364,000 employees hired in August, which was the strongest rate since November 2007.
The Consumer Perspective
Positive economic news—especially in the jobs market—has helped to lift consumer confidence. The Index of Consumer Sentiment from the University of Michigan and Thomson Reuters jumped to 102.0 in March, the highest level since January 2004.
It should be noted that those individuals with higher incomes felt less upbeat in the most recent survey—likely from volatility in equity markets and the impact that has on personal finances—but that was not enough to drag down the headline index.
Despite robust consumer assessments about the economy, retail spending declined 0.1 percent in February for the third straight month, starting the new year off on a disappointing note. Motor vehicle and parts sales fell 0.9 percent in February, decreasing for the fourth consecutive month and one of the larger drags in the latest report.
Along those lines, retail spending excluding automobiles increased 0.2 percent in February. Nonetheless, the larger narrative remains encouraging, with consumers being a bright spot over the past year.
Technology & Investment (2018 Report)
Small and medium sized businesses have clear priorities for the year – customer retention, expansion into new markets, business process improvements, innovation, and workforce development, and those are the areas where they are willing to invest in technology to help. Not surprisingly, their spending is highly correlated with firm size.
About 1 in 3 report spending more than $100,000 annually, with the remainder spending a lesser amount. Forty-percent of SMBs acknowledge their investment level in technology is lower than it should be.
According to Gartner, small/medium sized businesses account for about 44% of IT spending globally. The companies' opinions of the perceived ROI they get from technology vary. Perceptions of ROI roughly follow a bell-shaped curve. In the aggregate, 6 in 10 rate the ROI of the technology in use at their firm as good or excellent.
It's a bit of a mixed message. IT executives tend to give higher ratings than owners and business executives, while medium-size SMBs gave higher ratings than micro SMBs.
Their top reasons cited when tech ROI falls short: Ongoing maintenance costs/fees (41%), required upgrades/built-in obsolescence (37%), staff time needed to operate/maintain (37%), upfront Cost/too expensive for what you get (36%), and complexity/poor user experience (32%).
On the other hand, the tech industry itself is focusing in on new ideas that don't yet have clear applications to the business world. According to Gartner, top trends for the tech industry are as follows, and the faster companies can integrate these abilities into their businesses, the more ahead of the development curve they will be:
Artificial Intelligence: The ability to use AI to enhance decision making, reinvent business models and ecosystems, and remake the customer experience will drive the payoff for digital initiatives through 2025.
Cloud to Edge: Edge computing describes a computing topology in which information processing and content collection and delivery are placed closer to the sources of this information. Connectivity and latency challenges, bandwidth constraints and greater functionality embedded at the edge favors distributed models.
Immersive Experience: Augmented reality (AR), virtual reality (VR) and mixed reality are changing the way that people perceive and interact with the digital world. Combined with conversational platforms, a fundamental shift in the user experience to an invisible and immersive experience will emerge..
Continuous Adaptive Risk & Trust: Digital business creates a complex, evolving security environment. The use of increasingly sophisticated tools increases the threat potential. Continuous adaptive risk and trust assessment (CARTA) allows for real-time, risk and trust-based decision making with adaptive responses to security-enable digital business.
Ultra's Take: Volatility is the Watchword
International markets were volatile again this month, but most continue to show steady progress. U.S. based portfolios had mixed performances in the past period proving that markets are at best, mixed.
Consumer goods, industrial goods, and the housing markets were the areas hit the hardest by unpredictable market results in the past month.
The Eurozone had an uncharacteristic slowdown in growth this past month, with only a few countries experiencing multi-year highs and countries like Germany experiencing a slight downturn.
On the other hand, although China's numbers were more mixed this month, it continues to demonstrate unwavering growth consistency, even in the face of volatility.
U.S. regional indexes were all positive but growth slowed down significantly in most regions besides the east coast.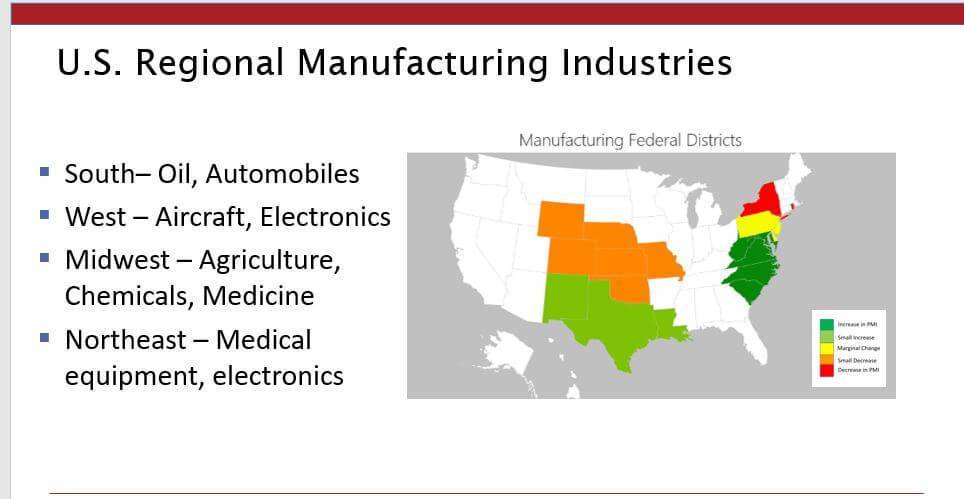 On February 28, the Office of the USTR released the Trump administration's 2018 Trade Policy Agenda and 2017 Annual Report. This is an annual review required by statute. The policy agenda contains five major elements:
Supporting national security, including by preserving U.S. national sovereignty, responding to economic competitors, such as China, and recognizing the importance of technology
Strengthening the U.S. economy
Negotiating better trade deals, including NAFTA and the U.S.–Korea Free Trade Agreement (KORUS), negotiating with countries of the Trans-Pacific Partnership, expanding trade and investment with the United Kingdom and declaring the administration's intention to ask Congress to extend Trade Promotion Authority
Aggressively enforcing U.S. trade laws by using "all tools available, including unilateral action where necessary"
Strengthening the multilateral trading system, including by working with World Trade Organization (WTO) members to address Appellate Body concerns, negotiating "free, fair and reciprocal agreements, with the expectation that participants to these agreements will contribute commensurate with their status in the global economy" and countering WTO members that flout WTO rules
Although these initiatives may seem admirable for the U.S. at the outset, thus far, the moves made towards accomplishing these goals have only destabilized markets and created conflict for the U.S. with other countries in the commerce sphere.
If agreements aren't reached, especially regarding the major trade deals, U.S. producers may end up being hurt rather than helped by these projects.
A Shaky Turn?
It seems 2018 has taken a shaky turn.
Leading economies are exhibiting slower, mixed growth, and markets have proven to be unstable in the last two periods.
The U.S. markets have been similarly undermined following uncertain trade policies affecting U.S. manufacturers heavily. Stable growth may still be in store for 2018, but it doesn't look like it's coming down the pike any time soon.
Will these economic activities impact your organization? Contact Ultra to gain further insight.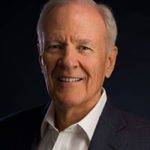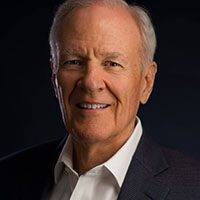 Jeff is the founder of Ultra Consultants, a well-known voice in the ERP consulting industry and an expert on ERP solutions for discrete and process manufacturers. Over the last 40-plus years, his companies have helped more than 2,000 organizations improve their business processes, select ERP software and implement advanced solutions.