Guest Post: 5 Ways ERP Can Help Food & Beverage Manufacturers Improve Business Recovery Planning
By Sam DeBone, Decision Resources Inc.
More than ever, food and beverage manufacturers feel pressured to produce quality products and provide excellent customer service. The industry already faces its own unique set of challenges, such as cost reduction and food safety, but with the onset of a global pandemic, the obstacles are adding up.
More than one-third of food and beverage companies surveyed between April and May believe it will take at least seven months or longer to get their business back to a stable condition. COVID-19 has made it more crucial than before for processes and operations to change and improve. Manufacturers must have an adaptive mindset and focus on consumer behavior, applying innovative tactics to minimize on-going challenges in the supply chain.
Consumers today are relying on more than just quality products. They're looking for transparency and reliable ecommerce platforms. As people are encouraged to stay home more, they are continuing to shop for products online. Manufacturers must continue to make changes and be sure to communicate any production shifts to their customer base.
If this sounds like a lot, that's because it is. Manufacturers shouldn't have to be alone in their efforts to evolve and keep up with demand. The right technology must be adopted for manufacturing facilities to run more smoothly and efficiently. Investing in an enterprise resource planning (ERP) system can help. A great thing about ERP software is the fact that it can be designed around a specific industry. So, for food and beverage manufacturers, this means that help is on the way for things like recipe management, quality control, and labeling requirements, to name a few.
Here are five ways ERP can help food and beverage manufacturers meet their unique production and regulatory needs, especially now that business recovery is at the forefront.
1. Recipe and Formula Management
Companies that deal with mass production have to invest numerous resources in producing quality products consistently. By adopting an ERP system, ingredients, components and a wide spectrum of variations can be accurately measured and recorded to produce the desired results each time a batch is made. This helps streamline the product development process, making it a lot less complex and a lot more efficient. This is particularly helpful in the present environment, as mass producers have to increase production even more than usual.
2. Advanced Planning and Scheduling
Advanced Planning and Scheduling (APS) software is crucial for manufacturers who have a mix of products that need to be delivered fast. It keeps ever-changing priorities updated (a concept that rings very true today), keeps production schedules running, and helps with inventory planning. APS software can be integrated into most ERP systems, but there are also ERP systems that already have this feature built in.
3. Recall Prevention and Management
With increased production and higher demand due to COVID-19, facing a recall issue could pose a significant setback for manufacturers. By having an industry-specific ERP solution in place, recall prevention is central to all operations so that manufacturers can shift focus from responding to issues to preventing them in the first place. It works by focusing on quality control checks, making sure labeling and packaging are correct, and ensuring positive relationships with suppliers.4. Failure to Assess Current State
Before any real change can be made, and before goals can be set, it is critical to know and understand the current state of the business.
This involves gathering key performance metrics, then mapping business processes to identify where improvements will make a significant difference.
4. Advanced Lot Control and Tracing
Many consumers want to know where their food is coming from. As safety has become a number one priority in our lives, it applies to food and beverages just as much. An ERP system can provide automated traceability, which checks in at each checkpoint of the supply chain. This way, consumers and manufacturers alike can see exactly where the ingredients in their food and drinks are coming from.
5. Batch Scheduling
In mass production facilities, batch scheduling is an essential process for producing items that have similar components in groups. An ERP system can help streamline the batch process by assigning the right equipment to each group, setting precise parameters, and improving overall efficiency. Finally, ERP software has the capability to record all activity so that it can be documented over time.
---
As food and beverage organizations begin putting recovery plans into place, ERP systems can help bring those plans to life. Decision Resources, Inc. has a highly-experienced team that has implemented ERP systems for many food manufacturers. By implementing Infor CloudSuite Process, we can meet the specific requirements for both the food and chemical industries. Learn more about this process and download our ebook, "Guide to Leveraging ERP Solutions for Food, Beverage and Chemical Manufacturers," here.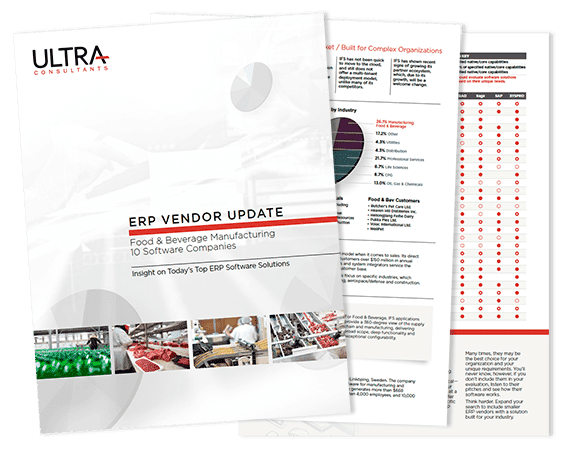 The ERP Vendor Update offers a close-up look at today's top Food & Beverage software solutions. With more information – and more real insight – than typical software overviews, the report presents complex data clearly and enables easy analysis and comparison.