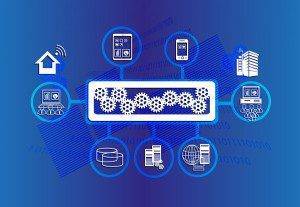 We advise our manufacturing clients that it's a best practice to see an ERP project as a platform for continuous improvement. Teams heading into ERP selection should take the time to gain knowledge of the features and functions offered by today's modern ERP systems when evaluating ERP workflow management.
ERP and Workflow Management
Today, many vendors offer ERP with integrated workflow management functionality to streamline document management and product data management (PDM) processes.
At its most fundamental, workflow can be considered the automation of routing tasks from person to person. An example of this would be a document review and approval process for an Engineering Change Request (ECR), where a single ECR document is routed from one person to the next for approval and sign off. Once all key people have reviewed the ECR, the process is complete.
Workflow management typically involves processes such as planning, work order release, work order management, resource management and lead-time calculation – areas commonly addressed during business process reengineering.
With integrated workflow, a user can easily control and assign responsibility for the execution of specific tasks to fulfill specific business process, such as purchase requisition, order review and approval, engineering changes as we noted above, as well as documents related to employee reimbursements.
Integrated ERP and Workflow
We encourage companies to lookout for ERP workflow management tools to automate business processes. It's a best practice to shorten the lifecycle of more lengthy manual processes, automate workflow tasks for users, initiate approvals for workflow steps, track individual workflow documents throughout the process and assign email notification for workflow steps.
It's wise for the selection team to take the time to assess an ERP system's integrated workflow features and functions, especially for notification emails, and process standards like time to complete, as well as quality and compliance checklists.
Learn More
It's important to stay current when it comes to today's modern ERP systems.  The landscape is constantly changing as vendors offer new technology platforms, features and functions.
For ERP project teams heading into a selection, download the timely white paper "New Rules of ERP – What to Consider When Evaluating Today's ERP Systems."  
The informative paper showcases several critical areas to consider when evaluating vendor offerings, including workflow, collaboration tools, business intelligence and more.  You can also reach out to the Ultra team for further insight.