Supply Chain Disruption: Is Your Supply Chain Mature Enough to Withstand the Next One?
Supply chains are mission-critical for businesses. (Obviously.) But did you know that, according to research from Deloitte, 79% of organizations with superior – or "mature" – supply chain capabilities achieve revenue growth that is significantly above average?
It's easy to say that a solid supply chain offers an advantage. In practice, however, today's large, complex networks are difficult to manage. And any of them can all fall apart when there's a supply chain disruption.
When a large-scale disruption like the one caused by the global COVID-19 pandemic occurs, the first thing business leaders must do is assess their current supply chain maturity. How well the supply chain is set up will dictate how recovery and mitigation can be handled. Where does your supply chain fall on this scale?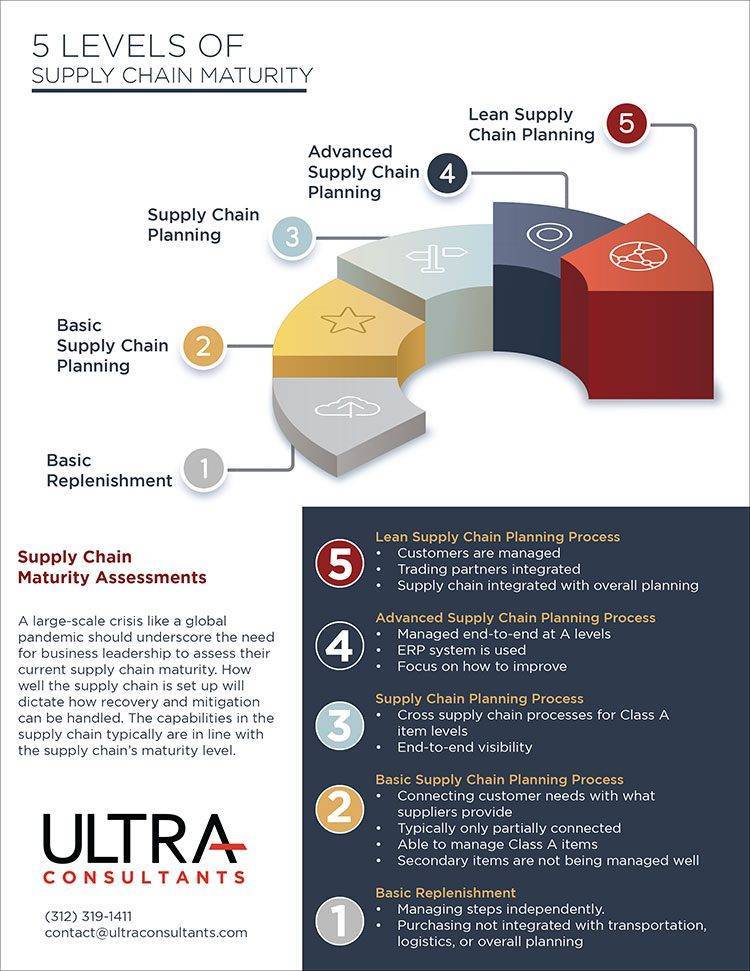 Is your supply chain mature enough to withstand the next disruption?
Ultra can help you make that assessment with an evaluation of multiple dimensions of your supply chain, including at-risk supply flows and how customer relationships will be affected by disruption. Then we create a tactical plan that includes proposed metrics to diagnose vulnerabilities and their relative importance and level of risk. For each vulnerability, we develop fact-based action items to help you recover your supply chain.
For additional insight into protecting your supply chain during a crisis, download this White Paper. Or, if you are interested in an assessment of your supply chain ASAP, contact us now.
The 7 Deadly Sins of ERP Implementation
Some mistakes are just bad strategic or financial decisions. Some are the inevitable consequence of situational or organizational factors. Some, however, are the result of process-oriented or people-centric choices – and are easily avoided. These are The Seven Deadly Sins of ERP Implementation.