Six Advanced ERP Capabilities Medical Device Manufacturers Need Right Now
By Paul Denmark, Senior Consultant
The medical device sector is benefitting from major advances in wireless technology, miniaturization and computing power, fueling development of new connected medical devices that can generate, collect, analyze and transmit data. Consumers have been increasingly adopting smart healthcare technology such as smart insulin pens, connected inhalers and asthma monitors, empowering them to manage their own health more effectively.
The smart device revolution is radically changing manufacturing and customer experience while the advent of subscription services, device rental and leases is reinventing the industry's business model. Manufacturing technology provides the means to pivot the business model successfully.
Medical device manufacturers have always had an extensive array of rigorous manufacturing requirements. They must build complex products to precise specifications and tolerances, which are highly regulated, and must operate for an extended period – potentially throughout a patient's lifetime.
But with smart devices, manufacture of the device is just the beginning of the journey, because customers will potentially spend much more on services for a device throughout its lifespan than they will on its initial purchase.
This has significant implications for technologies such as enterprise resource planning (ERP) systems that provide the backbone for operational excellence and improve medical device manufacturers' competitive advantage with powerful capabilities to become more customer-centric and deliver greater value.
Technologies that provide the backbone for operational excellence, such as enterprise resource planning (ERP) systems, also improve competitive advantages.
Here are six key capabilities that medical device manufacturers should look for in their ERP systems to support shifting business models and requirements:
1. Traceability
Advanced ERP toolsets enable serial control from cradle to grave – from component level to assembly and through to shipping finished goods – so manufacturers have complete end-to-end traceability. This allows manufacturers to trace the origin of a specific part or entire product batch across the supply chain.
Often traceability is done outside the ERP system, but this makes it difficult to track the components inside the device or to understand which customers received the device or certain components. Having traceability as an integrated function of the ERP system ensures commercial flows are synched with quality flows.
2. CAD/CAM-ERP Integration
Bills of materials (BOMs) in the medical device industry must be precise. However, as many have experienced, during design-build, parts can become obsolete. CAD/CAM-ERP integration can help manufacturers keep up with constant design and engineering change orders, providing a bridge between the design specifications and how that design is executed on the production floor, giving manufacturers improved ability to accommodate frequent changes to BOMs and support their expedient translation into production work orders.
3. Quality Management
It is essential for medical device manufacturers to reduce risk, monitor in-process quality and ensure regulatory compliance. FDA regulations mandate tracking and monitoring of products in use. When a potential problem is discovered, manufacturers must implement a Corrective and Preventive Action (CAPA) process. Quality management must also dovetail with suppliers' quality management processes. An automated system ensures organizations have quality best practices integrated into operations and can address the full breadth of quality and compliance mandates.
4. Enterprise Asset Management
Enterprise asset management (EAM) can support preventive maintenance to improve output and quality and reduce waste. These capabilities help plan and schedule maintenance tasks to minimize production downtime. EAM keeps a complete history of equipment, materials and work orders as well as pertinent details such as in-service date, equipment location, warranty expiration date, and preventive maintenance plans based on time intervals and/or meter readings.
5. CRM and Case Management
Integrated customer relationship management (CRM) capabilities allow medical device manufacturers to better understand, manage and grow their customer base. Subscriptions, device rental and leasing all place greater emphasis on providing consistent customer touchpoints and managing ongoing interactions across the customer life cycle. When problems arise, case management supports effective team collaboration to respond and manage issue resolution.
6. Field Service and After-Sales Service/Support
Medical device manufacturers can benefit by having integrated ERP capabilities to support after-sales service, and support such as unscheduled maintenance, warranty management, spare parts, repair and defect identification. This requires proper records management with product and component details, as well as historical tracking of service and repairs.
Field service capabilities can dispatch and schedule the right people at the right time, connecting the back office with technicians in the field for better, faster issue resolution. Advanced ERP systems can even handle automated distress signals from devices that have Internet of Things (IoT) capabilities to self-detect and diagnose a problem.
New business models and changing requirements require advanced ERP
As medical device manufacturers usher in the next generation of smart sophisticated medical devices, they should evaluate their current ERP software to ensure it has the key capabilities to support their evolving business strategies. These six advanced ERP capabilities will help power competitive advantage, improve agility and efficiency, and enable medical device manufacturers be more responsive to shifting customer needs.
---
This article originally appeared in Today's Medical Developments, August 27, 2021.
---
Want to know more about today's advanced ERP solutions?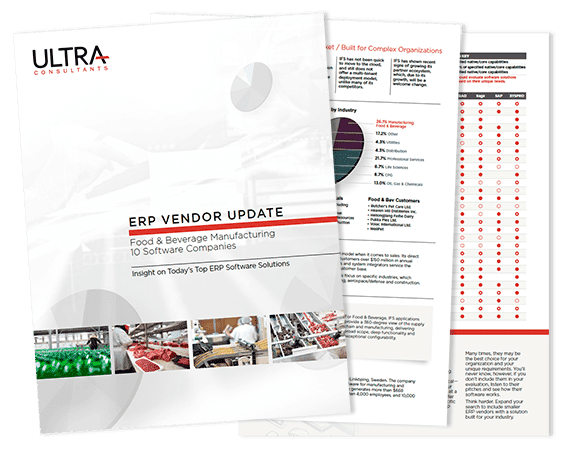 The ERP Vendor Update offers a close-up look at today's top Food & Beverage software solutions. With more information – and more real insight – than typical software overviews, the report presents complex data clearly and enables easy analysis and comparison.