Top 3 Reasons Next-Generation ERP is Essential to Finding the Right Talent to Compete in the Future
Does your Enterprise Resource Planning (ERP) software act as a system of engagement? Adopting a flexible ERP that natively incorporates emerging technologies like Artificial Intelligence (AI), Machine Learning (ML), chatbots, and social collaboration will not only help you stay competitive but will also help you attract the next-generation workforce – vital to future-proofing your business.
The workforce of tomorrow demands and expects the ability to interact with technology in intuitive and personalized ways. It isn't just the digital shift in the manufacturing and distribution encouraging decision-makers to examine a new way of conducting business, it's also knowing that the Baby Boomer generation is retiring.
This "Silver Tsunami" will affect many industries, especially manufacturing and distribution. According to the Bureau of Labor Statistics, more than 76 million Baby Boomers are expected to retire in the coming years, and their current labor participation rate will fall from 80% to below 40% by 2022.
This means we must prepare to support a new wave of talent, with an understanding that there will be fierce competition to attract and keep them employed. An ERP system that allows its users to surface insights that are vital to their role and assist with the more mundane tasks ultimately results in a more rewarding experience because the user can spend more time in creative problem-solving.
Engaging the incoming workforce through digital transformation initiatives that fit the needs of a multigenerational talent pool while continuing to support members of the team that helped build the business can be daunting; however, with the right ERP software partner, this industry-wide shift can be surprisingly seamless.
Once your team is working in harmony while still being able to have personal autonomy and user experience preferences your business will see an increase in both customer and employee satisfaction. This ultimately means more profits. Emerging and flexible technology is at the heart of this shift.
Here's how it works:
1. Social Collaboration and Bots Drive Smart Decisions and Customer Success
Social collaboration in ERP is on the rise. Aberdeen reports that organizations with social ERP are 145% more likely to have real-time collaboration across departments and divisions, and saw a 22% improvement in profit margins over the past two years.  This makes perfect sense considering that millennial workers and their customer counterparts respond best to a familiar and personalized social media-type interface when conducting business. Social ERP tools, like SYSPRO Harmony, are built with the entire team in mind. Harmony delivers trend detection, notifications, and real-time collaboration at everyone's fingertips.  This increases responsiveness and enables a real-time view into customer sentiments, relevant emerging data trends, and significant business movements.
Gartner predicts that by 2020 customers will manage 85% of the relationship with a company without interacting with a human. As we near the year 2020, it's clear that the firm's prediction on self-service adoption rings true. Artificial Intelligence (AI) and Machine Learning (ML) technology is utilized by consumers everywhere today — in home entertainment, automobiles, shopping, and in customer service.
A true customer-first approach to service requires your ERP system to understand each customer's needs and have the ability to empower them with self-service, anytime, anywhere.  An example of this would be the SYSPRO chatbot, "Ken," which handles self-service requests and provides a consistent, collaborative user experience via any social media application.  Gartner says 25 percent of customer service operations will use virtual customer assistants by 2020—so it's time to make sure your company doesn't get left behind. Another example of customer self-service in ERP is the SYSPRO Customer Portal, a secure, online B2B eCommerce channel that can be used to communicate and collaborate with your entire supply chain.  Customers and partners on this portal have real-time access to information to streamline the customer service process – thus helping your organization save time and resources.
2. Choice and Flexibility in the Workplace Grows and Maintains Top Talent
Between global expansion, disruptive technologies, and a cross-generational workforce shift, choice and flexibility are paramount to your team's ability to deliver to customers and your employee talent pool.  To engage, motivate, and maintain top talent, your ERP system must allow your users to run the ERP their way — driving your organization to deliver to your customers with more efficiency.  Specifically, SYSPRO's web-based ERP interface, Avanti, and SYSPRO's mobile ERP solution, Espresso, enable your team to serve customers anytime and anywhere, on any device. At the same time, individuals who wish to interact with the ERP through a traditional rich client environment can have their way also.
Other key advantages to operating on a flexible ERP system are choice of deployment (cloud, on premise, or both), and the option to pay in a way that fits your budget and needs.  Basically, your ERP must be up to the challenge of meeting your evolving needs, so you can focus on what you do best.
3. Surfacing Personal and Actionable Business Insights Stimulates Profits
The key to understanding and more importantly improving how your manufacturing or distribution business operates on a day-to-day basis is access to actionable business insights. What does this mean? Imagine that the AI and ML technology, included as part of your ERP, is configured to sort through the piles of data collected by your ERP—searching for anomalies, patterns, and areas of concern and then surfacing the data points of interest on your personal dashboard. This type of data makes for powerful decision-making but also allows each user to be more successful in their role.  User success is the ultimate form of engagement, and according to a recent Forbes article, How Millennials are Reshaping what's Important in Corporate Culture, Millennials value engagement and flexibility in the workplace over salary alone.
A next-generation ERP solution goes beyond offering the traditional ERP reporting and analytics tools. A future-proof ERP solution is essentially a vehicle that drives strategy throughout the organization by providing real-time data that matters.  Specifically, insights surfaced by a next-generation ERP system can help you make more informed decisions, improve profitability, minimize risk, increase responsiveness, and improve overall productivity.
Bottom line: Access to this data empowers your team to meet their goals, targets, and deadlines, with improved collaboration between themselves and others–driving your business forward and stimulating profits.
Riding the Industry 4.0 Wave Together
Manufacturers, distributors, ERP vendors, and customers are riding the Industry 4.0 wave together; as technology and the workplace environment evolve, so must ERP software.  Change can be difficult, but with change comes advancement and the opportunity to grow your business in ways you didn't know were possible.  Start small – digital transformation does not happen overnight, and it does not have to be complicated or incredibly costly.
Download an On Demand Webinar we presented with Ultra Consultants, "ERP Grows Up: Select the Right ERP Software to attract the Next Generation Workforce," and learn more about how truly defining success metrics and stepping into a modern ERP like SYSPRO will empower your cross-generational team and surface the caliber of data that is necessary to compete in the future.
---
About  the Author, Dawna Olsen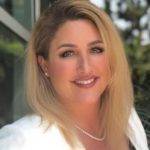 Dawna Olsen is Chief Marketing Officer for SYSPRO USA, responsible for driving revenue, brand identity, channel marketing, corporate communications, marketing operations, product marketing, and digital strategy for the company. Olsen boasts more than 20 years' experience in leading strategic planning and growth for B2B companies. Prior to SYSPRO USA, Olsen held senior positions with B2B companies in the ERP, software, professional services, environmental, and high-tech industries. Olsen regularly speaks at events focused on digital transformation and how it relates to the customer experience. Olsen received a Double Major, Bachelor of Arts in Environmental Studies and Marketing from the University of California, Santa Barbara.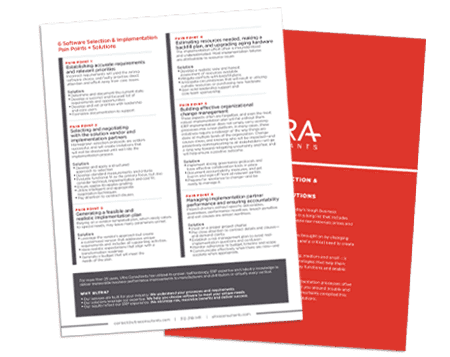 6 SOFTWARE SELECTION & IMPLEMENTATION PAIN POINTS + SOLUTIONS
Software selection and implementation processes often present challenges of their own. To steer you around trouble and help you drive success, Ultra's experts compiled a list of pain points and solutions to be aware of as you embark on this journey.