Ultra Consultants Designated as a Great Place to Work-Certified™ Company for Fifth Consecutive Year
Ultra Consultants, Inc., an independent research and enterprise solutions consulting firm serving the manufacturing and distribution industries, today announced that it is Great Place to Work-Certified™ for 2020 – and for the fifth consecutive year.
Conducted in June and July 2020, the Great Place to Work survey results show that Ultra Consultants employees are highly satisfied with the firm, its unique all-remote work environment, company philanthropy programs such as "Ultra Gives Back," the "Ultra Steps" fitness program, and other initiatives designed to support employees, foster collaboration, boost morale and bolster motivation.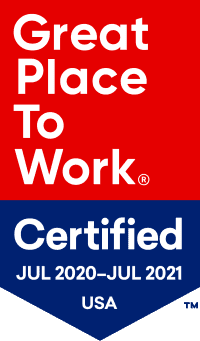 "We are pleased and excited to be Great Place to Work-Certified™ again," said Jeff Carr, Founder and CEO of Ultra Consultants. "It's important to us that we achieve this designation. It reflects well on our company, and it recognizes our efforts to ensure our people have what they need to be excited and productive. At Ultra, we value our employees and make them our top priority, and it means a great deal that our people have a positive view of how we work, our organization and the programs that drive our success."
Great Place to Work is the global authority on workplace culture, employee experience and the leadership behaviors proven to deliver improved performance, increased revenue and greater innovation.
"We congratulate Ultra Consultants on their Certification," said Sarah Lewis-Kulin, Vice President of Best Workplace List Research at Great Place to Work. "Organizations that earn their employees' trust create great workplace cultures that deliver outstanding business results."
Great Place to Work Certification is a significant achievement. Based on validated employee feedback gathered using research-backed, data-driven methodology, Certification confirms employees have a consistently positive experience at Ultra Consultants.
7 Steps to Effectively Organize an ERP Project
The 7 Steps to Effectively Organize an ERP Project is designed for ERP project teams from today's forward-thinking manufacturing and distribution organizations.
Read tried and true strategies for manufacturers to effectively manage an ERP selection project. See what it takes to be successful and more with this Download.