What are the benefits of enterprise systems for distributors? Implementing enterprise systems for distribution companies can drive ROI.  We know this because Ultra's independent ERP consultant team is in the field helping to improve operational efficiencies of wholesale distribution companies and other organizations in the distribution sector.
Many of these companies are experiencing disruption due to the need to shrink timelines for order fulfillment.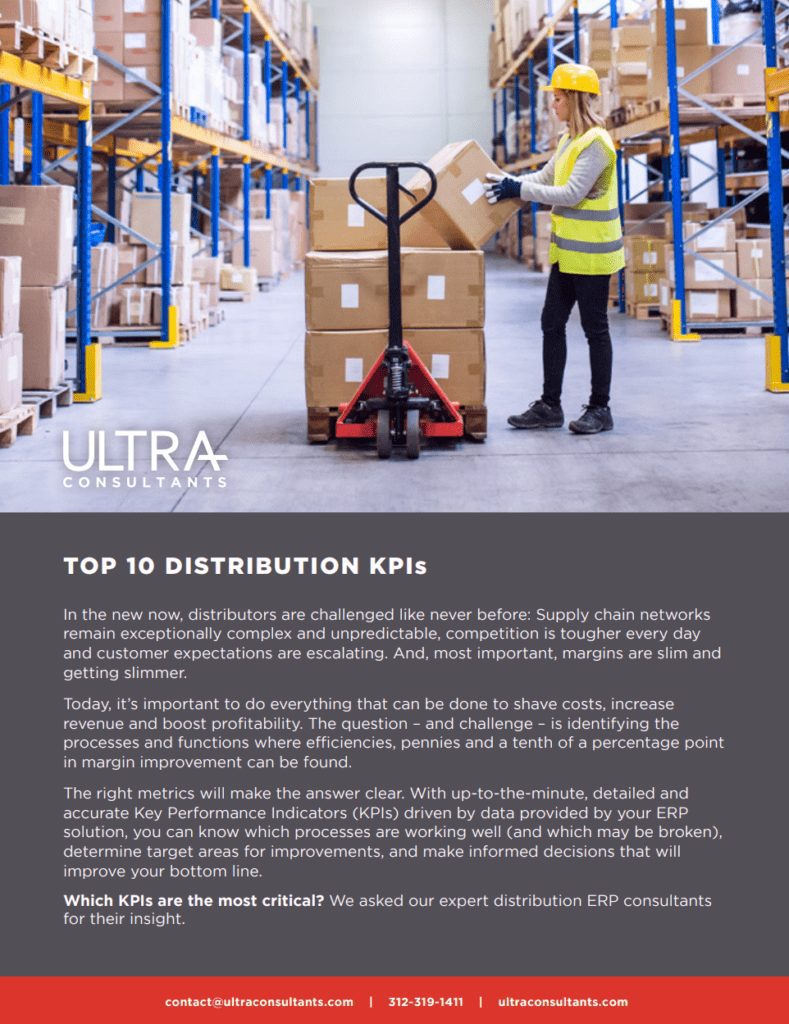 Top 10 Distribution KPIs
Where can you find new efficiencies, extra pennies and an additional tenth of a percentage point? The right metrics make it clear. But what are the most important KPIs?
DOWNLOAD NOW
Distributors feel the impact from customer-focused, high-volume retailers like Amazon and big-box organizations. This shifting competitive landscape places pressure on wholesalers and distributors to fulfill orders faster and more efficiently. This is an area that challenges technology and processes to be flexible and responsive to their requirements.
Other challenges are in the area of inventory management. Distributors, supply chain managers and retailers are scrambling for ways to improve the efficiency of moving inventory – a challenge compounded by an ever-increasing number of product lines (aka SKU proliferation).
Successful Enterprise Technology Initiatives
Instead of focusing on the latest technologies, plan to use technologies to streamline and standardize  core processes.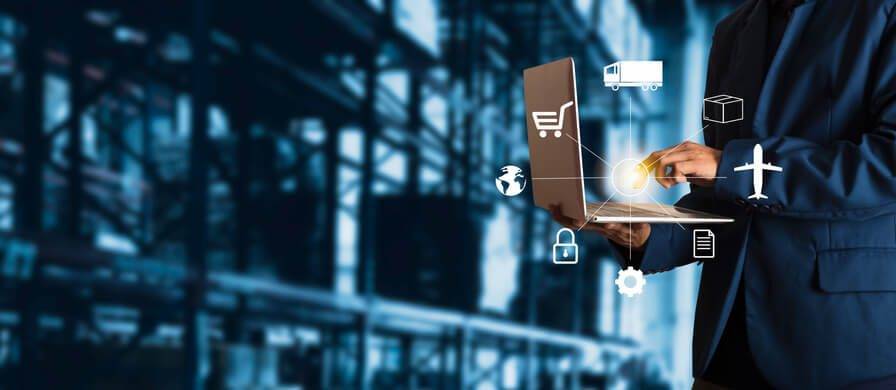 As a recent example, we teamed with a wholesale distributor in need of improved processes.
Business process mapping of the key processes unveiled inefficiencies and bottlenecks – caused by stand-alone systems and manual spreadsheets. Once the team identified these gaps and established a desired future state, the enterprise integrated and automated its procure-to-pay and order-to-cash processes, which saved time, eliminated errors, and ultimately improved customer satisfaction.
In this case, replacing stand-alone systems delivered an ROI. End-to-end integration of enterprise systems for distribution companies enabled the distributor to gain accurate, real-time insights based on a single version of the truth. They now make the right business decisions based on real-time intelligence.
5 Benefits of Enterprise Systems for Distribution Companies
From the example above and other projects Ultra has led, here are five benefits of leveraging enterprise technology for distribution companies:
Enhanced Real-time Visibility: When distribution enterprise systems are integrated throughout the enterprise, the team gets a clear and complete picture of overall operations. Integrating the systems that run critical functions helps maintain optimal inventory levels, facilitates quick movement of goods, provides strong front-office functionality for customer service personnel, and generates access to real-time, flexible reporting.
Improved Customer Service: Today's customers expect, and demand, immediate feedback on order status – best provided through Customer Relationship Management (CRM) systems. CRM software is the foundation for good customer service. CRM also delivers added value services that differentiate in the marketplace. CRM monitors customer returns, complaints, service requests, and generally supports good communication with a prospect or customer beyond the level of basic order capture. CRM can also be the foundation for developing customer-focused value-add services that increase customer retention and speed marketplace differentiation.
Streamlined Warehouse Management: We make the case to our distribution clients that it is important to consider a complete warehouse management system. These systems manage product in an automated way, from receipt to staging systems and direct put away, to suggested movements and optimized picking. Warehouse resources are guided from end-to-end by technology like tablets, handhelds, and other smart devices. Warehouse management software allows physical counts to be eliminated by cycle counting with confidence.
Improved Supply Chain Management: Integrated enterprise systems offer robust supply chain management capabilities that optimize advanced planning, merchandise importing, and distribution requirements planning (DRP) for centralized purchasing environments and multi-warehouse distribution channels.
Detailed Reporting: Using modern enterprise technology for distribution companies lets companies see their data the way they want it—by warehouse, product line, location, business unit and other dimensions. Reporting becomes easier with automation. Systems can automate data population, create conditional alerts that activate reports based on trends or thresholds, and then distribute them to inventory managers, finance, production or other areas.
Considering the Benefits of Enterprise Systems for Distribution Companies? Dig Deeper
The distribution sector is facing a time of disruption, with rapid changes in consumer demand, delivery platforms and more.