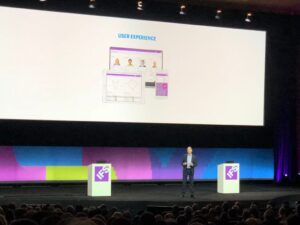 Enterprise applications vendor IFS hosted its annual user and customer conference earlier this month in Atlanta, Georgia.
The gathering put the spotlight on the vendor's products, which include the cloud development of component-based software for enterprise resource planning (ERP), enterprise asset management (EAM) and field service management (FSM).
I had the chance to attend the conference to understand the vendor's company direction and product roadmap, as well as understand the value they provide to manufacturing and distribution organizations.
Noted below are a few of the key takeaways from the event.
New CEO, Renewed Vision
The event was a good opportunity to meet and understand the vision of the new IFS CEO Darren Roos, who recently joined IFS from SAP where he led the company's cloud ERP business.
Roos emphasized that his vision is to keep the focus on how IFS customers achieve value from their solutions, as well as mitigate risk.
He will lead the efforts to emerge as the market leading solution provider in the aerospace and defense sector, especially around Enterprise Asset Management and Field Service Management.
With a conference theme of "What's Next," Roos stressed that efforts are now underway for a "next generation user interface" for applications that are easy to use and more intuitive.
Roos also shared his philosophies in the face of "people" focus versus a "technology" approach.  His take:  make technology engaging, useful and intuitive so it delivers the right toolset and functionality for people and business to drive incremental improvement and value.
Product News and Direction
In terms of product news, many of the sessions covered the vendor's product direction they will be taking in the next few years.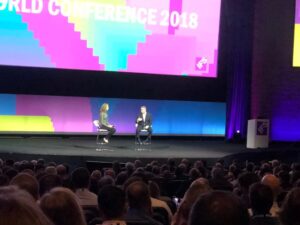 Due to its recent acquisition of mplSystems, IFS talked about their focus on Customer Engagement solutions.
The main product news at the event was the launch of IFS Applications 10, the new version of the IFS applications suite.
According to the presentation made by Thomas Sald, Director of IFS R&D, the release helps teams anticipate disruptive industry trends such as automation, connected devices and what they term as being connected to a "digital backbone."
IFS Applications 10 New Features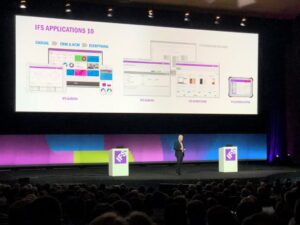 AI/human-machine interaction: Drawing on artificial intelligence (AI) technology, IFS Applications 10 features the IFS Aurena Bot that empowers users to interact with the system via voice or text input in an intuitive and efficient way. IFS Aurena Bot can be used by employees and managers to ask questions in natural language, as well as perform transactions such as registering absence or applying for leave.
Service-centric capabilities: IFS Applications 10 includes major investments to support service-focused organizations, especially for manufacturers with service or aftermarket operations as well as service companies that need an integrated enterprise applications suite tailored to their business model.
Among the updates in this area are the ability to manage service work and contract quotations directly in the customer relationship management (CRM) module, enhanced support for multi-person and multi-occurrence work execution, continued investment in IFS Mobile Work Order, management and visualization of resource demand and utilization, cost control and WIP accounting along with new capabilities to engage with customers across the service lifecycle and manage work outsourced to contractors.
We learned during the event that IFS Applications 10 has already been implemented by five early adopter customers from a range of different industries and geographies, the early adopters are Chief Industries, Inc. (USA), Hexpol (Sweden), Portsmouth Aviation (UK), Volac (UK), and Valmont Industries (USA).
Focus on Field Service Management
Day two of the IFS conference featured Mark Brewer, Global Industry Director. He focused on the IFS solutions for services – IFS Service management and service-centric ERP.
He noted that the FSM Version 6 will be available in 2018 Q4 which adds features for field service, depot repair and reverse logistics processes.
Field service operations are challenging for today's manufacturing and distribution company. Teams must work smarter to automate what they can, removing manual management of field service operations.
IFS has developed features to meet these challenges, especially for teams out in the field, including voice self-service, digital self-service, agent desktop features and other key areas.
New user experience (UX): With a completely reengineered, fully responsive front end, IFS FSM 6 will run on any browser and on any device at any time. The new UX features user-centric and intuitive action patterns as well as stunning graphic designs including high-resolution charts and diagrams.
Major performance boost in IFS Planning & Scheduling Optimization™ (PSO): The IFS PSO component of IFS Field Service Management yields a 50% improvement in processing performance on Microsoft Azure.
Next-generation configurability: Written in new scripting language that empowers customers to configure data fields, workflows, and user behavior, IFS FSM 6 eliminates the need for customizations.
Key functional enhancements: Alongside architectural changes, IFS FSM 6 introduces features in areas including increased scheduling optimization flexibility, warranty claims management, mobile synchronization, and UI improvements.
IFS provides additional information to learn more about the Field Service Management announcement made at the event.
Learn More
Our goal is to keep the pulse on the ERP vendor landscape. Watch for additional summaries of upcoming user group conferences taking place in the next few months.
Forward-looking  manufacturers and distributors must understand how enterprise systems can be used to drive true business process transformation.
Contact Ultra to consider your strategies in the face of a complex technology environment.