When is it Time to Consider Product Configurator Software for Manufacturing Your Complex Products?
Complex manufacturing organizations typically seek to simplify the production of engineered, ordered, planned and controlled products that are configured or assembled uniquely for each customer order.
The effort is part of a business process improvement and is one that is familiar to complex manufacturing organizations.
We've looked at this topic in a recent blog post entitled Looking at the Challenges of Integrating the Product Configurator and ERP
The previous post looked at the challenges and reasons for integrating the product configurator with  ERP – especially for those companies that operate in environments such as Engineer to Order where the challenge is to produce complex, custom products that must meet customer specifications.
These are also challenges faced by Made or Make to Order where organizations manufacture standard products which are not held in inventory, but only built when a committed order is issued by the customer, as well as Configured to Order – where the standard product is designed to order.
Limits of Legacy Systems
Many organizations use a variety of manual and legacy processes to manage the product configuration process. By using spreadsheets, shared documents, or even paper record-keeping, it becomes difficult to offer the most options to a customer.  There is no data that tracks the most built configurations, nor is there an easy way to forecast.
Many teams find they must rebuild existing product when the standard version is not enough
This entails developing a prototype version and copying all variations into a stand-alone database. It might be a combination of manual or custom programming to track the information,  depending on the volume of data to maintain.
As an example, Ultra worked with a manufacturer of retaining rings.  (one Client at Ultra sells retaining rings. The product team would design one at a given size and then manually create 200+ versions of the ring for all the dimensions possible.  They would have to manually take the order requirements and let engineering develop the data required to produce the specific version.
This resulted in wasted steps and inefficient handling – especially when manually taking order requirements and using manual methods to control the production of the specific product with quality checks at the end to assure the product meets the requirements
Turning to Product Configurator Software for Manufacturing
It's often the case that when these inefficient configuration processes slow production, result in excess cost and wasted effort, teams look to product configurator software for manufacturing their complex products.
The role of an ERP consultant adds some clarity. By automating the product configuration process, the system streamlines all the steps along the way including:
Enables automated options order entry where customer service can select the feature the customer wants as part of the quoting or order entry process
For calculatable differences (such as a desired sofa size bigger or smaller than the standard), the system automatically develops a parametric processor that can re-calculate all the product dimensions based on rules in the algorithm
Create libraries of configurable components in the CAD system and standardize how components fit/work together
Forecast and plan the need for components that are available to add to the configuration as opposed to trying to forecast all the end versions
The Benefits of Using Product Configurator Software for Manufacturing
The benefits of using automated product configurator software for manufacturing complex products are many.  As part of ERP process improvement services,  we see the value mostly falls in the area of improving flexibility, speeding time to production, and reducing the proliferation of items, bills and routings for uniquely configured products.
Automating the process lets a product team keep the focus on the customers and their needs, giving the customer what they want rather than what they can get based on what is available.
Without automation, it is difficult to manage an impossibly large database to cover all the potential combinations of options offered.
Additional benefits include Improved delivery lead time to the customer: delivery of the quote and/or delivery of the product, and include:
Reduce the costs in order processing and engineering
Improve accuracy of delivering the requested product to the customer
Keeping up with competition – the market demands product personalization and delivery
Offering E-commerce/self-service to the customer
A Real-World Scenario
As an independent ERP consulting firm, we've seen many examples where automated product configurator software reduces order lead times and engineering costs.
One example comes from a manufacturer of RV furniture.  Typically there are no production standards in place for dimensions within the RV since most RV interiors are custom designed. Each piece of furniture has to be re-calculated based on the space available per the RV design.
Manually setting up a base version of each product was simply not scalable.  Thus, the ERP project team set up a parametric processor to re-compute all of the elements of the furniture (e.g. sofa) in order to supply the desired product with all of the required structural elements without having to re-engineer each order.
With the automated solution,  options could be chosen at quoting/order entry to allow for various fabrics, accessories, fabric treatments, and other configurations as desired by the customer without engineering assistance while properly pricing the order.
This allowed a customer-specific version of each piece of furniture to be delivered timely and cost-effectively. The result was a customer order with all the accessories defined and internal data defined in the system (Item Master, BOM, Routing, costing, order, etc.). In addition, coordination of all the items for the order were coordinated through manufacturing so that all the furniture was delivered together.
So for this company, using product configurator software for manufacturing highly configured RV furniture improved the ability to automatically create and manage complex product configurations and associated process definitions.
The company also appreciated the ability to manage configured BOMs and link manufacturing processes and their relationships to items, routings, components, and final products. It's clear in this case that leveraging product configurator software for manufacturing improved overall business process improvements.
Thinking Product Configurator Software for Manufacturing? Learn More
As you consider your own requirements when it comes to using product configurator software for manufacturing, take a moment to explore these informative resources.
ERP Health Check Survey:  Take a survey to see if your company is being held back by an out-of-date legacy process related to product configuration.
On Demand Webinar:  View an on demand webinar to help you assess the maturity and health of your system.
ERP Maturity White Paper:  For even more detail, download the paper  "ERP Maturity and Health: Is Your Business at Risk with Your Legacy System?"
Concerned about the health of your product configuration processes?  Contact Ultra for the best way to go forward.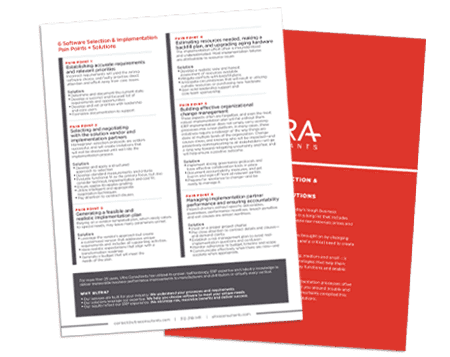 6 SOFTWARE SELECTION & IMPLEMENTATION PAIN POINTS + SOLUTIONS
Software selection and implementation processes often present challenges of their own. To steer you around trouble and help you drive success, Ultra's experts compiled a list of pain points and solutions to be aware of as you embark on this journey.