Six Digital Transformation Pain Points Food Companies Need to Avoid in 2022
By Scott Hanson, Chief Marketing Officer
2021 was a year of digital transformation for food manufacturers and distributors. If you've yet to start your journey, read on to learn how to overcome these common challenges.
---
Food companies turned to technology in 2021 to enable pandemic pivots, streamline operations, address supply chain issues, and expand and diversify their roster of suppliers. The manufacturers and distributors that did not make changes, or whose digital transformations were unsuccessful, continued to struggle. And this likely will be the case for 2022 as well, as demand, especially in e-commerce, is expected to increase.
If your company has yet to start your digital transformation journey, or if your organization has plans to embark on one, be sure you have a plan to overcome the common pain points.
Getting Past the Digital Transformation Pain Points
Companies often hesitate to embark on digital transformation due to the upfront costs and inevitable initial disruption of ongoing operations. Addressing these six potential pain points will help shorten the process and eliminate glitches.
1. Business Requirements Definition
The wrong business requirements will yield the wrong software choice, and faulty priorities direct attention and effort away from core issues. The foundation of digital transformation projects is business process improvement. Establish accurate requirements and relevant priorities by:
Taking inventory and documenting your current state of core processes.
Optimizing your core processes by designing and documenting an ideal future state that is based upon best practices and delivery of business value.
Identifying, quantifying and prioritizing the opportunities the future state will deliver.
2. Technology Selection Process
Homegrown technology selection protocols are seldom successful, and may lead to functional or business transformation limitations. It is important to incorporate rigor in the technology selection process. Ensure greater efficiency and improved business performance by:
Developing a process-centric demonstration script that will deliver the functional requirements and efficiencies of the ideal future state.
Creating a selection scorecard that evaluates software and vendors based upon functional fit, total cost of ownership (TCO), implementation confidence, cultural fit and product roadmap.
Putting in place a systematic approach to negotiation that successfully manages the complexity of technology contracts, address implementation scope and addresses future needs and TCO.
3. Implementation Planning
Relying on a vendor-templated implementation plan, which rarely focuses on processes, to achieve business transformation. To realize improved productivity, accelerated workflows, lower operational costs and a better bottom, it is important to:
Develop with the vendor a customized implementation plan that incorporates the documented future state and addresses unique process requirements.
Keep management, project teams and stakeholders focused on streamlining and integrating your processes.
Ensure the implementation plan sets realistic expectations regarding budget and timelines that aligns with a transformation roadmap.
4. Estimating Required Resources
The implementation effort often is misunderstood and underestimated. Most implementation failures are attributable to resource issues. Estimating resources needed, making a backfill plan, and upgrading aging hardware are the answers. Start by:
Developing a realistic view and honest assessment of resources available.
Mitigating any resource constraints with backfill plans.
Utilizing outside resource to augment internal constraints and skill set deficiencies.
5. Managing Change
Building or re-building effective organizational change management is often needed. Even the most robust implementation plan will fail without it. Change causes stress, and knowing who will be impacted – and proactively communicating to all stakeholders – goes a long way toward mitigating uncertainty and fear, while helping ensure a positive outcome.
The executive team needs to set the tone by communicating the importance of the project and communicating their vision for it by:
Initially communicating the vision.
Engaging in continuous dialog with stakeholders.
Making sure all leaders and stakeholders can speak to the vision in their own words.
Enrolling stakeholders in the change effort.
6. Project Charter Development
Implementation project charters are worthless without specific objectives, resource responsibilities, scope, risks, expected ROI and schedule.
Managing an implementation plan and all participating partners ensures accountability and mitigates risk. Do this by:
Designing a well-defined charter that clearly states the mission and objectives.
Ensuring the charter is endorsed by the entire project team, full organization and partners.
Monitor adherence to budget, timeline and scope.
Communicate effectively when there are risks — and escalate when appropriate.
Ensuring Digital Transformation Success in 2022
At Ultra, we saw food and beverage companies thrive in 2021 because they successfully completed digital transformations to address and avoid supply chain disruptions and other challenges.
In 2022, we expect demand to grow and disruption to continue. Those companies that lead in digital transformation will be better positioned than laggards. Overcoming organizational hesitation, and planning to mitigate these six pain points, will ensure success in the new year.
---
Know more about successful digital transformation.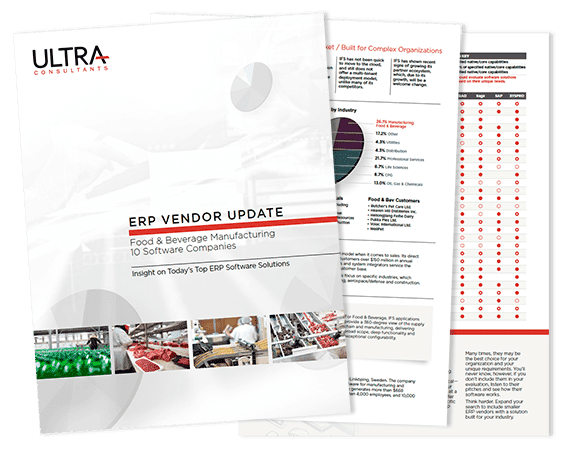 The ERP Vendor Update offers a close-up look at today's top Food & Beverage software solutions. With more information – and more real insight – than typical software overviews, the report presents complex data clearly and enables easy analysis and comparison.