Why Change Management Plays an Essential Role in a Successful ERP Implementation
As an independent ERP consulting firm, Ultra guides manufacturing and distribution project teams to business process improvement.
To that end, ERP implementation success is a topic that comes up often as project teams look to Ultra to understand the best way to work through enterprise system selection to improve key processes.
Providing this education is part of the role of an ERP consultant.
In many of the projects we've guided, it is clear that an ERP project is a change management initiative.
Survey Findings
Ultra recently commissioned an ERP Implementation survey which reveals that change management is critical.
The Mint Jutras/Ultra Consultants survey of North American manufacturing and distribution companies found that a significant reason for ERP implementation success had to do with people and process, and not just software. Key success factors include top management support and change management.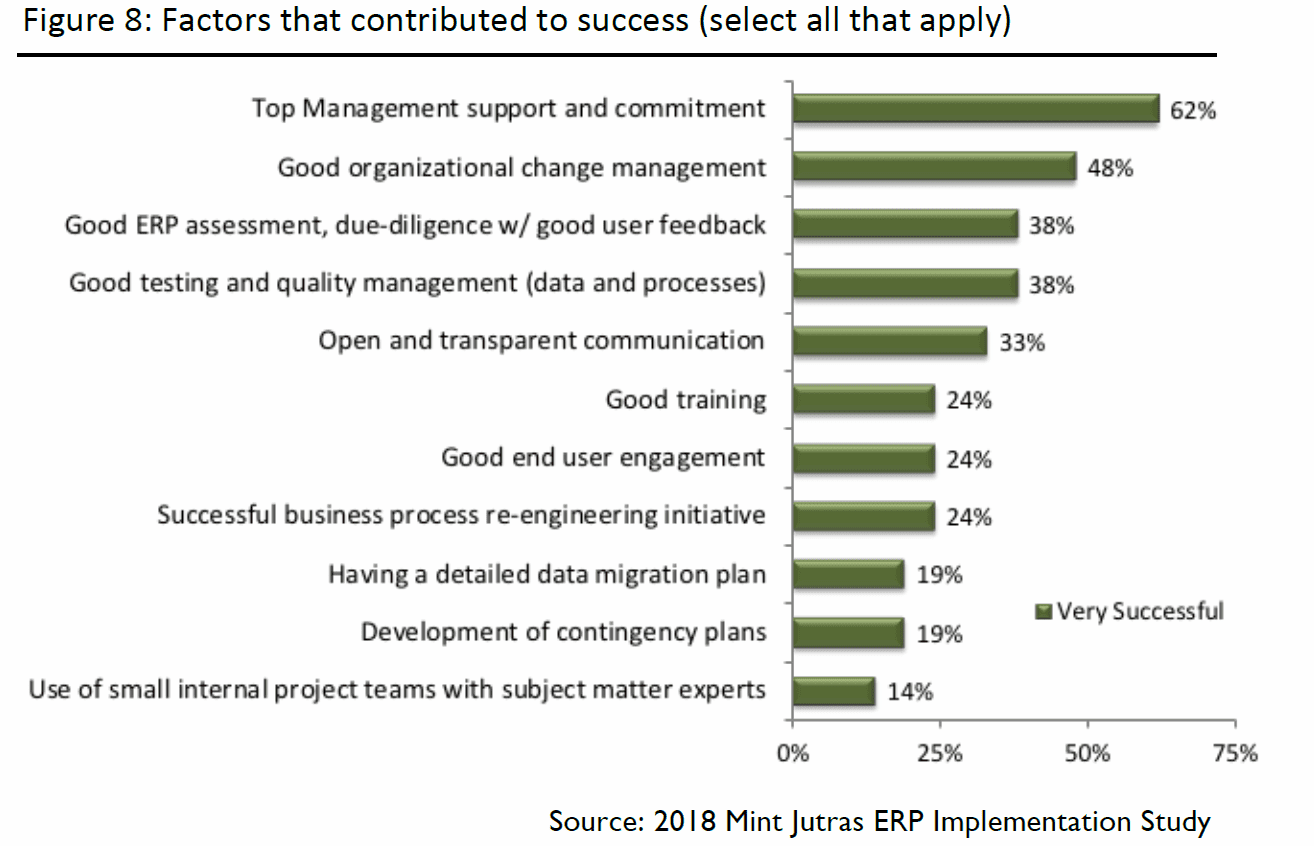 You can download the full survey entitled "Real Facts About ERP Implementation" to learn more.
These survey results show that ERP implementation success is all about the right approach to the team, the resources, the process, and organizational commitment helps ensure that staff can function as "change agents" within the company as opposed to those that block or resist.
Why Change Management is Essential
As is clear from the survey results, as well as our experience out in the field, ERP implementation success follows from a structured, purposeful approach aimed to help transition people, teams, and organizations from their current state to the desired future state.
The ERP project team should consider putting into motion these practices:
Treat ongoing failures during the change as an opportunity for learning and foster an organizational culture that supports it.
Be open for discussion and reflection and don't be afraid to alter strategic direction during the change journey.
Repurpose technological and organizational-based learning from the past experiences.
Treat IT projects as part of an on-going program requiring continuous improvement.
Match the approach to change the design to the levels of experience, stages of learning and different activities of each unit.
Allocate at least 50 percent of the budget of an IT project to organizational aspects of the change such as developing new processes, roles, routines, communication, education, and training.
Put change management on top the executive agenda and develop tools, roles, methods and skills for its execution.
Make sure that the leaders that act as change agents and transformation managers excel at listening and communication.
Why Change Management is More Than Communication
As we noted in a previous blog post about an effective change management plan, a few teams we've worked with mistakenly conclude that effective change management is the same thing as a communications plan. They might assume that simply communicating changes that will stem from an ERP project is all that is required to achieve employee buy-in and even behavior change.
While an understandable assumption, it is not an accurate one.  As we noted, ERP users are not likely to accept change simply by being told about it through various communications channels.
Communication is just one of the critical success factors of an effective change plan and successful ERP project.
The emphasis must be on communicating the benefits of new technology and processes to all key stakeholders and the entire organization.
Additional Resources
As an independent ERP consultant team, we see many real-world examples that an ERP selection and implementation initiative is only successful with an understanding that the process is much more than just swapping out legacy software or tweaking a few IT solutions.
A typical manufacturing or distribution company that is considering an ERP project might well ask why change management is so critical.  See these resources that help provide further background:    
The 

publication ERP Focus

 shared insights about change management from Andrew Bolivar, Ultra's Director of the Center of Excellence.
Looking to get results from effective change management? Contact Ultra for the best way to get started.
6 Software Selection & Implementation Pain Points + Solutions
Software selection and implementation processes often present challenges of their own. To steer you around trouble and help you drive success, Ultra's experts compiled a list of pain points and solutions to be aware of as you embark on this journey.