Deacom Announces its First International Expansion Plans
As an independent ERP consulting firm, we're always on the lookout for changes in the ERP landscape, whether it is news of mergers, ERP vendor acquisitions or expansions.
We were intrigued to see the news that the ERP software vendor Deacom recently announced plans to open a European office in Frankfurt, Germany. It's a strong signal that indicates growth in Deacom's customer base in their internationalization efforts.
The ERP provider plans to staff the new office with experienced technology and manufacturing professionals from both Germany and other European locations.

A group of experienced Deacom employees will transfer temporarily to help open the office and train new employees.
It's an interesting step as the company evolves their awareness and visibility into new geographic markets.
Shared here is a QA session with Jay Deakins, Founder and CEO of Deacom, Inc. who added insight into what the expansion means to the company and the community of organizations in the marketplace.
Vendor QA with Jay Deakins, Founder and CEO of Deacom, Inc.
What role do you expect this new office to play in Deacom's future?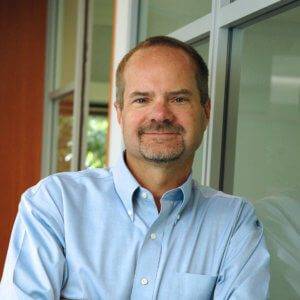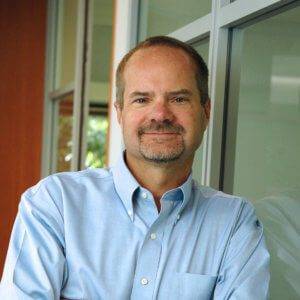 Jay Deakins, Founder, CEO of Deacom: "When it comes to Deacom's international strategy, the Germany office is just the beginning. We plan to make this more than just an extension of our US headquarters and have it act more as a European headquarters. It will be staffed with sales, implementation, support, and administration teams so they can be effectively servicing the entire European market.
It's important to note that the US and German Deacom operations will still work cohesively together. Many existing employees have already expressed great interest in wanting to move to Germany temporarily to help get the office up and running, and train new employees. I have also committed to spending 50% of my time in Germany over the next year to establish the business and understand the market. It is important that we bring over some of Deacom's culture while still embracing all that Germany has to offer.
Our goal with this initiative is to both grow our customer base with strong, European manufacturing businesses and support our thriving customers who have facilities overseas. Once we establish a solid team, reputation, and clientele from this office, we will start the next phase of our expansion plans: opening an office in Asia.
While we have some ideas of what cities we would want to do this in, we are still a few years out from starting to plan that move. Right now, our priority is on Germany and making our mark in Europe."
"I started Deacom in my basement in 1995 when the idea of building a global company was simply a dream. Expanding internationally has been on top of my mind."
Why now?
Jay Deakins, Founder, CEO of Deacom:  "I started Deacom in my basement in 1995 when the idea of building a global company was simply a dream. But expanding internationally has been on top of my mind for about ten years now as we continue to establish ourselves in the marketplace. When it comes to delivering an ERP solution that answers the specific needs of batch and process manufacturers, I firmly believe that we are one of the best in the world. So now we need to deliver it to the world.
It's an incredible feeling to be where we are today with a strong team of professionals, flexible and robust software platform, and impressive customer reputation throughout North America. With these resources in place, we are ready to expand into new territories and confidently turn that dream into a reality."
What does this expansion mean for manufacturers?
Jay Deakins, Founder, CEO of Deacom:  We are opening up incredible opportunities for manufacturers to expand their operations beyond the borders that they are currently in – whether they are current or future Deacom customers. There are so many considerations to take into account when growing a business.
By providing ERP sales, implementation, and support throughout Europe and North America, these companies can remain confident in the software that is running their business and focus on other aspects of the growth. Rolling out DEACOM ERP to all locations will reduce the complications around juggling various software systems by country and help to centralize operations for these international manufacturers.
The response from current customers about this news has been overwhelming. Over the years, Deacom has grown and so have our customers. Many are either starting to establish or already have a presence in Europe and now we will be well positioned to help them establish strong operations around the world.
Are there any impacts on the product offering?
Not at all. The great thing about Deacom ERP is its agility. Even though we are currently focused on manufacturers with North American headquarters, many of them already have facilities in other countries and successfully deployed DEACOM at those locations. This includes Germany, the Netherlands, and Mexico, to name a few.
Using data-driven captions, the software system has multilingual capabilities that can be rolled out system-wide and leveraged for document generation. It also already has the functionality to manage various taxes, regulatory requirements, and foreign currencies. Therefore, the foundation of the software has already been optimized for other countries and languages.
With the incredible popularity of Cloud-based solutions in Europe, I know many manufacturers are curious to see if our Managed Cloud Services will change at all. Since this solution is hosted on the Microsoft Azure platform, we will be able to deliver this same service to those with overseas operations.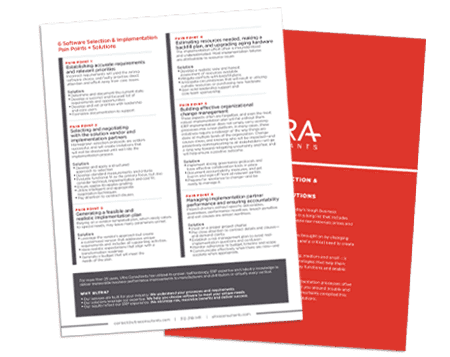 6 SOFTWARE SELECTION & IMPLEMENTATION PAIN POINTS + SOLUTIONS
Software selection and implementation processes often present challenges of their own. To steer you around trouble and help you drive success, Ultra's experts compiled a list of pain points and solutions to be aware of as you embark on this journey.