Here's an ERP implementation survey you need to see.
In "The Real Facts about ERP Implementations," the research firm Mint Jutras surveyed hundreds of today's manufacturing and distribution companies to explore the myth of past ERP implementation success rate data which told a dismal story.
The in-depth report resulting from the survey is titled "The Real Facts about ERP Implementation: Busting the Myth of Failure, But Are You Overrating Your Success?"

New Rules of ERP—What to Consider When Evaluating Today's ERP Systems
This paper offers a new set of rules to consider when evaluating an ERP system.The guidelines help to not only handle growth, but to transform overall business processes with ERP.
DOWNLOAD NOW
Survey Findings: Facts about ERP

Our team is excited about the publication of this industry survey conducted by Mint Jutras, researchers specializing in analyzing the business impact of enterprise applications.
As an independent ERP consulting firm, ERP implementation success is a topic that comes up often as project teams look to Ultra to understand the best way to work through enterprise system projects to improve key processes.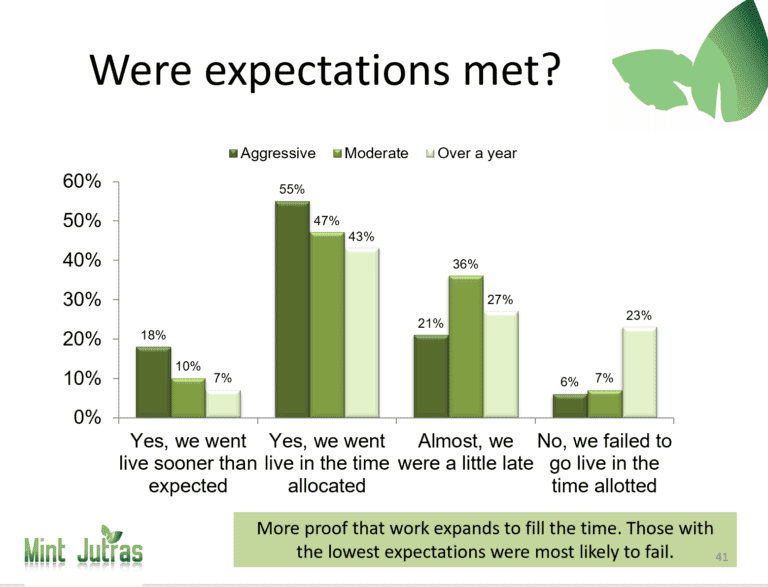 The study of ERP implementation success by manufacturers and distributors found 67 percent rate their implementations as successful or very successful.
As the survey revealed, the primary reasons for ERP implementation success have to do with people and process, as well as change management.
Reasons for lack of implementation success include inadequate business process re-engineering and inadequate project planning.
While many ERP implementations meet expectations in terms of schedule, budget and ROI, the Mint Jutras/Ultra Consultants study shows a significant number of manufacturing and distribution companies' over-rate their success and leave additional attainable returns on the table.
Additional Findings
We encourage every ERP project team to look into these details, including:
When it comes to ERP implementations, research shows the power of setting goals. An industry survey reveals that if a current solution is not meeting organizational goals, or if goals were never established, it pays to step back and perform an audit of the current solution to determine if it is living up to its full potential. Then determine if that full potential is enough to give a competitive edge. If not, it may be time to replace it.
This ERP implementation survey proves that fast and aggressive doesn't equate to quick and dirty. An objective third party can get enterprises a bigger ROI faster, ultimately paying for itself. The report from the most current manufacturing and distribution sector survey concluded that ERP implementation should never be viewed as complete and the ROI should be sustainable.
Reasons for projects going over budget include expanded project scope, additional technology needs, and business changes within the organization.
As the report concludes, those that go about an implementation most aggressively produce more results, more quickly. Consider getting help from certified independent experts to help define goals, set an aggressive (but achievable) schedule, and stay on track.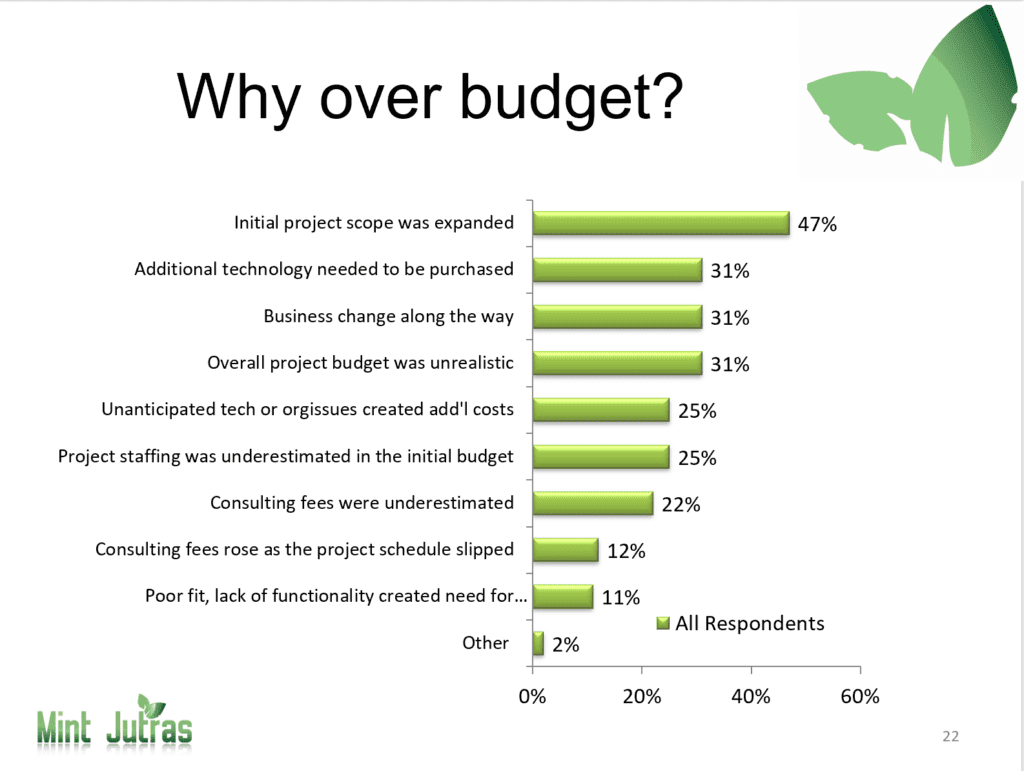 Perspectives on the ERP Implementation Survey
Noted Cindy Jutras, President of Mint Jutras and study researcher,"ERP project disasters may have been quite common in the early days of ERP. It's noteworthy that this study reveals as myth the once-cited high rates of failure in terms of schedules, costs, and payback. Solutions today are far more technology-enabled, easier to implement and easier to use. Equally important is management support of the project and change management initiatives."
This research study is a long time coming in that it reflects the performance of current offerings of modern ERP systems now available to manufacturers and distributors.
The study and report analyze that most ERP implementations drive value, are on time and meet budget expectations.  It also reveals the importance of setting goals for a project and putting the focus on people and processes, not just technology.
About the Survey
The report is based on a Mint Jutras survey of more than 300 North American manufacturers and distributors, focusing on the success of their ERP implementations in terms of schedule, cost and return on investment (ROI).
The survey reviewed goals and expectations, whether they were achieved,  and why.
Survey respondents included companies ranging in size from $25 million to multi-billion dollars in annual revenues, and from recent implementations, as well as those that were more mature.
As we noted, the Mint Jutras/Ultra Consultants survey dispels often-quoted implementation failure rates; reflects the value modern ERP delivers to the manufacturing sector and reveals the importance of change management