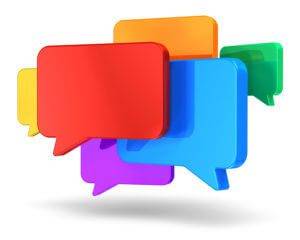 A previous blog post took a careful look at the importance of establishing a comprehensive and structured approach as part of an ERP implementation change management.
The post made the case that it's critical to integrate and align the people, processes, structures and culture to the project objectives and business strategy to ensure a successful implementation and transition to the new system.
As we noted, a change management approach supplements a traditional project management focus on scope, timing and budget.  Given the magnitude and complexity of the change involved with an ERP implementation, traditional project management methods alone will not be sufficient.
To help in the implementation change management process, it's key to set a structured communication plan.
Implementation Change Management Communication Plans
An effective approach, which goes beyond ERP project management, is to construct and manage an organization communication plan that involves the direct project team and beyond to encompass those areas of the business to be affected by the change.
The plan should include communication methods, message, and frequency.
Many organizations seek assistance with the development of communication assets including email templates, status report templates, SharePoint sites, print media, web-ex and town hall meetings etc.
As part of that process, it's wise to identify potential individual enablers and disruptors, and tailor a communication plan specifically to the organization with the following elements:
Vision
Benefits
Impacts
Timing
Status
In addition, training is a key component, as is communicating the training plans to all stakeholders.
We've had good results when we construct and manage an organization training matrix that identifies targets, skills requirements, an assessment of those skills, and a corresponding training agenda. As necessary, it's important to identify subject matter expertise, curriculum development, and training scheduling and delivery.
Final Thoughts
As we note often, the goal of selecting and implementing a new ERP system is business process improvement.
A focus on change management aligns the people, processes, structures and culture to ensure a successful implementation and transition to the new system.
For a closer look at issues related to ERP implementation, download the complimentary white paper Best Practices in an Effective Implementation.