Make the Most out of Your Investment in Manufacturing IT
Technology is a key reason for manufacturers' ability to produce more output with fewer workers.  So when it comes to information systems, can you best maximize your investment in manufacturing IT systems?
Automation, machine-to-machine data exchange, robotics, mobile data access via the ubiquitous cloud, manufacturing 4.0: all contribute to what has become an efficient industry that far more productive than three decades ago.
However, the enlightened manufacturer understands it is not merely technology alone which fuels the enviable record of efficient production. It is only when the proper technology is deployed along with well-designed business processes that the enterprise can function at its optimal and generating the ROI that technology solutions promise.
Getting the most out of an investment in manufacturing IT seldom produces the desired results unless a simultaneous review and redesign of business processes is undertaken.
First Things First: The Current State

As an independent ERP consulting firm, we guide our clients to take a critical first step when looking to maximize an investment in manufacturing IT.
It's imperative to define business performance measurements. We look to The Balanced Scorecard by Kaplan and Norton to help clients determine the next steps. It recommends creating a scorecard to track the metrics of four categories:
Customer measures
Financial measures
Internal measures
Innovation measures
When the effort gets underway to evaluate the current state, it helps establish a baseline from which your enterprise can track results from its current state. Determining the desired future state defines what success looks like and whether the cost is worth the investment.
Assessing Business Maturity
The role of an ERP consultant adds some clarity when looking to get the most ROI out of an investment in manufacturing IT.
We guide our clients to assess the capabilities and maturity of the business and its processes with the use of the Capability Maturity Model.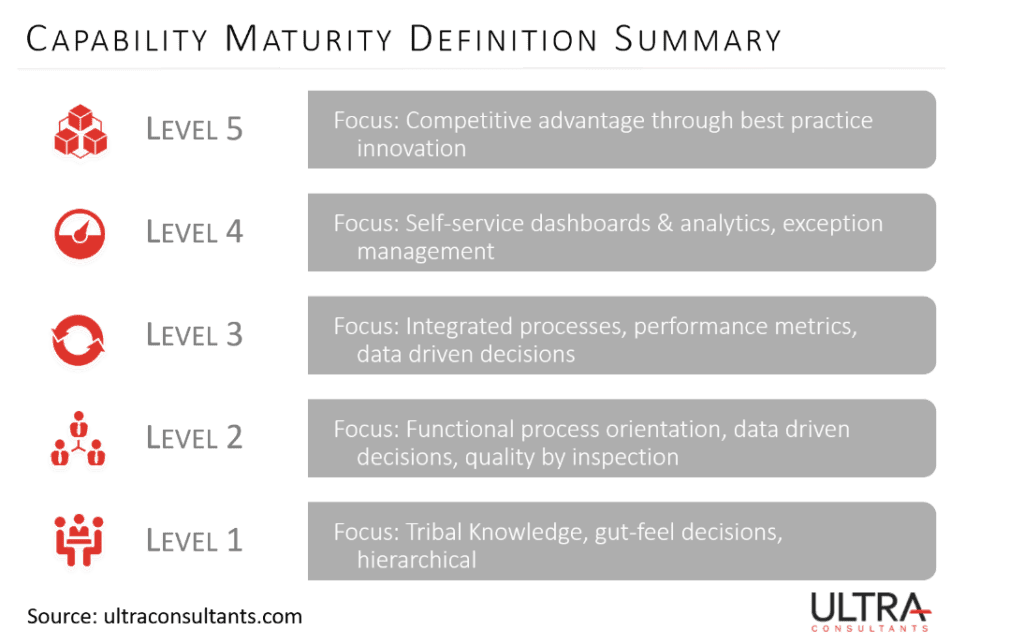 Companies contemplating an investment in new technology solutions typically are aspiring to achieve Level 5 results but aren't there yet.
Companies in the underperforming levels often attempt to be everything to all its customers. This can cause the business to be over-extended and ineffective at attaining any of their goals.
With the existing technology platform assessment and a review of the top-level strategy complete, the team now has the vision to attain the appropriate strategic tools to complement the opportunities and performance metrics that have previously been developed.
Now the real work of maximizing the ERP investment begins.
Software selection and implementation processes often present challenges of their own. To steer you around trouble and help you drive success, Ultra's experts compiled a list of pain points and solutions to be aware of as you embark on this journey.